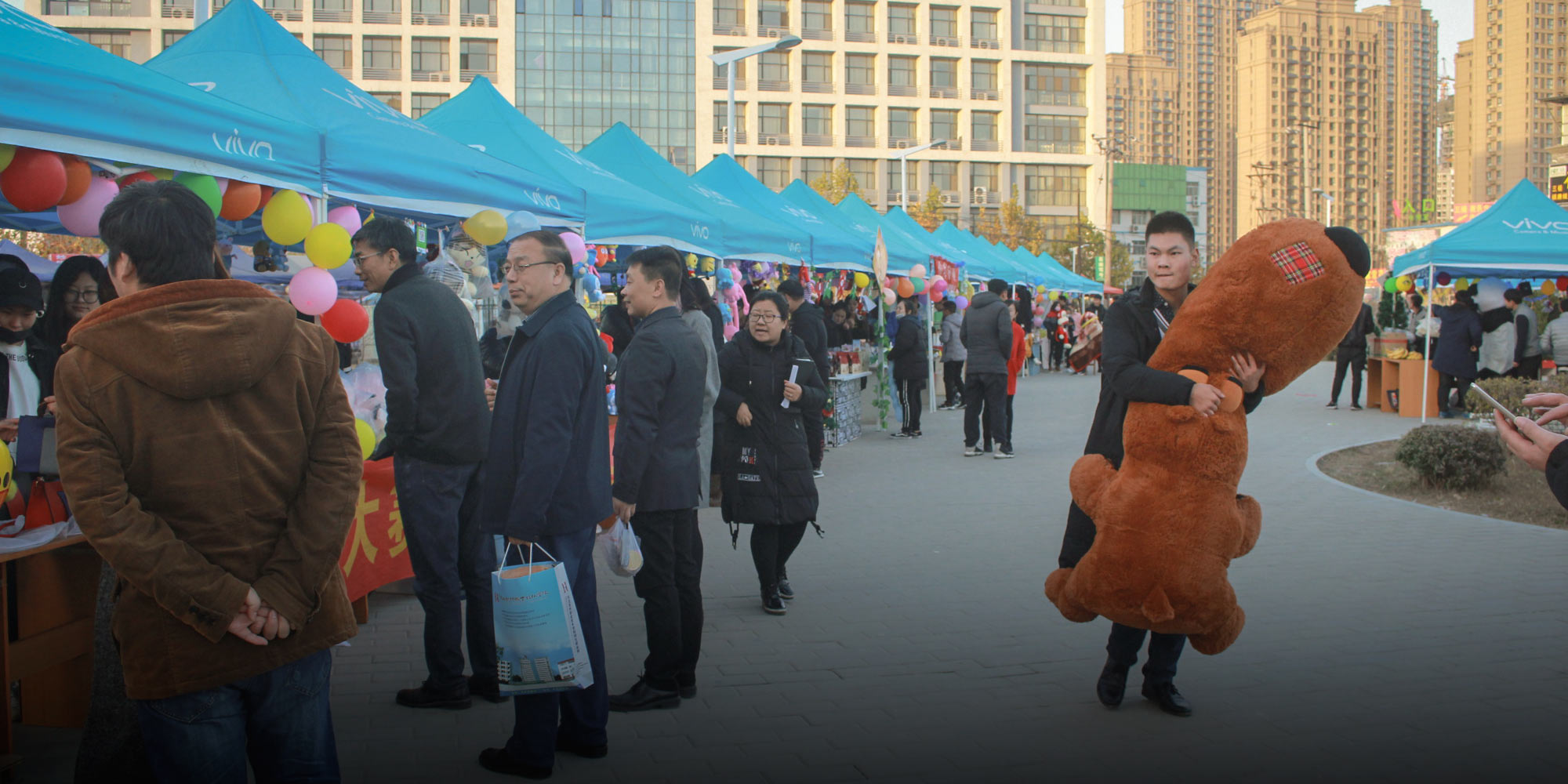 FEATURES
Fresh Skills, Old Fears for Villagers in New Chinese Megacity
Despite 15 million-yuan initiative to retrain low-skilled workers, Xiongan development project leaves locals' futures uncertain.
HEBEI, North China — Dangling a stuffed animal in front of his cellphone camera, Cao Meng responds to comments that pop up as he livestreams on internet giant Alibaba's wholesale app 1688. "Look," the 22-year-old says, showing off a plush bunny to potential buyers. "These all have good-quality stuffing."
Born and raised on the North China Plain, a landscape dominated by farmland and towering white poplar trees, Cao has worked in the stuffed toy industry in Nanwen Village, Rongcheng County, for more than six years. In April, the short, energetic young man set up his own online business selling stuffed pigs, kangaroos, bunnies, and dogs to merchants, bringing in 2,000 yuan ($300) a day.
Cao's is one of about 1,000 households in Rongcheng that depend on the stuffed toy industry, with residents working in toy production or as wholesalers. Each year, 10 billion yuan's worth of toys from the area are sold to countries like the U.S. and Australia.
But jobs like these may soon be obsolete in the county. Around the same time Cao opened his online store, the central government announced that Rongcheng and two other Hebei counties would be transformed into Xiongan New Area: a vast economic development zone described in official documents as a groundbreaking "thousand-year" plan. As part of a wider push to address population growth in neighboring Beijing, government offices and major companies will move from the crowded capital to Xiongan, and the area's redbrick houses and wheat fields will be transformed into university campuses and modern high-rises.
Around 1 million residents will be forced to relocate to develop Xiongan, and the toy industry will likely be pushed out as well. An agreement between Beijing and Hebei province signed in August proposes limiting the New Area to high-end industries such as biopharmaceuticals and technology-driven services, and cutting out low-skilled manufacturing and service industry jobs.
Although the government has promised current residents new housing in the same area, they will still need to make a living once stripped of their farmland and small-scale factories.
But there's a plan for that, too. Determined to "turn farmers into urbanites, workers into technicians, technicians into artisans," the provincial department of human resources is spending 15 million yuan on training to equip 10,000 residents with new skills. Some of the training courses are motivational, while others are tailored to specific jobs, ranging from cosmetologist or baby sitter to tour guide and cellphone repairman.
In April, the village committee of Nanwen began publicizing the free courses, calling for participants through a loudspeaker in the village. Cao and his wife were among the first to sign up for e-commerce training. "Almost all the young people in our village applied for the training," Cao says, adding that they hoped the courses would prepare them for the future.
The e-commerce courses are run by Hebei Software Institute, a vocational school. Zhou Jinghua, deputy director of the institute's e-commerce industrial park committee, says that although most of the students in the program come with little education, "they are very eager to learn." More than 800 villagers from Rongcheng applied for the course, which the school split into several levels based on students' knowledge base. In Nanwen Village, Cao, his wife, and two others were selected for a 10-day beginner course in October.
By November, nearly 300 people from the county had received e-commerce training. For most, their previous experience was limited to working in toy factories or as wholesalers.
"The first thing we learned in the course was enterprising psychology," Cao recalls. "If you don't have the right mindset, you cannot accomplish anything." Yet the marketing strategies and skills he's learned — like how best to describe a product to prospective customers and how to use Adobe Photoshop — were geared toward retailers on Alibaba's e-commerce site Taobao and are not necessarily applicable to 1688, a platform used primarily by wholesalers like Cao.
To employ his new skills, Cao opened two stores on Taobao, but the new shops barely turn a profit. "My income is the same as before," he says, adding that he continues to run his 1688 store the same way he always has.
Others who have taken the e-commerce course have encountered the same dilemma: Much of their training can't be applied immediately.
Bai Jing, a 27-year-old who was also in Cao's class, says running shops on Taobao would require a huge amount of effort. For now, she's able to make a living by selling toys offline, but she's aware that this could soon change as Xiongan's development continues. "We are in this low-end business that will probably be moved out," she says.
Even though the training has not yet yielded any concrete results for Cao, he believes that Xiongan is giving villagers like him a chance at a better life. "In the past, our choices were limited to job openings in factories and local industries," he explains. "When Xiongan New Area [is completed], I will have options."
In the meantime, residents can only guess at how things will pan out. Cao Libin, a wholesaler with nicotine-stained teeth who is not related to Cao Meng, worries that the skills training could lead to industry oversaturation: "If everyone enters e-commerce," he says, "it will be impossible to make money there."
Cao Libin plans to deal with the wave of changes Xiongan could bring once they arise. "I will continue to do what I do for as long as I can," he says, gazing at a pile of knockoff Peppa Pig stuffed toys in his courtyard. "If that doesn't work, I will find something else."
Editor: Denise Hruby.
(Header image: Booths at an e-commerce competition for students at Hebei Software Institute, Hebei province, Nov. 13, 2017. Wang Yiwei/Sixth Tone)