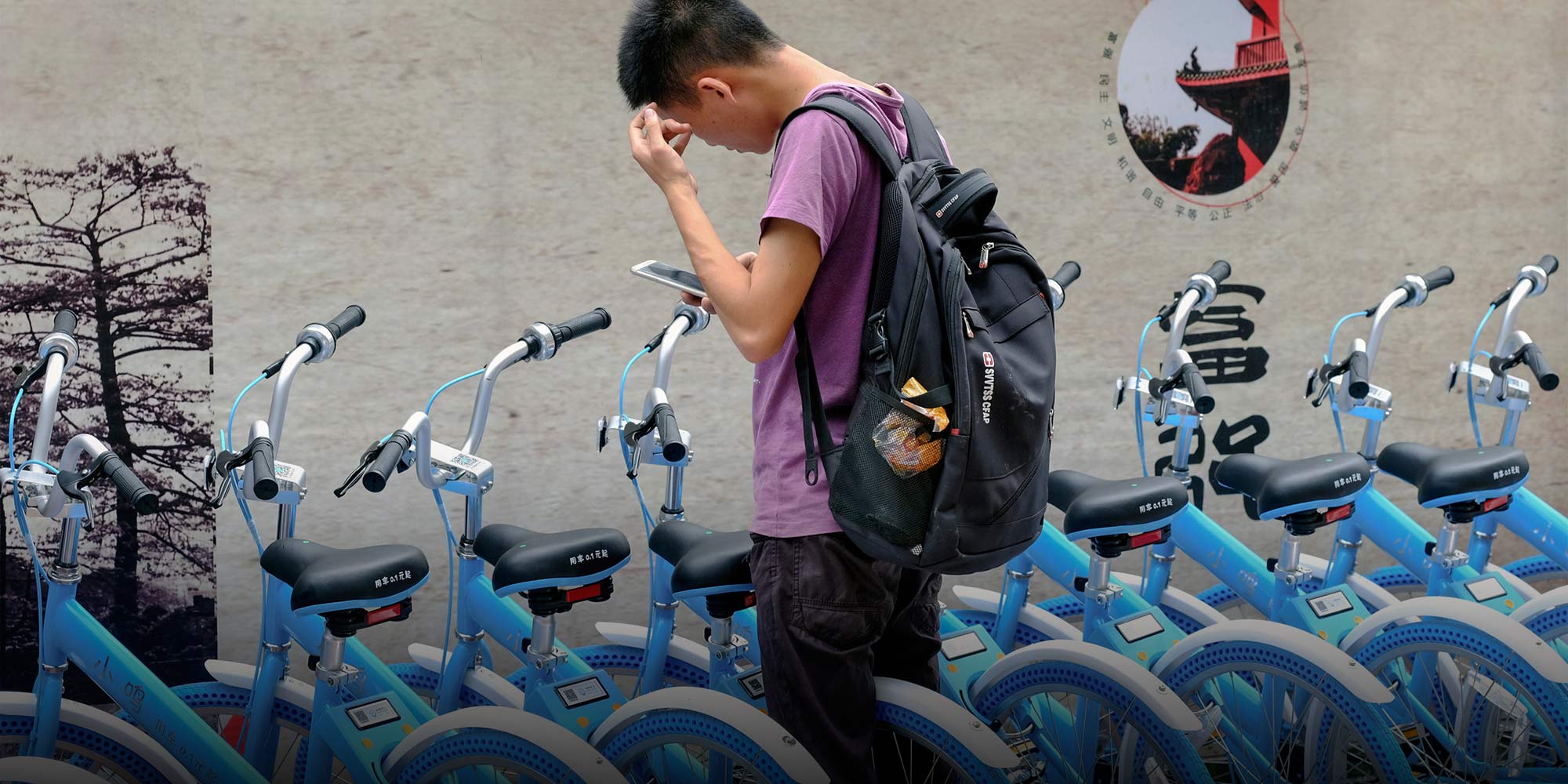 NEWS
Unpaid Deposits Land Bike-Sharing Company in Court
Xiaoming Bike becomes first of its kind to face legal action after 30,000 users were left out of pocket.
Xiaoming Bike has become the first Chinese bike-sharing company to face legal action over unreturned deposits after more than 30,000 customers in the southern Guangdong province complained that they were having trouble getting their cash back, according to media reports.
On Monday, the government-affiliated Guangdong consumers' association filed a case in a local court, demanding that Xiaoming Bike, which is headquartered in Guangzhou, the provincial capital, immediately stop withholding its 199-yuan ($30) deposits and funneling the money into other business operations.
The association — which has received more than 30,000 complaints over unreturned deposits from Xiaoming users in Guangdong — also wants to see the bike-sharing company offer its services without charging a deposit.
"Provided we win, every customer who is having trouble getting their deposit back can ask Xiaoming Bike to pay the money promptly," the association's lawyer, Chen Beiyuan, told Sixth Tone.
Online comments from Xiaoming Bike customers suggest there's a range of reasons users might want their deposits back, from moving to cities where Xiaoming doesn't have a presence, to switching to one of the bigger bike companies.
According to internet consultancy iResearch, around 1 million Xiaoming bikes were used each day in the second quarter of this year — significantly fewer than those used by the country's two biggest players, Ofo and Mobike, which have over 30 million daily users each.
The case is a public-interest litigation, meaning it aims to protect the legal rights of all consumers rather than just a few, Chen said. While the litigation doesn't claim cash damages, if the association's case is successful, all of Xiaoming Bike's unhappy customers in Guangdong will be able to get their money back individually, he said. If the company still doesn't repay the deposits, the association will request a compulsory execution order from the court to force them to pay, Chen said.
According to a legal document viewed by Sixth Tone, the case has been accepted by the court. Sixth Tone's calls to Xiaoming Bike went unanswered on Tuesday. According to government-backed newspaper National Business Daily, the company said on Monday that its shareholders were addressing the situation, without elaborating.
Zhao Xiang, an analyst from Beijing-based consultancy Analysys, said that this case — coupled with a spate of collapses and a recent merger in the country's bike-sharing market this year — suggests that the future trend for all bike companies will be to operate without charging deposits. "[The government] should regulate the use of deposits to protect customers, in case the shared-bike companies suddenly shut down," she told Sixth Tone. Bike-sharing giants Ofo and Mobike are likely to retain their leading positions in the market, Zhao said, while smaller companies such as Xiaoming Bike will need to find their way out by diversifying into different services or finding partners to merge with.
Xiaoming Bike was once seen as a contender in the highly competitive shared-bike industry. During last year's shared-bike fundraising craze, Xiaoming was able to raise 100 million yuan — though still far less than Ofo and Mobike.
But this year, Xiaoming Bike's fortunes took a turn for the worse. Despite additional rounds of financing that raised undisclosed amounts of money, the company came under fire around midyear, with thousands of consumers nationwide complaining of delayed or unreturned deposits. Xiaoming Bike's CEO, Chen Yuying, told Sixth Tone's sister publication, The Paper, in August that the deposit problem was mainly caused by technological issues.
China's cutthroat bike-sharing market witnessed its first casualty in June, when Chongqing-based Wukong Bike was squeezed out of the market after only six months in business. Five months later, Beijing-based Bluegogo — a medium-sized player with a similar market share to Xiaoming Bike — declared bankruptcy, also leaving customers who paid deposits out of pocket.
Editor: Julia Hollingsworth.

(Header image: A man scans the QR code on a Xiaoming shared bike in Guangzhou, Guangdong province, April 6, 2017. IC)