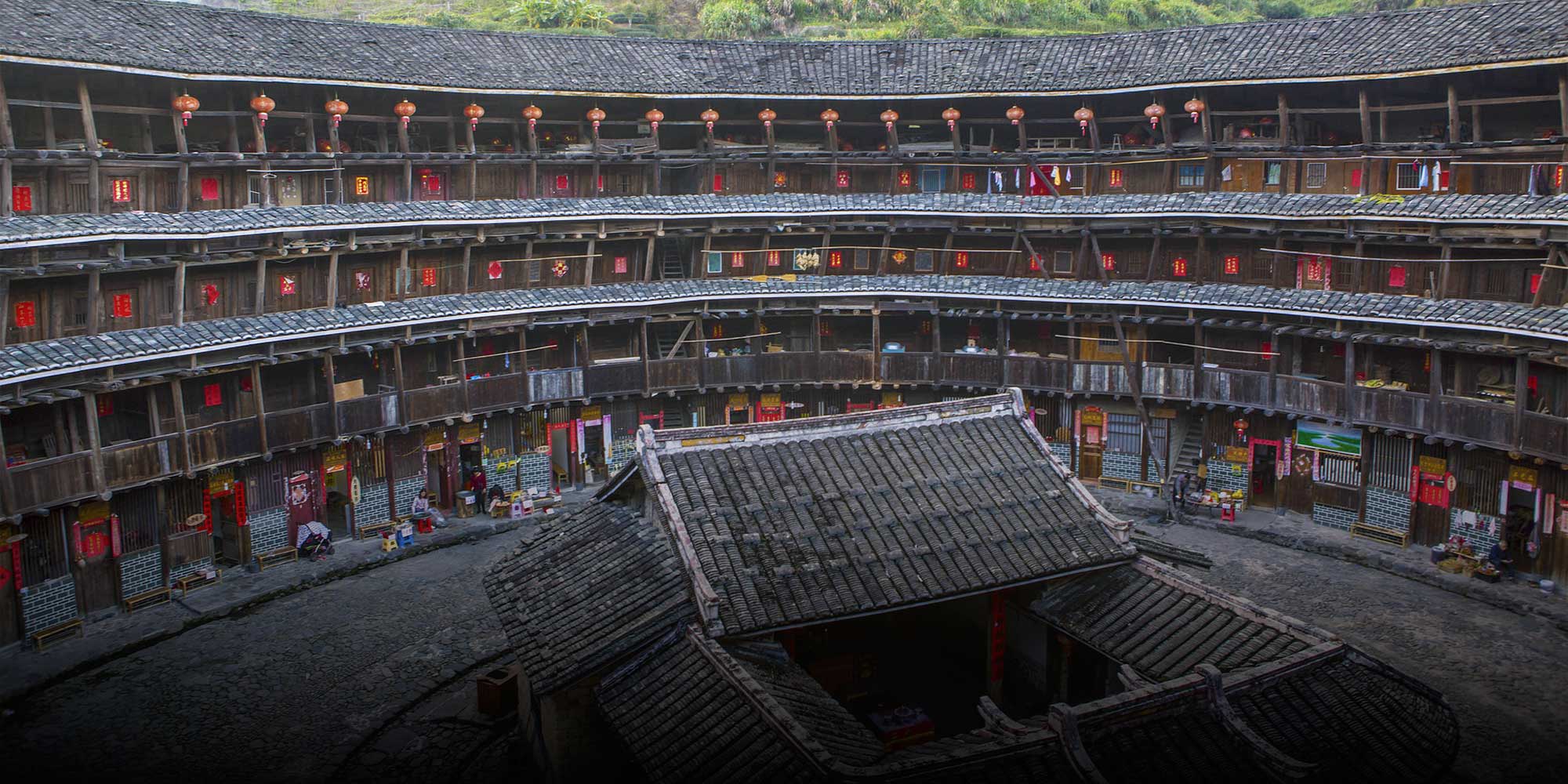 NEWS
Fujian NGOs Hope Restoring 'Tulou' Will Rejuvenate Rural Culture
To Lin Lusheng and Jiang Lili, iconic homes are an inextricable part of communal identity.
This article is part of a series looking back at some of the most noteworthy China stories of 2017.
More than 3,000 tulou — the round, earthen structures built centuries ago in eastern China — are struggling to remain standing, due in large part to a lack of funding and official protections. But since Sixth Tone last visited, NGOs have continued to take preserving the local identity into their own hands, founding schools, hosting workshops, and expanding renovation projects to tulou in other villages.
Leading a team of volunteers, Lin Lusheng completed repairs on the roofs and walls of Taoshu Building, the largest tulou in coastal Fujian province's Neilong Village, in June of last year, extending the structure's lifespan by half a century. The 35-year-old is the driving force behind an ambitious plan to restore and protect Fujian's increasingly uninhabitable tulou.
Yet repairs and restorations are just the beginning. Lin's larger plan is to found a shuyuan — the all-purpose academies that have existed in China for centuries — where children and adults alike can have ready access to both academic disciplines and traditional culture. In February, Sixth Tone witnessed Lin's lofty ambitions and the early stages of the shuyuan's construction firsthand; in May, the school opened its doors.
Over the past few months, Lin has invited experts from near and far to give courses on topics ranging from science, music, computers, and foreign languages to the members of his community, most of whom have little experience in formal education. "Children in rural China don't have access to this kind of specialist teaching," Lin explained. "So when they go to university in the city, their baseline knowledge is lower than that of their urban peers."
Now that the villagers have a roof over their heads — among the most basic of needs — they're able to share in Lin's enthusiasm for the pursuit of knowledge. In fact, several have donated their spare rooms in Taoshu Building as classroom space for the shuyuan. In the coming year, Lin will be looking beyond his own now-established school to create learning spaces in other tulou: He and the village leaders are already planning more courses on folk culture and handicrafts to boost confidence in rural identity.
In May, shortly after the shuyuan officially opened, one of the local women taught a knitting class to the children of Neilong Village to instill in them a renewed confidence in rural traditions. "If our culture is allowed to erode, then so, too, will the very foundation of China's countryside," Lin told Sixth Tone.
But since February, few other tulou have been restored through similar publicly financed projects. According to Lin, it's difficult for the government to get involved unless a particular tulou is protected as a cultural heritage site. Currently, 46 of Fujian's tulou hold UNESCO World Heritage status: They are, because of "their harmonious relationship with their environment, an outstanding example of human settlement."
The fort-like buildings, usually round or square-shaped and constructed from natural materials, were first built by the Hakka people when they migrated south during the Song Dynasty, around a millennium ago. Today, the Hakka number some 80 million worldwide.
Zinong Youxue, which provides excursions for urbanites interested in learning about rural communities, is another Fujian-based nonprofit. In August, the organization held a workshop in Dalingxia Village, about three hours' drive from Neilong, to raise tulou awareness. The nine-day course cost 1,200 yuan ($180) to attend. Jiang Lili, a manager at Zinong Youxue, told Sixth Tone that of the dozen or so people who signed up, nearly half were foreigners.
The workshop was held at Yingxia Building, a tulou that's only half-standing. "We chose the site on purpose, so that the participants could learn about the structure of the tulou and see how they're built," Jiang said, explaining that the half-collapsed, half-standing structure actually provides a cross section of sorts that can be put toward educational purposes.
Yingxia Building has just one year-round resident, who instructs the workshop attendees how to churn up the soil and pack it tightly against the damaged sections. As for the rest of the half-standing structure, its 20 or so families are away in cities for work and only return home for major holidays.
"Several residents from the neighboring village joined in after seeing foreigners repairing the tulou," said Jiang, who hopes to turn the workshop into an annual event. While she appreciates the interest from curious foreigners, she hopes more Chinese — especially young Chinese — will participate in the future, too. Apart from her own organization and Lin's, Jiang said she doesn't know of any other groups playing active roles in restoring Fujian's tulou.
About 2 kilometers from Neilong, where Lin's team is based, another village, Wailong, and its 3,000 residents are experimenting with their own shuyuan project. During next February's weeklong Chinese New Year holiday, over 100 children from both villages will be able to register for free academic courses taught by 14 university students from China University of Political Science and Law in Beijing.
"If the residents of Wailong Village want to restore their tulou, then hopefully we can make that a priority in the future, too," Lin said.
Editor: David Paulk.
(Header image: An interior view of a 'tulou' complex in Nanjing County, Zhangzhou, Fujian province, Oct. 30, 2017. IC)