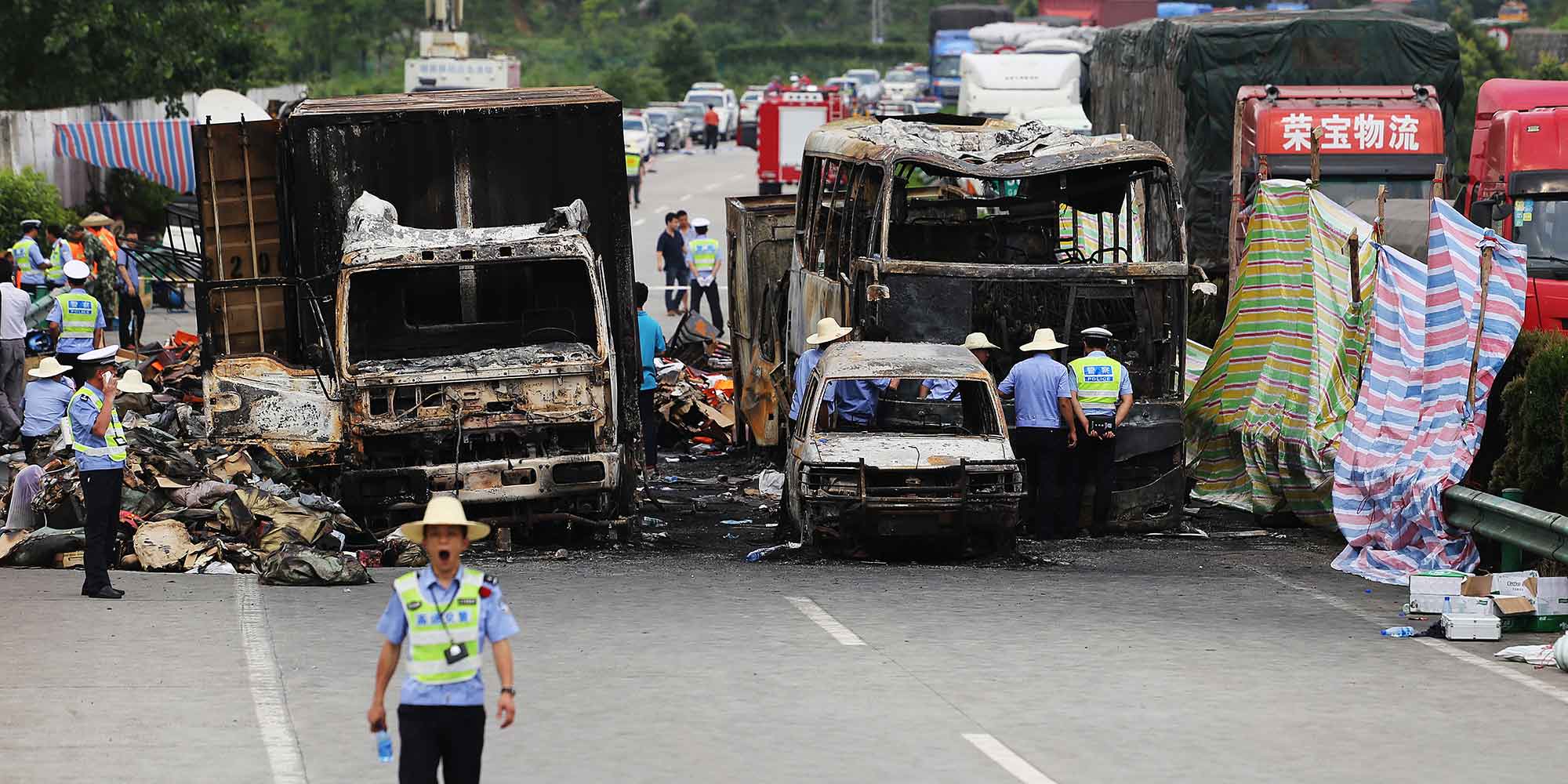 NEWS
Traffic Police Sentenced for Hunan Highway Pileup
Court rules that 2 officers' dereliction of duty indirectly caused 54 fatalities.
Two traffic police in central China have received prison sentences for dereliction of duty in their handling of a fatal car pileup, Sixth Tone's sister publication The Paper reported Sunday.
The Intermediate People's Court in Longhui County, Hunan Province, ruled on Nov. 22 that the defendants, Chen Gang and Zhou Lei, are to serve three years each for their indirect involvement in the deaths of 54 motorists and passengers.
At around 3 a.m. on July 19, 2014, a tanker truck hauling ethanol plowed into stop-and-go traffic after a lane had been closed off from an earlier accident. The truck and its flammable cargo ignited upon impact, resulting in dozens of injuries — many of them fatal — and 54 million yuan ($8.2 million) in damages.
The intermediate court determined that Chen had been negligent in his duties for failing to follow standard emergency procedures. After becoming aware that the initial accident involved burning vehicles, he continued to allow traffic to travel in the opposite direction, when protocol dictated that he stop traffic from both directions. The court further said that Chen allowed a line of vehicles to build up in the barricaded-off lane instead of contacting the nearest toll site as required. Finally, the court chastised him for not calling for backup to control traffic, as his commanding officer had advised.
Zhou, meanwhile, was sentenced because he failed to inform his superiors that a vehicle had caught on fire.
When contacted by Sixth Tone, the defendants' lawyers said they did not approve of The Paper publicizing the case and would not comment further.
Zhang Hui, a lawyer specializing in traffic law at Shanghai Qinzhou Law Firm, told Sixth Tone that the three-year sentences were somewhat severe, given that the defendants' dereliction of duty was determined to be just one of 11 contributing factors to the accident. Clearly, Zhang said, the court placed greater weight on this indirect cause.
The lawyer added that it's also unusual for such a case to take three years before going to trial. According to Article 202 of China's Criminal Procedure Law, the court should have delivered a sentence within three months of the accident.
Whether due to heavy fog or poor signage, fatal traffic accidents are not unusual on China's highways. In a similar case in the northwestern province of Shaanxi in May 2015, four police officers were sentenced to three years' imprisonment and three years' probation for being negligent in their duties after a bus drove off a cliff, resulting in 32 deaths.
Editor: David Paulk.
(Header image: Police inspect the scene of the traffic accident in Longhui County, Hunan province, July 19, 2014. Li Kun for Sixth Tone)