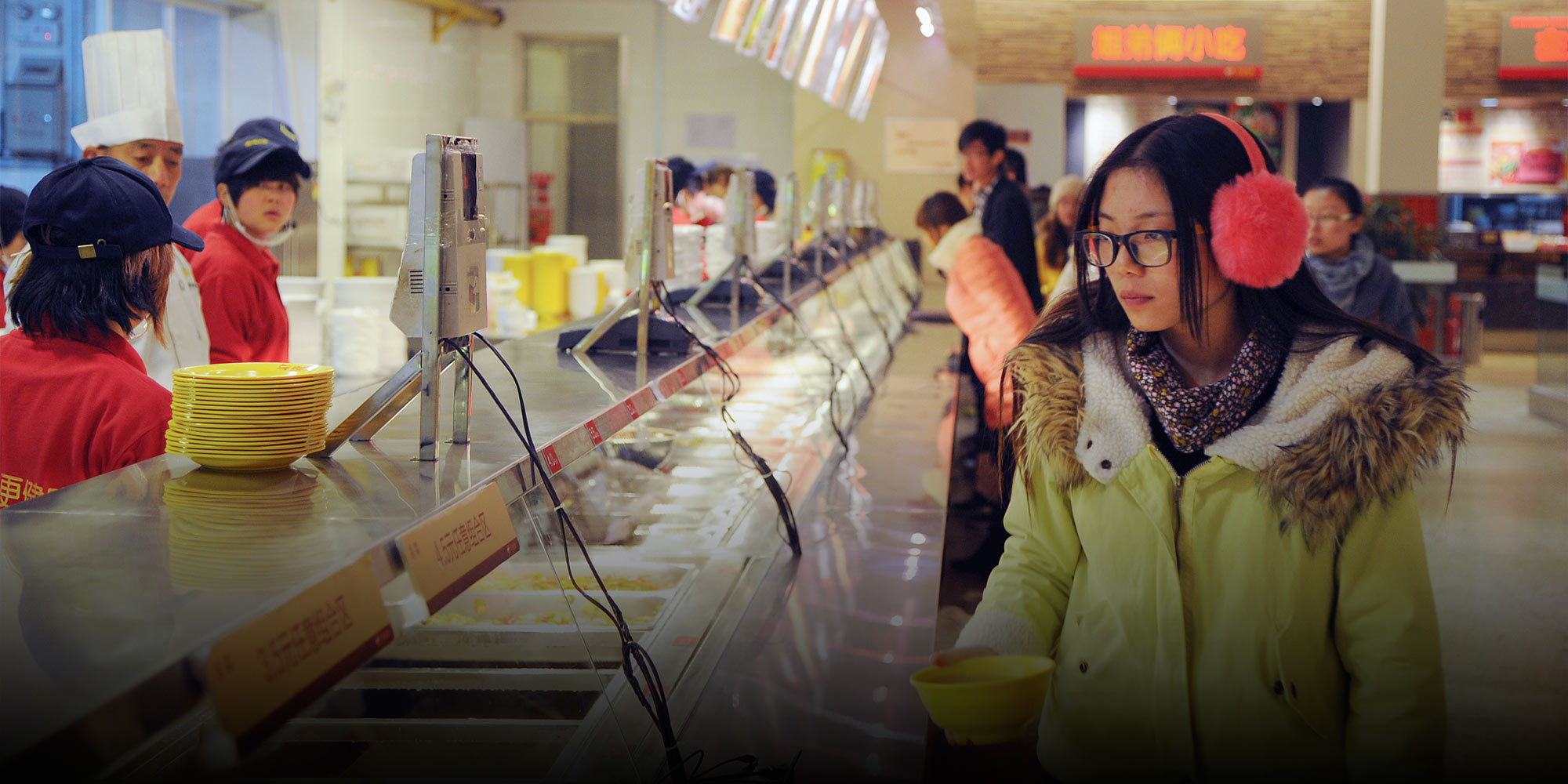 VOICES & OPINION
How College Vegetarians Are Helping China's Meat Lovers Go Green
Growing numbers of university students are ditching meat to save both their health and the environment.
Last month, at the request of a student organization called the Lohas Vegetarian Society, the Hebei University of Environmental Engineering in the northern Chinese city of Qinhuangdao added a vegetarian counter in the cafeteria. Sure, it might not be front-page news, but by serving meat-free meals to college students, the college is embracing a heartening trend toward vegetarianism in a society where most square meals contain pork, chicken, or beef.
Stories like this have played out across more and more Chinese universities, driven by the recently established Universities and Colleges Vegetarian Association (UCVA). This organization for college vegetarians was founded at Beijing's Tsinghua University on April 22 this year, World Earth Day. Its founders say that their motivation for creating the group is to "save the world."
It's not easy to cut out meat from your diet in China. Vegetarianism is not widely practiced and meat is frequently used to garnish vegetable dishes. Though the UCVA's mission statement may seem farcical, it is nonetheless backed up by a number of bold moves that aim to educate the younger Chinese population about the health and environmental benefits of eating less meat.
As part of a push toward greater dietary awareness, the UCVA encourages its members to lessen their dependence on factory-farmed meat as a food source, as the Chinese meat industry adds around 150 million tons of carbon dioxide to the atmosphere every year. Supporters also call for across-the-board greenhouse gas cuts, minimal global warming, and sustainable development.
Alongside the rise of animal protectionism — a position within animal rights theory advocating a gradual social change toward the minimum possible consumption of all animal products — more and more young Chinese are viewing vegetarianism as a healthy, eco-friendly, and trendy lifestyle. Vegetarian and vegan student groups are gnawing away at China's predilection for meat while shattering the misconception that the country's only vegetarians are Buddhist monks and cholesterol-conscious elderly people.
At China's universities, young vegetarians meet up with the coordination of the UCVA and, through charity projects, raise awareness of vegetarianism among their peers. These meetings are not militant affairs: Usually, the college's UCVA branch will invite scholars and speakers from other vegetarian organizations to give a presentation at the campus. Liu Jichen, the UCVA's founder and the director of its Tsinghua University branch, says that UCVA already has a presence in 107 colleges across the country and has recruited 186 branch managers hailing from 31 cities.
The UCVA may be a young organization, but they have grand ambitions. They hope to engage current students, alumni, and faculty members to establish vegetarian groups in higher education institutions across the country to provide systematic, yearlong assistance to fellow students who want to go veggie. As all Chinese university societies require the sponsorship of a faculty member, the UCVA also works with community leaders and other university groups to find teaching staff who believe in UCVA's philosophy.
Alongside these goals, the UCVA also encourages graduate students to address vegetarianism as a possible thesis topic. In the future, they hope to broaden their educational offerings through volunteering activities, team excursions, and greater cross-cultural engagement with youth vegetarian organizations across the world.
Given the philosophical overlap between vegetarianism and animal protectionism, the UCVA has been developing closer relations with animal rights groups. In September, for instance, they teamed up with environmental organization WildAid in distributing the latter's pamphlet, "Eating for Tomorrow," at more than 30 Chinese universities. The pamphlet spelled out practical ways to lower carbon emissions through food choices.
Perhaps most ambitious of all, the UCVA wants to develop a youth panel on climate change, bringing together environmental protection organizations from 100 domestic and international universities to support a cooperative agreement on the issue. In doing so, they hope to make the popularization of vegetarian diets a mission for eco-protection groups and NGOs worldwide.
It is a project that has won the support of Jiang Jinsong, a professor at Tsinghua University's Institute of Science, Technology and Society. "I have always believed that vegetarianism embodied the deepest historical roots of human civilization and that it will be of significant value for our future," Jiang told me in an October interview. "Young people, especially college students, are idealistic, empathetic, passionate, and willing to contribute. They are willing to accept new ways of thinking, excel at using new tools and methods, and easily accept new ways of doing things. Young people have qualities that resonate strongly with vegetarian culture."
The UCVA's so-called new vegetarians give us a possible solution to a major problem confronting modern Chinese society: what we should eat and how we should eat it. Chinese cuisine traditionally venerates various combinations of sour, sweet, bitter, spicy, and salty flavors. But as food shortages have been eliminated and people's incomes have risen, these eating customs have caused an increasing number of diseases and disorders. In 2016, an estimated 90 million Chinese were classified as obese and 200 million suffered from cardiovascular complications.
Food security concerns have periodically made Chinese consumers fearful of animal products, such as live pigs injected with the asthma drug clenbuterol, cooking oil salvaged from roadside gutters, poisonous milk powder, and duck eggs tainted with dye. As China's middle classes gravitate toward healthier and safer food, plant-based diets are seen as viable, secure alternatives to meat, and carry the added benefit of reducing greenhouse gas emissions from livestock.
In a world where around 15 percent of all greenhouse gas emissions comes from the livestock industry, anything that encourages us to reduce our reliance on meat edges us closer to climate salvation. The UCVA's non-destructive, sustainable values pushes young Chinese people to consider their relationship with animals and the environment at a key time in their formative years, a time when the habits they form will have repercussions for both themselves and the world they inherit.
Translator: Katherine Tse; editors: Wu Haiyun and Matthew Walsh. 
(Header image: Students order dishes at a university canteen in Taiyuan, Shanxi province, Dec. 3, 2012. VCG)