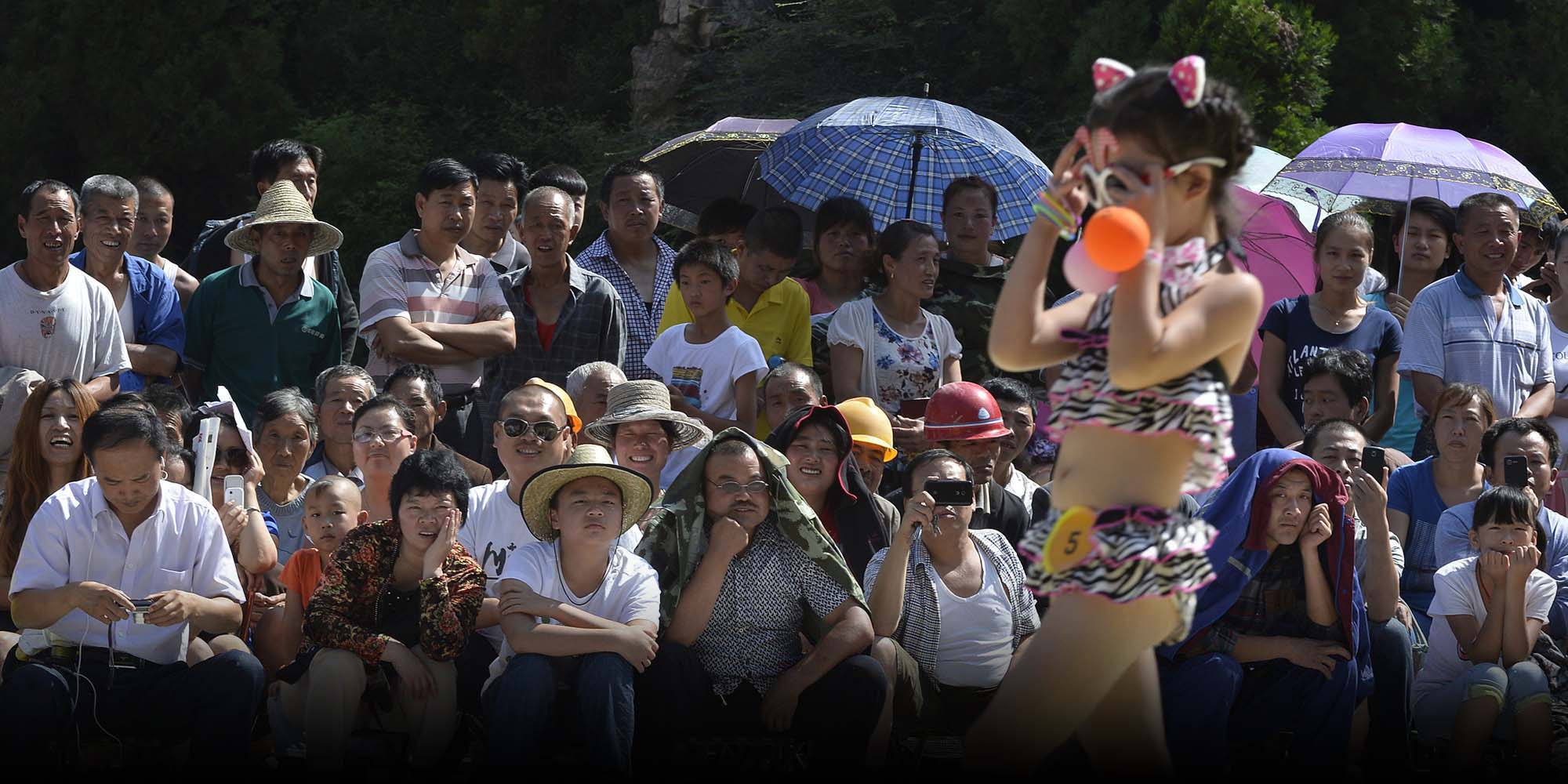 NEWS
State Media Slams Risqué Promotions Featuring Kids
Parents need to reconsider whether the runway is the best place for their children, says People's Daily.
Earlier this month, a child modeling competition in northeastern China attracted attention in all the wrong ways. The participants — boys and girls aged from 3 to 15 — were paraded on stage wearing ostentatious, often skimpy garments one might have expected to see on a Victoria's Secret runway.
Following the event, one media outlet described the young contestants as "having body shapes competitive with their adult counterparts." Others, however, have been more critical of the growing trend of child models. On Friday, Party newspaper People's Daily published a condemnation of businesses that take advantage of young girls in tiny clothes and heavy makeup to promote their brands.
The commentary also tries to dissuade overzealous parents from taking shortcuts to success by subjecting their children to a lifestyle with potentially harmful long-term consequences. "Walking on the runway and becoming a name — it's winning both fame and fortune, isn't it?" wrote Zhang Shuo, the author, explaining some parents' mentalities. "These minors might be energetic, cute, and innocent, but they should never be labeled with words like 'sexy' or 'seductive.'"
In August, Sixth Tone's sister publication The Paper published a video filmed at a shopping mall in Chengdu, capital of southwestern Sichuan province and showing children aged 3 to 12 wearing underwear with shimmering sparkles and flashy feathers. A spokesperson for the mall told The Paper that the promotional event had been organized by IBY Star Academy, a newly opened child modeling business. She added that parents had given their consent for the children to participate.
Online, however, netizens were shocked and outraged at what some viewed as the antithesis of childhood. "To let these kids walk around half-naked is could potentially expose them to harm," read one upvoted comment on microblog platform Weibo. "After all, there are quite a few pedophiles out there."
"The Victoria's Secret show is not a suitable example for minors to intimate, for the sake of protecting their physical and mental health," Wu Bin, a Shanghai-based criminal lawyer, told Sixth Tone. "These kinds of events are a challenge to society's moral bottom line, but for now at least, there are no specific regulations pertaining to this," she said.
Sun Aijun, a child psychologist, told Sixth Tone she agrees that such activities should not be endorsed, and that continued criticism is a good way to keep them from recurring. "These events should be strictly regulated, and children should be given more guidance about the true meaning of beauty," she said.
Editor: David Paulk.

(Header image: An audience watches a fashion show featuring child models in Lingshi County, Shanxi province, Aug. 3, 2013. Hu Yuanjia/VCG)