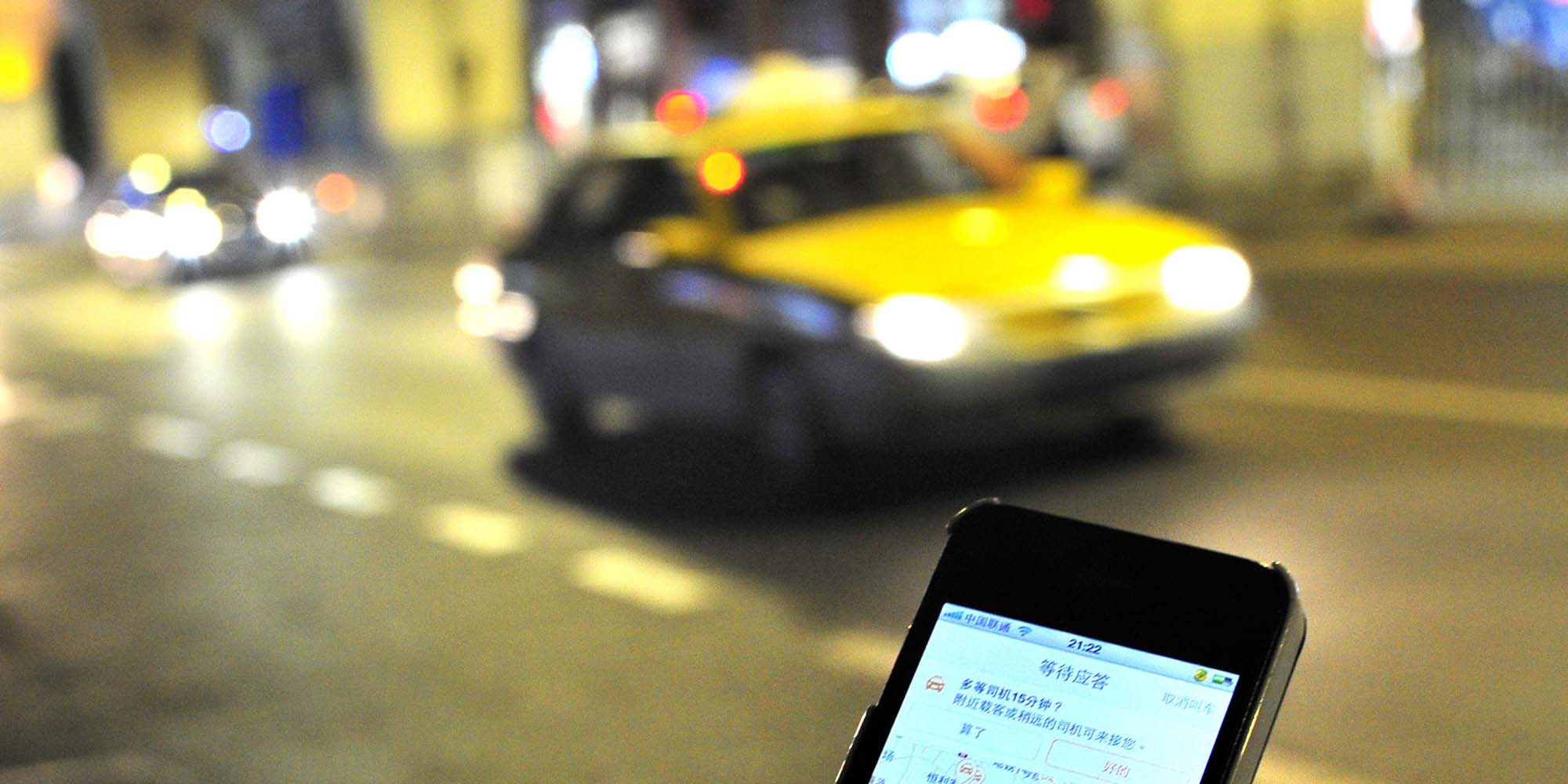 NEWS
Didi or Dida? Taxi Drivers Claim They Were Told to Choose
Latest industry spat highlights growing concerns of price-gouging and other monopolistic behavior.
Chinese ride-hailing company Dida Pinche has accused its market-leading rival, Didi Chuxing, of ordering taxi drivers to choose between the two companies' mobile apps.
In an open letter published Sunday, Dida Pinche said that six taxi drivers in the southern tech hub of Shenzhen received phone calls from Didi Chuxing's customer service department on Dec. 7, just after they had installed Dida Pinche's app. The representatives presented them with an ultimatum: If they kept Dida Pinche's app installed on their phones, their Didi Chuxing accounts would be invalidated. The drivers were reportedly told their phones were "monitored," with no further explanation as to how Didi Chuxing became aware that they had downloaded a competitor's app.
"We feel shocked," Dida Pinche said in its announcement. "Taxi drivers should have the freedom to choose which apps they install. No platform should have the right to intervene."
Launched in Beijing in October 2014, Dida Pinche has attracted 60 million users in 349 cities and secured its place as the second-largest ride-hailing company in China. Most of its drivers are ordinary people who use their own cars. By 2015, the company had raised $130 million from a handful of investors, including venture capital firm China Renaissance Capital Investment and automotive industry platform Yiche.com.
Since late October of this year, Dida Pinche has added a taxi-hailing option in major cities such as Beijing, Shanghai, Guangzhou, and Tianjin. "The living conditions of taxi drivers have become worse due to pressure from ride-hailing companies," Dida's announcement continued. "It's reasonable for them to install another app to generate more fares."
On Monday, Didi Chuxing fired back, saying it "doubted" the accusations made by its competitor. "This misconduct has yet to be discovered," the company said in its own statement. "We will take legal measures against such malicious slander."
Formed with the merger of rival ride-hailing companies Didi Dache and Kuaidi Dache, Didi Chuxing provides taxi-hailing, ride-hailing, and ride-sharing services to over 400 million users in some 400 Chinese cities. According to its own data, the company has corralled 99 percent of the taxi-hailing market, with over 1.5 million registered taxi drivers, and 87 percent of the ride-hailing market for private vehicles.
But since Didi Chuxing's $35 billion acquisition of Uber's China operations in August 2016, the company has been under scrutiny from both media and the government over monopoly concerns. A month after the Didi-Uber China merger, the antitrust division of the Ministry of Commerce announced its own investigation into the company. And in August of this year, state news agency Xinhua slammed Didi Chuxing for unjustified and "capricious" rate hikes.
"Didi's rapid growth was favored with heavy investment [from the private sector] a few years ago, but that business environment has passed," Zhang Hefei, an independent automotive industry analyst, told Sixth Tone. "It's hard for Dida to compete with Didi, which has seized control over pricing power in the market, unless the Ministry of Commerce acknowledges Didi's monopoly and provides more beneficial policies to other players."
Mimi Wang, a 28-year-old from Shanghai who described herself as an occasional taxi passenger, told Sixth Tone she believes it's getting harder and harder to hail taxis during peak commuting hours unless users are willing to pay "surge pricing" rates. "I'm not comfortable with this, but I have no choice," she said. "I wish the market could be more transparent, with no more price manipulation."
A taxi driver from Shanghai who asked only to be identified by his surname, Xu, told Sixth Tone he believes Didi Chuxing gives preferential treatment to drivers of private vehicles, prompting him to sign up on Dida Pinche's app around a month ago. "It's good to have another choice," he said.
Editor: David Paulk.

(Header image: A smartphone user accesses ride-hailing app Didi Chuxing in Guangzhou, Guangdong province, April 9, 2015. A Ming/IC)