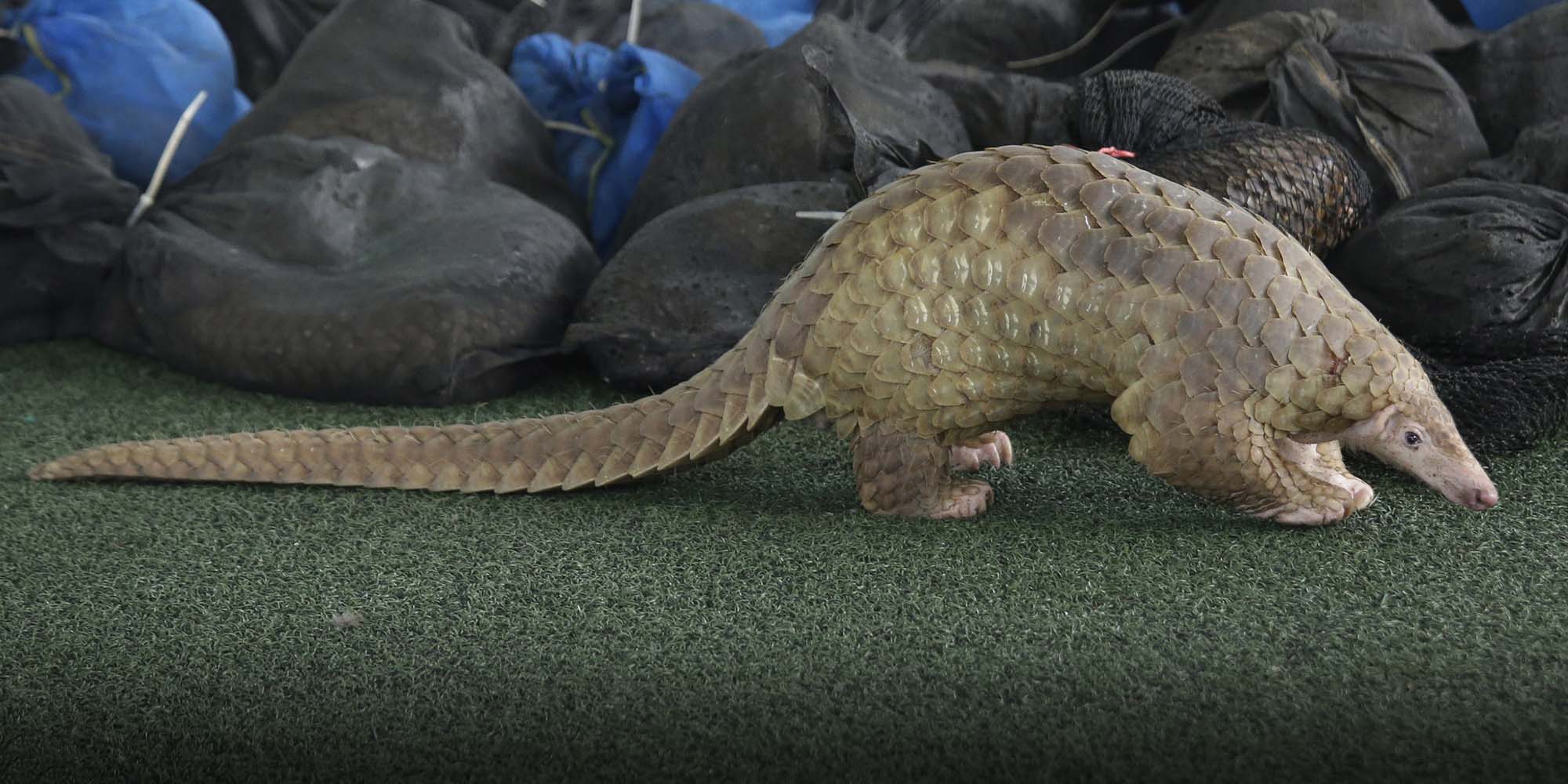 NEWS
TV Show's Pangolin Soup Recipe Makes Viewers' Blood Boil
Guangdong TV segment featured cooking with ingredients from critically endangered animal.
Conservationists are incensed after a TV station in southern China broadcast a cooking segment using the scales of pangolin, a protected species, to make a medicinal soup for breastfeeding mothers.
The health program, "Life Tips," featured a recipe using 10 grams of pangolin scales alongside chicken feet and other herbal ingredients in a soup that was supposed to accelerate lactation. But since 2014, pangolins have been listed as "critically endangered" by the International Union for Conservation of Nature due to "high levels of poaching for meat and scales."
The segment had been broadcast on the Guangdong Radio and Television station several times but did not attract attention until Nov. 19, when an irate viewer calling herself "CJ" shared screenshots on microblog platform Weibo. On Saturday, the news drew a fresh wave of outrage when the China Biodiversity Conservation and Green Development Foundation (CBCGDF) reposted it.
CJ told Sixth Tone on Tuesday that she had actually reposted the screenshots after seeing them first shared by a friend on another social media platform. "How could the TV station guide its audience to eat parts from a protected animal and recommend a recipe with unfounded medicinal effects?" read her post. "Have you lost your conscience?" The post has been shared 1,300 times and received more than 600 comments.
CJ said the episode's director, Wu Jiayao, later contacted her on Weibo and told her that the show had reminded viewers that pangolins are protected. In screenshots of their conversation seen by Sixth Tone, Wu stressed that the production and purchase of pangolin scales through pharmacies is permitted.
"I felt like they were telling me, 'Don't waste your time — this issue will be forgotten,'" CJ said. Sixth Tone could not reach the show's producers through a phone number listed on the website of Guangdong Radio and Television.
Li Enze, a lawyer at Beijing Yipai Law Firm, confirmed that while eating pangolin is illegal, the law still allows for the use of pangolin scales in traditional medicine, in accordance with the nation's wildlife protection law. Sales of pangolin scales are strictly controlled by China's State Forestry Administration: By 2015, the last year for which data is available, the annual limit for pangolin scales was around 26,000 kilograms.
The use of pangolin in traditional Chinese medicine dates from the Ming Dynasty, when Li Shizhen wrote Bencao Gangmu, an herbology tome that remained a key reference for centuries. According to a survey conducted by U.S. environmental organization WildAid in 2015, more than 70 percent of over 3,000 Chinese respondents believed that pangolin scales can treat rheumatic diseases, asthma, and cancer. Though 74 percent of interviewees knew it was illegal to eat pangolin, they also considered it a symbol of prestige to dine on the forbidden animal.
Zhang Siyuan, the acting director of the pangolin group at the CBCGDF, told Sixth Tone that there is no scientific evidence for the animal's medicinal uses, and that some scholars say synthetic substitutes are perfectly adequate. She said that there is no justification for using exotic animal parts unless they are effective, harmless, and the only ingredient that can achieve results.
Zhang added that though traditional medical texts only refer to the Chinese pangolin, foreign species have suffered, too, as the legal domestic supply has failed to keep up with demand, thereby creating a market for smugglers. In November, Shenzhen authorities uncovered a case that involved 11.9 tons of pangolin scales smuggled from Africa.
According to expert estimates in 2010, the demand for pangolins in the Chinese market is around 200,000 animals each year: half for food, and half for medicinal products. In February, Chinese social media lit up with incredulity at a two-year-old post where a writer boasted of being treated to a pangolin dinner by government officials. And in August, a video showing a pangolin being slaughtered received wide public attention and triggered a police investigation.
Pangolin is not the only species to become endangered because of consumption demands. Earlier this month, the IUCN designated the yellow-breasted bunting — a species now believed to increase men's sexual potency — "critically endangered" because "the overall rate of population decline is even greater than previously thought." In 2000, the species was merely listed as "lower risk/least concern."
Editor: Qian Jinghua.
(Header image: A smuggled pangolin is shown by Thai customs officials during a press conference in Bangkok, Aug. 31, 2017. Sakchai Lalit/IC)