Beauty hurts: A woman in southwestern China was recently hospitalized after a cosmetic device got stuck in her nose.
The home nose lift clip — designed to make noses look more upturned and dainty — became lodged in the woman's nostril after she inserted it, then entered her throat as she hyperventilated in distress. Eventually, it ended up lodged in her stomach, Beijing Evening News reported Tuesday.
Doctors have long warned about the risks of such devices, and inadequate oversight of cosmetic products and services more generally.
"You absolutely cannot use these things," Huang Zhenxiao, an ear, nose, and throat doctor at Beijing Tongren Hospital, told Sixth Tone. "Customers are irrational; they lack scientific knowledge."
Nose lift clips cost from 10 to 168 yuan ($1.50 to $25) on Taobao, China's biggest e-commerce platform, and come in three sizes. The products are usually advertised as South Korean or Japanese, but an online seller whom Sixth Tone spoke to on Thursday said their product was in fact manufactured in China.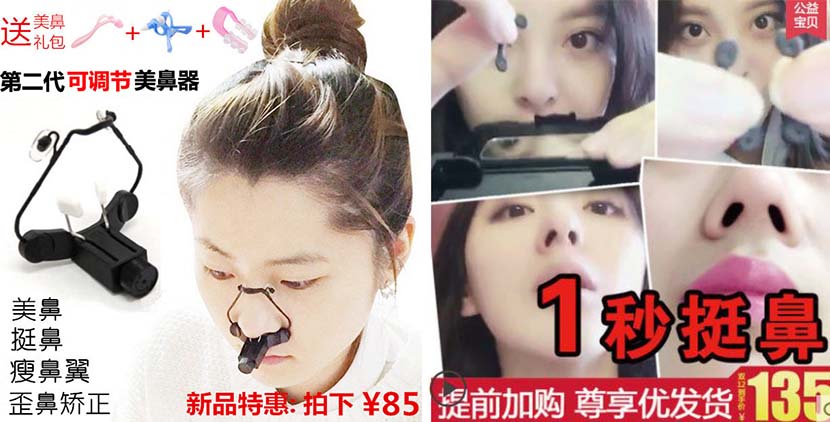 Promotional images from online shops purporting to provide at-home nose lift solutions.
In online reviews, one buyer shared photos taken with medical cameras after they had to visit a hospital to have the stuck device removed, while another posted pictures of bruising they said had been caused by the device. But most reviews left on the product page were positive.
"If you use the product correctly, there won't be any accidents," one seller based in the eastern province of Zhejiang told Sixth Tone. The product's warning label merely advises against use while sleeping, swimming, showering, or exercising, and recommends against use by customers who have recently had nose surgery or experienced intense coughing and sneezing.
But health professionals disagree. In January 2016, Wang Keming, a doctor from the plastic surgery division of the Chinese Academy of Medical Sciences, posted an article online warning that nose lift devices could cause sinus inflammation. He urged consumers not to follow beauty trends blindly, lest they become human guinea pigs for perilous products.
Wang told Sixth Tone on Thursday that the device mechanically pushes up the bridge of the nose, reducing ventilation and moisture retention. "People buy these products because they don't want to spend money on surgery, or they're scared it will be painful and leave scars," Wang said.
Surgeries, too, come with their share of risks. In May 2016, a 21-year-old woman in eastern China's Jiangsu province lost sight in her right eye after a botched nose job. And in August of this year, doctors warned that 70 percent of the country's Botox and hyaluronic acid — a dermal filler — was counterfeit or illegally smuggled, and that China is rife with unlicensed cosmetic surgery.
Yet the lucrative industry continues to grow, with men making up a growing percentage of clients. According to a report released in August from SoYoung, a Chinese mobile app dedicated to cosmetic surgery, 14 million Chinese are expected to have cosmetic surgery in 2017 — a 42 percent surge from the previous year — while globally the industry has grown by just 7 percent.
Editor: Qian Jinghua.
(Header image: A man warns consumers about a device purporting to lift the bridge of the nose at a press conference in South Korea, Sept. 10, 2015. VCG)