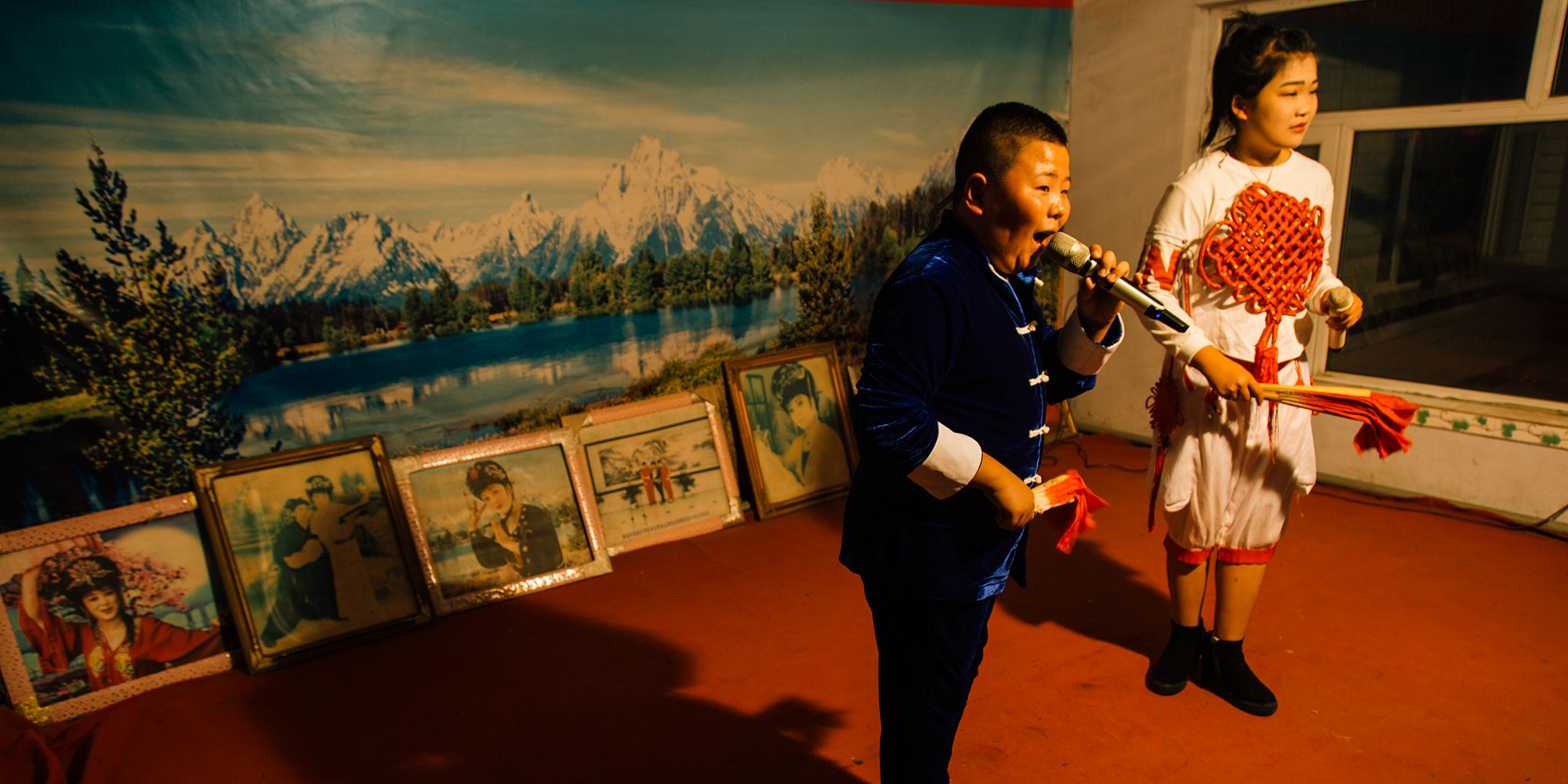 FEATURES
Ancient Chinese Opera Finds Fresh Voice
The northeastern art of 'errenzhuan' is modernizing and taking to the web to keep up with the changing times.
LIAONING, Northeast China — The Little Peony Errenzhuan Art School is teaching a few dozen students about a 300-year-old art form, in hopes that it will find a new audience among the younger generation.
Errenzhuan, which translates as "song-and-dance duet," exemplifies the rustic entertainment of China's northeast. Known for its witty, relatable narratives, the traditional opera was once so popular that locals skipped meals to enjoy errenzhuan, according to an ancient proverb. But with its popularity waning, institutions like Little Peony are attempting to pass down the errenzhuan tradition to youth.
Every evening inside a classroom in Qiujiagou Village, nestled amid the cornfields two hours from provincial capital Shenyang, a group of students perform errenzhuan — but with a modern twist. In a brightly lit room, they stand in front of a computer livestreaming playful acts to a few hundred viewers online. Though heavy on thumping modern pop beats, the performances are sprinkled with bursts of the traditional opera, too.
"Without the opera element, errenzhuan is not errenzhuan," says Yin Quanlin, who founded Little Peony in 2000. "We cannot forget its roots."
It's 7 o'clock in the morning, and 13-year-old Ding Haoxuan is already gathered with his schoolmates in a courtyard at the center of a block of brick houses. After a quick warm-up session, they wave multicolored fans and handkerchiefs, which have remained the props of choice to enchant errenzhuan audiences.
For students like Haoxuan, the school is a home away from home. The Little Peony provides them with lessons, housing, and meals for an annual tuition fee of 5,200 yuan ($785). For many, it's also an escape from typical academic learning — some are there to become famous, while others see it as one possible career path in a rapidly changing industry.
Sun Bo, a lecturer specializing in Chinese plays at Liaoning University, says errenzhuan has evolved immensely in the last few decades. In the mid-'90s, the shows were a street-side spectacle and were only popular among a certain age group, mostly men over 50. This was also the time, he says, when the art witnessed a drastic change. Sun points to Xu Kaiquan — a theater owner in northeastern China's Jilin province — as the man who popularized a modern, conversational form of errenzhuan among mainstream audiences. He not only introduced it to the masses at nightclubs but also turned it into a performance subculture, something like stand-up comedy shows.
Initially, the new formula was a success: Audiences enjoyed the jokes, which were often obscene and made vulgar references to body parts. However, as people became more cultured and aware of the distasteful references, such themes became controversial and started to backfire. Some even boycotted the shows.
In 2003, legendary performer Zhao Benshan himself intervened to revitalize the art form. The "king of skits," who occasionally starred in the annual Chinese New Year gala by state broadcaster CCTV, pioneered "green errenzhuan": Jokes are the essence of errenzhuan, but Zhao advocated for a healthy dose of comedy devoid of sexual innuendo or offensive commentary. His legacy is now carried on by many of his students.
Zhao Haiyang, a seasoned errenzhuan performer trained under Zhao Benshan, tells Sixth Tone that such evolution is natural and necessary to the survival and development of the art. "We need to keep up with the times," she says. "The market for traditional opera is shrinking, so there is a need to organically restructure to suit audiences."
In Shenyang, the Liu Laogen Grand Stage has become known for its modern green errenzhuan. The theater is one of the few places that still shines a spotlight on errenzhuan, and it's considered an important landmark for visitors hoping to get a distinct taste of northeastern culture. It's also a destination for budding performers who aspire to take center stage there one day. However, not everyone can make it to the grand theater — a reality that You Pengpeng knows all too well.
The now-24-year-old performer dreamed of becoming an errenzhuan star, someone who can sing, dance, and crack jokes, all while maintaining a rapport with their duet partner. At 17, he dropped out of high school to pursue his dreams of fame and fortune, hoping to one day perform on the Liu Laogen stage. But he soon realized that the competition was intense and the cash limited. Instead, he started performing with his partner at weddings, earning between 2,000 and 3,000 yuan per show, which he considers decent pay.
Just like the students at Little Peony, You has discovered the benefits of the virtual world. Between his shows in various cities, he now performs for an online audience: A 10-minute livestreaming session on his personal channel can fetch him up to 3,000 yuan, more than his stage shows. His online performances bring the centuries-old art form to life for new audiences, he says, while allowing him to continue doing what he loves.
"If you have talent nowadays, you can just livestream," he says. "Now, I face the phone every day and perform."
Editor: Bibek Bhandari.
(Header image: Ding Haoxuan (left) and his classmate Zhang Zihan perform 'errenzhuan' at the Little Peony Errenzhuan Art School in Faku County, Liaoning province, Oct. 28, 2017. Wu Huiyuan/Sixth Tone)