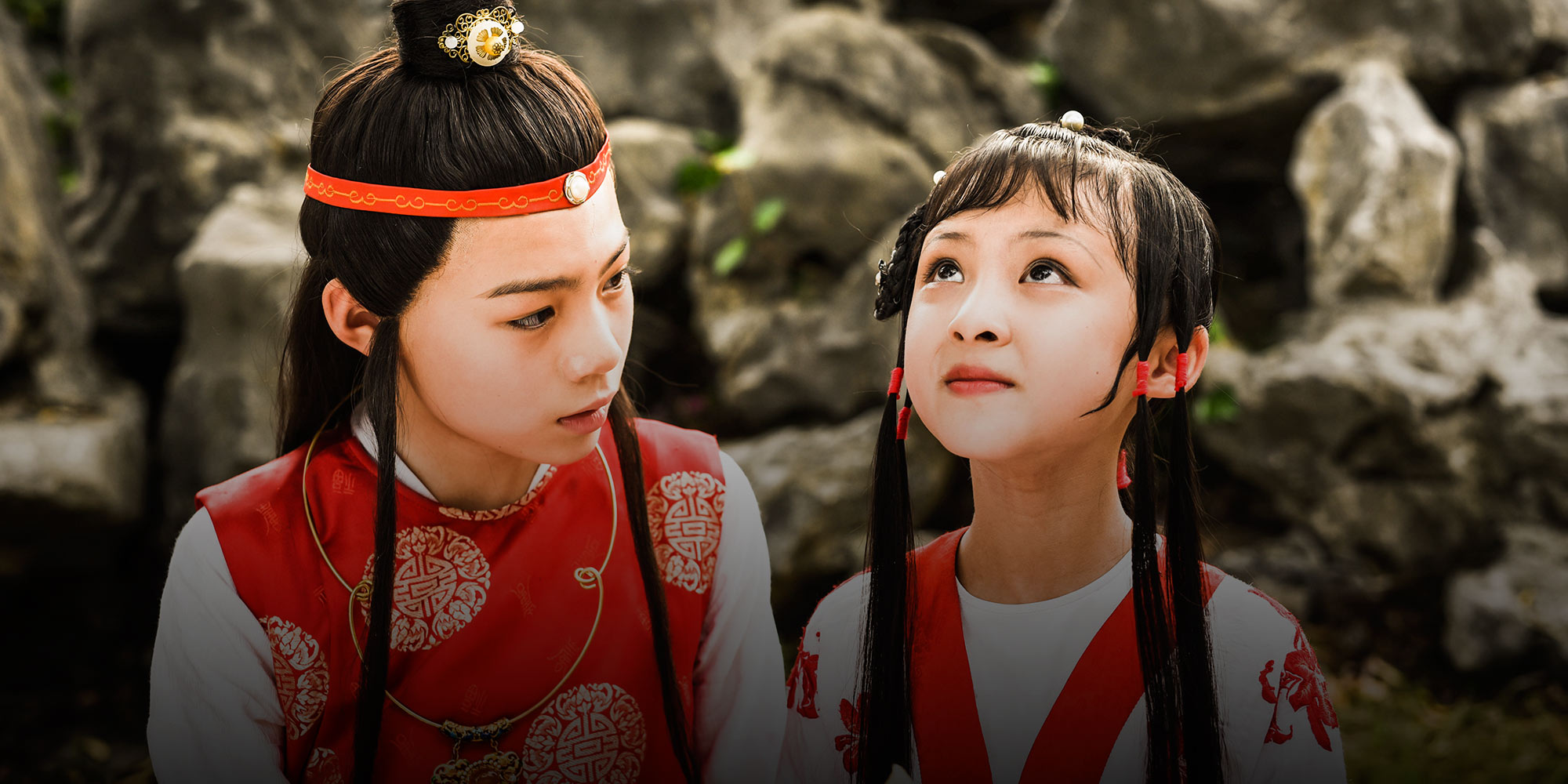 FEATURES
The Child Stars Putting China's Adult Actors to Shame
All-kid cast of 'Dream of the Red Chamber' TV remake outshines adult celebrities and brings new attention to classical tale.
Filming a scene in which his character is beaten by his father, 11-year-old actor Shi Xiaosong rejected a protective pillow to make his performance authentic. The resulting pain and tears were real.
"It hurt; it really hurt — but 'Star of Tomorrow' is all about acting well," the kung fu-trained actor told Sixth Tone, recounting his experience over a WeChat voice call from his hometown in northwestern China's Xinjiang Uyghur Autonomous Region.
Xiaosong recently played the role of Jia Baoyu, a pampered teenage heir to a noble household, in a nine-episode television adaptation of classical novel "Dream of the Red Chamber" made with actors aged 6 to 12. The miniseries is the latest production from "Star of Tomorrow," an online program retelling Chinese classics using an all-child cast.
Upon its release in early October, "Dream of the Red Chamber" became an overnight sensation, garnering widespread attention and accumulating over 100 million views on streaming platform Tencent Video within days. On the review site Douban, it was rated 9.2 out of 10 — the top score of any Chinese TV series in 2017, and among the top 1 percent of all costume dramas ever reviewed on the site. Online, viewers raved about the children's stellar acting skills, particularly in contrast to celebrity actors often derided as "facially paralyzed" for their wooden acting.
"The acting is really good. To be honest, it's better than that of some superstars," read one of hundreds of enthusiastic bullet screen comments searing across the series' first episode. "Kids! They're all kids!" exclaimed another. Local media, too, fell head over heels for the young thespians, with Party newspaper People's Daily dedicating four separate articles to praising the new production.
Helmed by Pan Liping Productions and partially funded by provincial TV heavyweight Hunan Television, "Star of Tomorrow" has created 12 miniseries since its inception in December 2015, including "Mulan," "Legend of the White Snake," and "Romance of the Three Kingdoms."
Speaking with Sixth Tone, director Pan Liping explained that "Star of Tomorrow" aims to recreate the feel and attention to detail characteristic of old Chinese TV series — something he feels is lacking in modern productions. Using child actors, he said, may help China's younger generation appreciate and understand traditional stories they might not otherwise be interested in.
In November last year, Pan and his team decided to tackle "Dream of the Red Chamber," a mammoth work of fiction and one of China's "four great classical novels." The story narrates the fall of a wealthy aristocratic family in feudal China and the fate of its members, including young Jia and his two cousins, the scholarly Xue Baochai, and the fragile beauty Lin Daiyu, with whom Jia shares an ill-fated romance.
The production team drew inspiration from the 1987 TV adaption "Dream of the Red Mansion" from state broadcaster CCTV, widely considered a classic for its acting quality and commitment to authenticity. Pan and his team imitated the 1987 series down to the finest detail, from costume design to decor, acting, and stage directions.
A month after the project kicked off, the search for young actors began. For the role of Jia, the production team auditioned 60 children from across China before settling on an unexpected choice for the young aristocrat: Xiaosong, a child actor well-known for his kung fu prowess.
A sickly child, Xiaosong was thrust into kung fu training at the age of 2 by his parents, who hoped it would improve his poor health. Two and a half years later, he was sent to the Shaolin Temple in central China's Henan province to train under the tutelage of Abbot Shi Yongxin, also known as the "CEO monk" who turned the temple into a sprawling business empire. Xiaosong's arduous daily routine consisted of reciting Buddhist scriptures at 4 in the morning, followed by martial arts training. "I really missed my parents. When I went back to my room every night, I'd cry on my bed. I couldn't sleep," he recalled.
Xiaosong's acting career got its start with a chance opportunity to perform on a kids' TV show in the southern city of Shenzhen, which led to roles in numerous TV series and films.
When he was approached about the role of Jia, Xiaosong was initially reluctant because he considered the character to be overly soft. Having trained at an all-male temple where toughness was a highly esteemed trait, he struggled to relate to a character who cries easily and prefers the company of girls. "Whether they sweat or bleed, practitioners of martial arts won't cry at all," he stated in a previous interview.
Prior to filming, Xiaosong and other child actors underwent a month of intensive training, during which directors would critique every aspect of their performance. Every evening, they would watch the original "Dream of the Red Mansion" TV series to immerse themselves in the world of the novel and identify a tangible point of reference for their acting.
To maximize authenticity, etiquette teachers instructed the children on how to sit, stand, and walk like 18th-century social elites. Experts in "redology," the academic field dedicated to researching "Dream of the Red Chamber," were also tapped to help draft the script. For Jia's first meeting with Lin — a vitally important moment Xiaosong practiced over 50 times — a body language professional was brought in to work with the actor on what to do with each body part, even his eyes.
During the seven weeks of filming, Xiaosong spent up to two hours a day in the makeup chair before shooting for approximately eight hours, fitting in schoolwork whenever possible. Xiaosong found crying scenes particularly taxing, sometimes exerting himself so much that he felt completely paralyzed by fatigue.
Production of the nine-episode miniseries lasted more than six months. According to Pan, the comparatively slow pace was a deliberate rebuttal to China's "fast-food culture," which produces film and TV in a "pressure cooker" environment to maximize returns. "If you slowly raise fish or chickens, the longer you wait, the better the flavor will be," he said. "But lots of people of course view commercial value as the most important thing. Values will determine your attitude, which in turn will determine how you treat production."
Looking back on the runaway success of his latest series, Pan credits the popularity of the original work — both the book and the previous TV series — as well as his team's efforts. "We poured our hearts and minds into it," Pan said. "The success of 'Star of Tomorrow,' to a great extent, is the result of our diligence."
Pan also attributes the series' success to its convincing portrayal of children in the world of adults, a "miracle" that allowed it to "surpass all other series acted by kids, by a long shot," he said. Pan believes that this helped extend the appeal of the series beyond people who just want to see cute children act. "Relying on cuteness is not enough," he explained. "You could say it's a kind of upgrade from cuteness — to even be able to awe, shock, and surprise people."
Some viewers were concerned about the adverse psychological effects that playing adult roles — or gaining fame so early in life — might have on impressionable young actors. In response, Pan claims that performing mature roles can have a positive influence, and that his team provide moral guidance to all young actors they work with to make sure the fame doesn't go to their heads.
"This way, from a young age, they'll know they should be artists for the people, growing from 'little drama-bones' to 'old drama-bones,' and they won't just think about how to become famous overnight or how to get rich fast," Pan said, referencing an ancient expression that describes veteran actors for whom acting runs bone-deep. The Chinese title of "Star of Tomorrow" — "Xiaoxigu" — literally translates as "little drama-bones."
Rather than receiving celebrity-sized paychecks, each young actor simply got a small parting gift ranging from 100 to 2,000 yuan ($15 to $300). "The actors didn't have a salary. They were willing to do it, regardless of pay," said Pan. However, the production invested heavily in the children by offering a wide range of culture and acting classes.
Xiaosong now has 320,000 fans on microblogging site Weibo, to which he posts hashtag-riddled pictures and videos of himself playing instruments, for example, or lounging in a crocodile onesie. Though he manages the account himself, he doesn't post anything without his parents' approval. Recently, he answered fan questions in an hourlong livestreaming session and even did an advertisement for video app Meipai.
Despite his newfound fame, Xiaosong seems to have taken Pan's values to heart. He is currently interested in joining the Chinese military's special forces one day, but he is aware that his dreams are in flux.
"My views will definitely change as I get older," he said, "so I'm going with the flow. When I get to a certain age, I'll know what I really want to do."
Editor: Doris Wang.
(Header image: A still frame from the miniseries 'Dream of the Red Chamber' shows Shi Xiaosong (left) as Jia Baoyu. Courtesy of 'Star of Tomorrow')