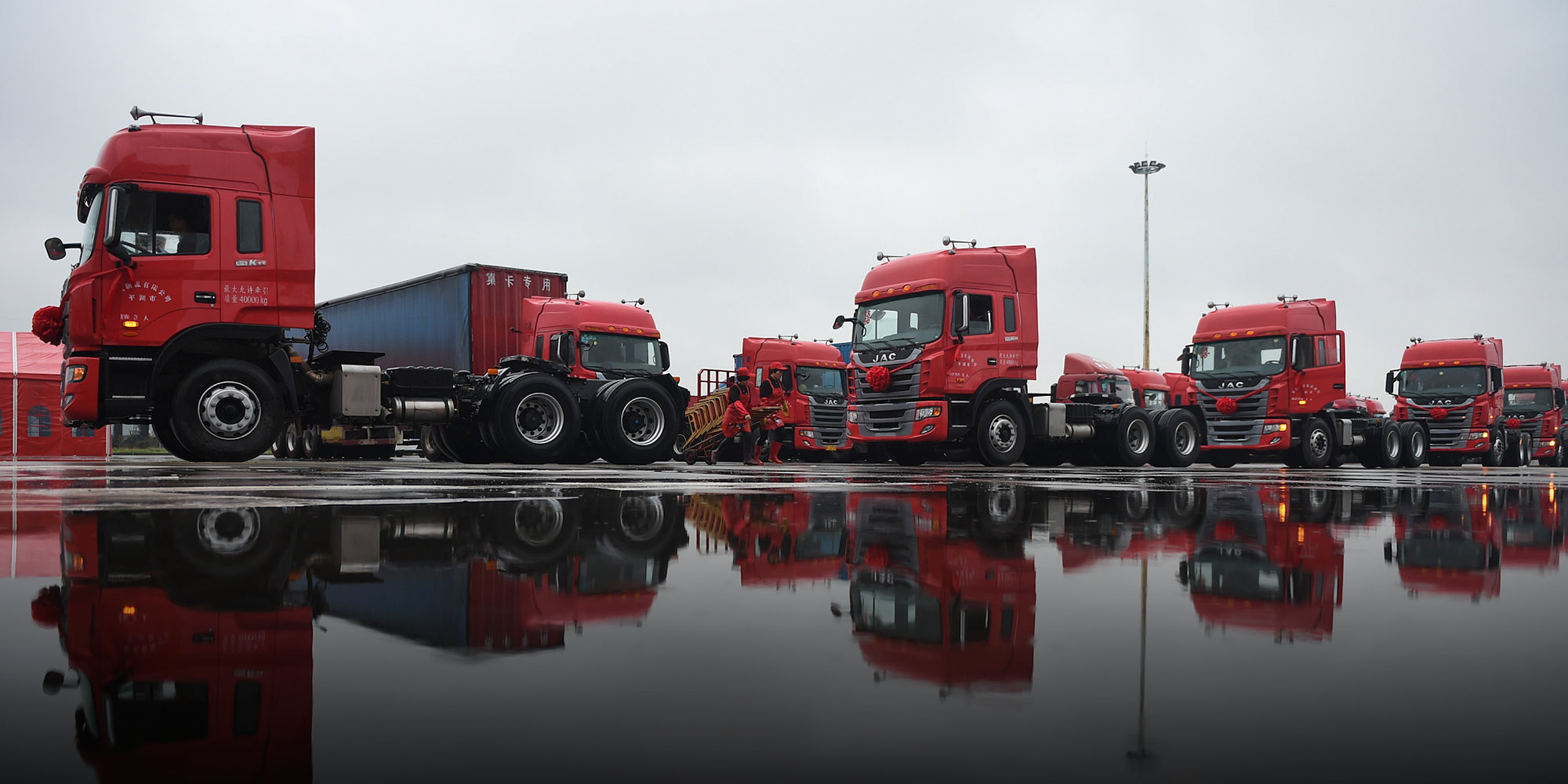 VOICES & OPINION
Why China's Warring Truckers Are Joining Forces
The country's two biggest logistics companies are merging despite prior allegations of industrial espionage.
This is the final article in a series on Truck Alliance, one of China's most innovative shipping companies. Parts one and two can be found here.
A new cease-fire has been brokered in the long-running feud between the two titans of China's trucking industry: the Nanjing-based Ymm56 and Truck Alliance, which is headquartered in Guiyang, southwestern China's Guizhou province. The two firms issued a statement on Nov. 27, announcing a strategic merger to form a new company.
While Ymm56 and Truck Alliance's move is likely to be this year's largest proposed merger in the logistics industry, it's not the magnitude of the proposal that has drawn the attention of observers. Rather, it's that the two firms, which three months ago were locked in what appeared to be a life-and-death struggle, have suddenly decided to bury the hatchet. With nearly 4.5 million users combined, Ymm56 and Truck Alliance are the giants of China's logistics industry. Their joint market share dwarfs that of their rivals, though it still falls far short of a market monopoly. The merger gives both companies a shot at securing industry supremacy.
The two firms have a long history of butting heads. Last November, Truck Alliance sued Ymm56, alleging its rival had harassed and abused its clients over the phone. Then, in January, Ymm56 filed a lawsuit of its own, accusing Truck Alliance of hacking into its systems and stealing corporate secrets. Local police in both Nanjing and Guiyang have stepped in to handle disputes between the two sides, and both companies have received significant support from the local governments in the cities where they are based.
But in hindsight, escalating tensions in July only served to push the two sides closer to a merger. Shareholders of both companies wanted an end to the constant infighting in hopes of speeding up the process of getting them listed on the stock market. Local governments may also have played a role in uniting the two, given that their business forms a crucial part of the economy's information infrastructure.
When Sixth Tone asked Truck Alliance's public relations department about the merger, the company refused to elaborate on the details. Little is known about what subsequent steps the two companies will take, whether they will rebrand as a new entity, where the new company's headquarters will be, and what role the government played in orchestrating the merger.
But based on what has been reported in the domestic media so far, the two companies will combine to form a new entity, with Wang Gang, an investor in the wildly popular ride-hailing app Didi Chuxing, assuming the position of chairman and CEO. Truck Alliance CEO Luo Peng and his Ymm56 counterpart, Zhang Hui, will become company co-presidents. While both companies will continue operating independently — at least at the beginning — efforts will be made to optimize their services through strategic integration.
Wang has indicated that the merger had the support of shareholders and local government in both Nanjing and Guiyang. "This merger is not a case of two companies having exhausted their resources. It came together due to the intelligence and mutual trust that existed at the management level. Cooperation is more productive than competition," he said.
When two equally powerful corporations merge, it can be challenging to decide who to put in charge. Industry observers often see the decision as an indicator of which company wears the pants in the relationship. In this case, however, neither Zhang nor Luo is in the driver's seat. Instead, the company will be run by Wang, an unconventionally hands-on role for someone who, up to now, has been Ymm56's angel investor.
The fact that Wang was given nominal control of the merged business suggests that, at the moment, neither firm is ready to swallow up the other. The competition between the two was felt particularly keenly among their respective sales teams, and it will take time for sales staff to accept directives from managers of their erstwhile competitor. Still, Wang's experience with Ymm56 hints that the Nanjing-based firm currently has the upper hand.
The domestic ground logistics market is currently valued at about 8 trillion yuan ($1.2 trillion). After the merger, there is significant potential for resource integration, which would bring in greater profits in the new firm's early days. Still, significant room exists for further development: Both Ymm56 and Truck Alliance have laid strong foundations for success, and the new company may go on to explore business opportunities in the renewable energy, driverless car, and merchant shipping sectors.
Due to the diffuse and underdeveloped nature of China's logistics industry, it remains to be seen how firms can adapt to standardization and scaling. At present, Truck Alliance's market services model seems the more practical option. Truck Alliance is currently exploring value-added services for the cargo market, planning to leverage its know-how in matching drivers with cargo to build a platform capable of offering payment, insurance, loan, accounting, and other financial services to truck drivers. It also wants to "close the loop" by offering new vehicle, gasoline, and repair services.
Meanwhile, Ymm56 is modeling itself after the American logistics firm C.H. Robinson, which, like the well-known ride-hailing app Uber, offers an app that allows nearby drivers and shippers to receive and dispatch cargo orders. Therefore, it is possible that the merged company will first adopt the Truck Alliance model in the name of profits, before finally transforming into an AI-based dispatch platform for trucking transactions.
Truck Alliance and Ymm56 are not as well-known as the other two unicorn startups in which Wang has invested: Didi Chuxing and Ofo, a popular bike-sharing service. In addition to various kinds of traditional offline logistics companies and shipping facilities, more and more truck broker platforms have recently begun to appear on the market. So while the merger will undoubtedly give more market clout to the two companies, it's still anyone's guess whether online-to-offline freight transport platforms can achieve the same kind of dominance in logistics that Didi did in the ride-sharing market.
Translator: Kilian O'Donnell; editor: Matthew Walsh.
(Header image: A line of trucks is seen on a road in Jiaxing, Zhejiang province, Nov. 22, 2015. Zhu Jun/VCG)