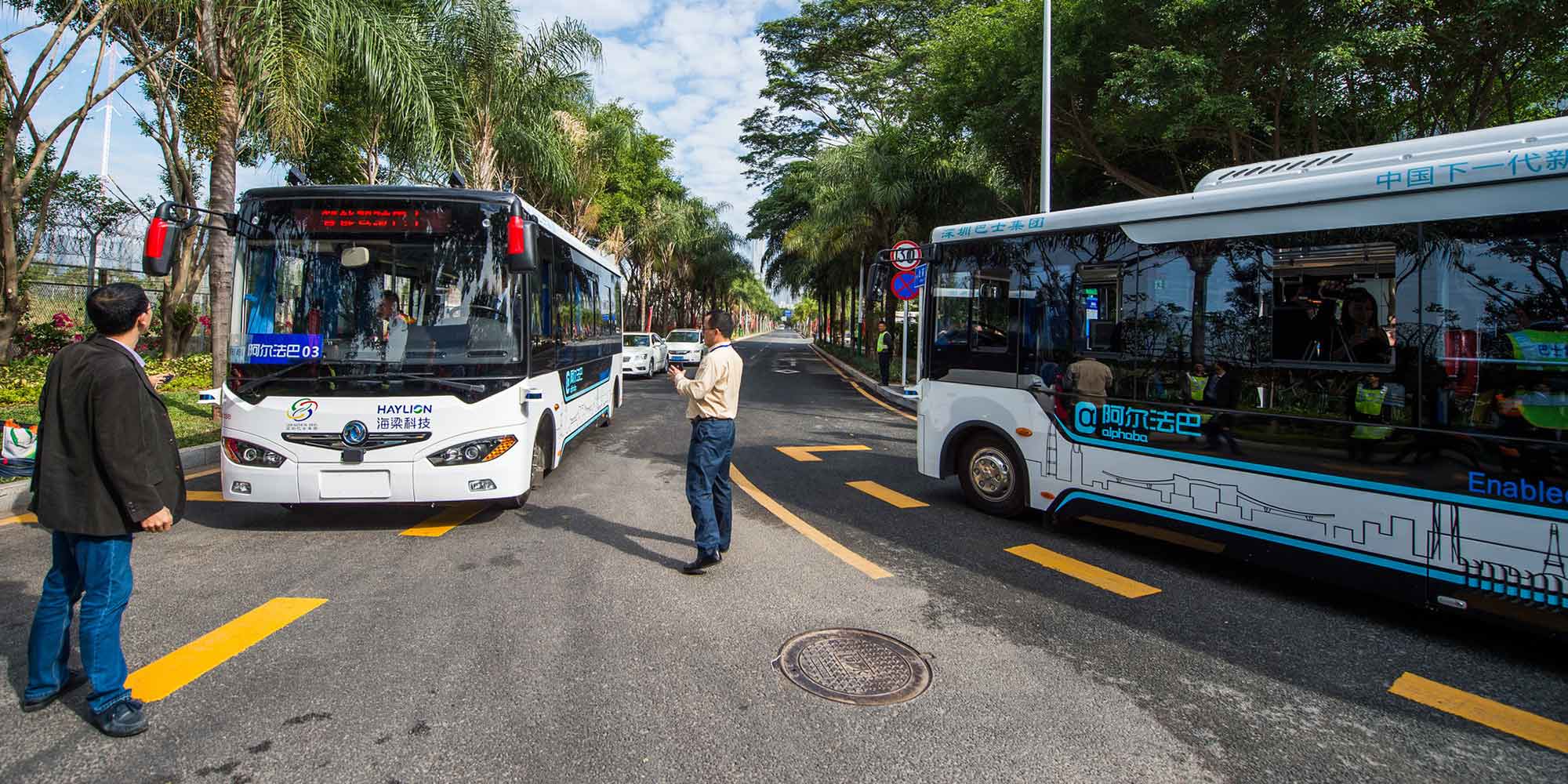 NEWS
Legal Fog Slows Shenzhen's Self-Driving Bus
It might be a while before the southern Chinese city's 'smart bus' hits the road.
Chinese automakers may be accelerating their pursuit of autonomous vehicles, but not everyone seems to be on board just yet.
On Saturday, a four-month trial of "smart buses" began in Shenzhen, southern China's technology and innovation center. The buses proved able to navigate traffic lights, change lanes, adjust speed, and steer along their preapproved routes without any assistance from the human drivers sitting idly behind the wheels.
But bureaucratic hurdles stand in the way of the technology being adopted for mass transit.
Despite the industry's enthusiasm, the lack of legal framework supporting self-driving vehicles could hinder operations, The Beijing News reported Wednesday. Driverless cars are banned in China, and even tests on public roads are illegal without prior approval.
The company responsible for operating the smart vehicles, Shenzhen Bus Group Company Limited, told The Beijing News that the buses have only been granted a provisional license, and that no passenger routes have been approved. Company representatives did not respond to Sixth Tone's request for comment on Wednesday.
Kevin Li, an automotive market specialist and the director of China Market Research, told Sixth Tone that Shenzhen's test, while promising, is unlikely to translate to practical applications. "We are very far from driverless cars becoming a reality," he said. "The industry's hope is that the legislative issue doesn't deter the process of innovation. The government should push forward more pilot tests."
The commercial development of automated cars depends on the progress of legislation currently being explored. In June, the Ministry of Industry and Information Technology and the Standardization Administration of China jointly published draft guidelines to collect public opinion on driverless cars, with the aim of developing a national standard for smart vehicles as part of a national plan to upgrade the country's auto industry.
Chinese companies have already aggressively pushed for research and development of automated vehicles. In July, Chinese internet giant Baidu formed an alliance with 50 domestic and international companies to expedite its Apollo project, which would harness open-source technology to create autonomous driving software.
But in the same month, Baidu's CEO, Robin Li, fell foul of the law when he livestreamed himself taking a joyride in an automated car along a highway in Beijing, landing himself in trouble with the city's traffic management bureau.
Additional reporting: Joyce Siu; editor: Qian Jinghua.

(Header image: Self-driving buses travel along a street during trial operations in Shenzhen, Guangdong province, Dec. 2, 2017. Liu Yi/IC)