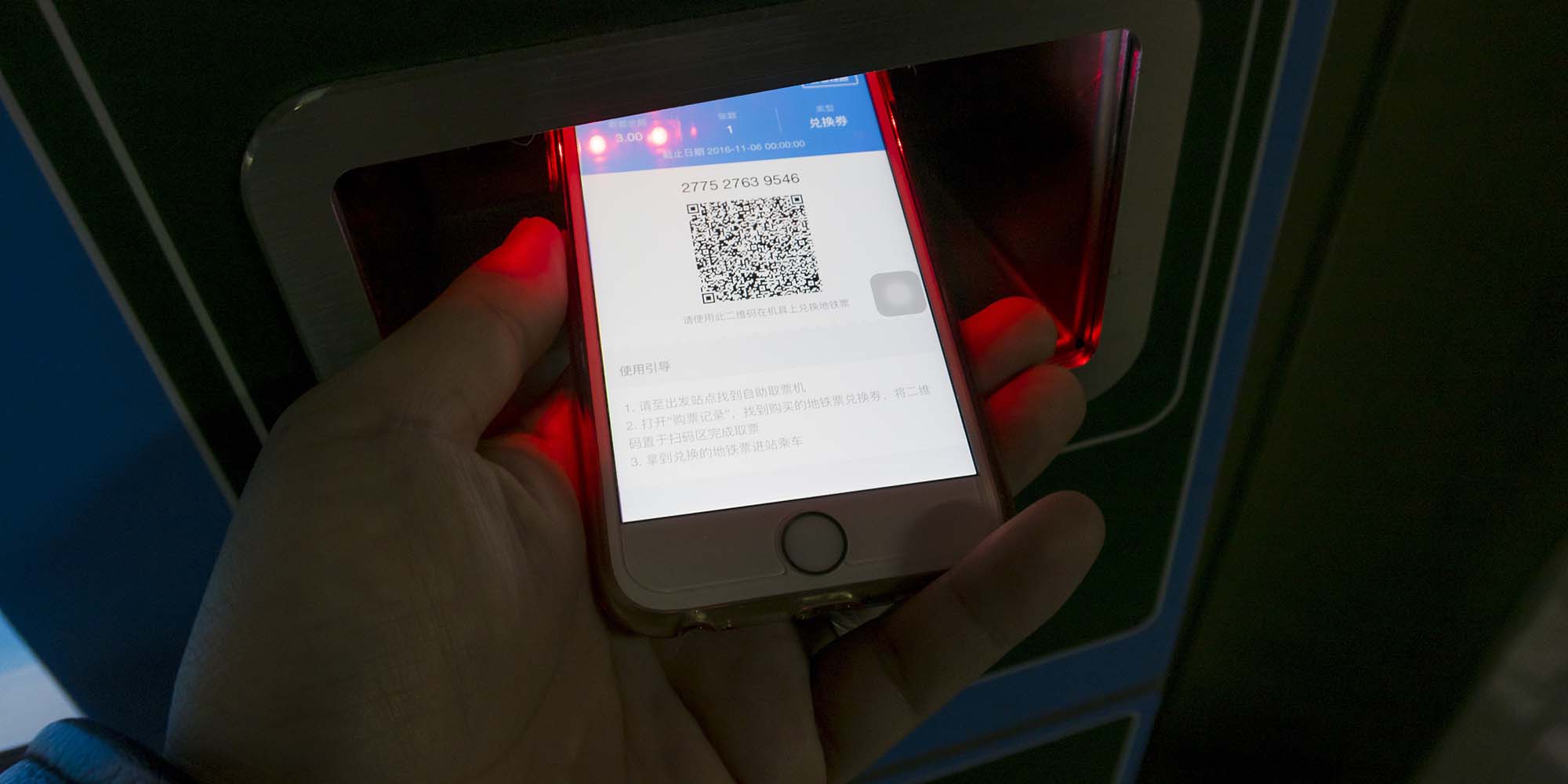 NEWS
Alipay Takes Shanghai in Fierce Battle for Transport Payments
The days of fishing for your metro card are numbered in Shanghai, as the city's subway unveils plans for commuters to go digital.
Shanghai's residents can already pay for everything from taxis to new outfits with a touch of their smartphone — and they'll soon be able to add subway rides to that list.
Shanghai is set to become the first city in China to allow passengers to ride the subway using Alipay, one of China's leading mobile payment services, according to an emailed joint announcement issued Tuesday by Shanghai Shentong Metro Group and Ant Financial, the Alibaba affiliate that operates the payment service.
The city, which boasts a population of over 24 million, is a boon for the mobile payment app as it competes with Tencent-owned rival WeChat Pay on the public transportation battlefield.
From early next year, Shanghai passengers will be able to ride all of the city's metro lines using Alipay, according to the statement.
The service will still work even if there is no internet connection, and if the commuter's Alipay balance is insufficient, the fees can be deducted later, the statement said. Alipay currently has 520 million registered users around the country — just under 40 percent of China's population.
Tong Yemeng, a 33-year-old from Shanghai who spends almost 1.5 hours on the metro during her daily commute to and from the office, said she was excited by the announcement. "It will save my life, as I always forget to bring my transportation card," she told Sixth Tone, referring to the city's current metro payment system. "I hope it can be adopted as soon as possible."
On social media, most people have backed the move, but others have been more skeptical about the technology's efficiency. "Will it increase congestion during peak time?" asked one user on microblog platform Weibo. "Passengers might have to wait while others scan the subway's QR code."
On Tuesday, Shanghai Shentong Metro Group also unveiled plans to introduce voice-recognition technology to help people order tickets at the city's metro stations from up to 2 meters away, and facial-verification technologies to help commuters pass through security checks faster.
"The voice-recognition ticketing machine is the first of its kind to be able to pull off accurate, far-field voice interaction in a noisy public space like a subway station," Yan Zhijie, Alibaba's director of intelligent speech recognition, said in a statement. ("Far-field" refers to when communication takes place at a distance from an antenna.)
China's mobile payment revolution kicked off in 2014, and has now penetrated almost every aspect of daily life, from dining to shopping, said Wang Pengbo, a mobile payment analyst from Beijing-based consultancy Analysys. He said it was "inevitable" that mobile technology would spread to public transport, as there is high demand for such services. Around 68 percent of Chinese people used mobile payments last year, to the tune of an astronomical 5.23 trillion yuan ($790 billion) — 11 times greater than in the United States, according to an August report from McKinsey Global Institute, a private-sector think tank.
Alibaba's announcement comes just three weeks after its major payment competitor WeChat — which now has around 1 billion users — rolled out its payment service in the Guangzhou metro, making the southern city the first in the country to enable mobile payments on its subway system. WeChat had earlier launched QR code-scanning services for buses in 11 cities in six provinces around the country.
Wang said it would take some time for WeChat Pay and Alipay to negotiate with public transport operators around the country, as each city has a different operator. But consumers who are loyal to WeChat Pay need not panic: It's likely that in the long run, both payments services will be available in most cities, he said.
Last month, Alipay also announced plans to roll out its payment services in Hong Kong taxis and Shanghai's maglev, which takes eight minutes to travel from Pudong International Airport to the city center.
Editor: Julia Hollingsworth.
(Header image: A passager scans a QR code to get a subway ticket in Shanghai, Nov. 1, 2016. Wang Gang/VCG)