HUNAN, Central China — On Nov. 4, Xiong Wumei vanished into the mountainous bamboo forest near Leiyang City along with her 7-year-old daughter and 5-year-old son. A week later, after fruitless searches by family and police, the 29-year-old resident of Yanchong Village suddenly reappeared, this time by herself.
The bodies of her two children were soon found in the mountains, and Leiyang police announced they were investigating the deaths as a murder case. As a prime suspect, Xiong was taken into custody.
Though her actions — and her unwavering silence since — continue to mystify the people around her, there were signs that Xiong was a troubled young woman. She didn't interact much with other people, and though she was widely considered a good mother, she rarely let her children play with their peers. She didn't get along with her in-laws, leading to fights with her husband that often turned violent. Once, she attempted suicide, and relatives urged her to seek medical help for what they thought might be depression.
The night before Xiong and her children disappeared, she helped the kids with their math homework. After dinner, her husband, Xiao Wei, took a half-hour walk while Xiong and the children watched TV. Xiong went to sleep with the kids, in a separate bed from Xiao. The next morning, she got up as usual and made breakfast: rice noodles. Xiao ate and was on his way to work at the stone processing factory in the village by 7:10. He and his wife hadn't spoken all morning, Xiao tells The Paper, Sixth Tone's sister publication.
A neighbor who lives across the street saw Xiong leave the house at 9. The kids tiptoed in front of her and "seemed to be in a cheerful mood." Later, Xiong and the children walked from their house at the foot of the mountain, where most of Yanchong's villagers live, to her parents' home at the peak — a half-hour journey, perhaps an hour with children in tow. The houses along the path to the mountaintop mostly stand empty, as families moved down the mountain after mudslides damaged their homes in 2006. There used to be 20 families living near Xiong's parents, but the elderly couple are the only ones left.
Most of the time, it's just the two of them at the house, their four daughters and four sons having married, become parents, or found work away from home. Their children have all pleaded with the old couple to move down the mountain, but they have resisted, choosing instead to watch over their land and the surrounding bamboo forest — felling timber, planting crops, and living a familiar, stable life. Their only company is their small dog and 12 chickens, whose occasional barks and clucks punctuate the silence.
Xiong, their sixth child, left school after third grade because the family could no longer afford her education. She herded cows at home until she left the village at 19, working for a year at a shoe factory in Dongguan, Guangdong province, which borders Hunan to the south. In 2009, a matchmaker introduced her to Xiao, who was a year younger. "When I first met her, I didn't think she was depressed. She didn't talk that much, but we still had conversations and got along well," he says. They went to work in Guangzhou, the provincial capital of Guangdong, and registered their marriage in 2010.
Xiong had always been introverted; some villagers describe her as "anti-social." She rarely left the house other than to take her children to and from school and tend to the family's crops. Even her husband says, "I don't know what goes on in that head of hers." Xiao admits that his relationship with his wife is emotionally empty, and that they don't communicate well. Even during the Spring Festival, when Chinese families gather and enjoy elaborate meals to celebrate the new year, Xiong usually sat off to the side alone, speaking to no one. She would sometimes mutter to herself.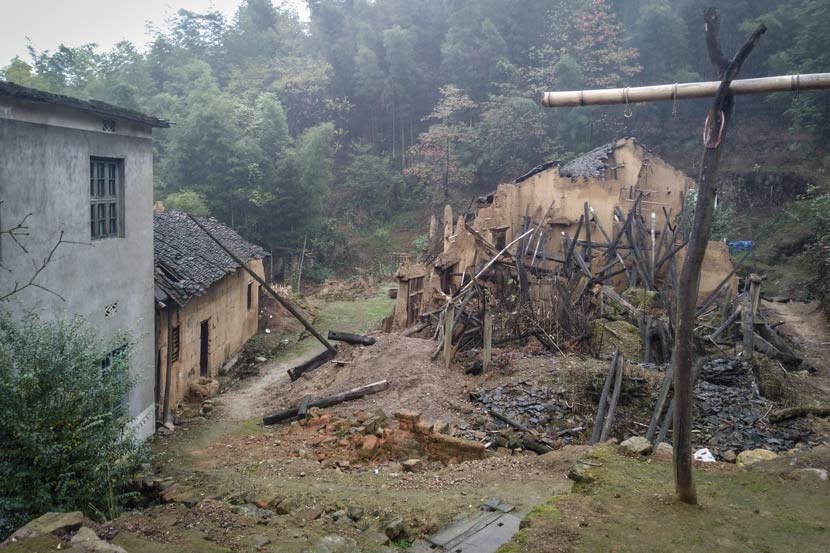 A view of the path to Xiong Wumei's parents' house at the top of the mountain in Yanchong Village, Hunan province, Nov. 14, 2017. Zhang Xiaolian for Sixth Tone
Her brother Xiong Zhixi says that he never saw her smile. Concerned about her well-being, he urged Xiao take her to a doctor. In 2015, the couple visited a psychiatric hospital in a nearby city for a checkup. "The doctor said there was nothing wrong; she just tends to overthink things, which causes anxiety," Xiao recalls. The doctor prescribed her medication, but Xiao says he doesn't know if she ever took it. He says that he lost her medical report from the visit.
Xiong Wumei's mother, Guo Xinxiang, says her daughter grew less talkative and more depressed after marrying and giving birth, adding that she rarely visited her parents. Her appearance at their home on Nov. 4 was a surprise. "Our daughter hadn't come by in a while. I was delighted to see her," Guo says. The elderly woman made tea and set out some biscuits for her daughter and grandchildren, but Xiong Wumei refused to enter the house or eat anything.
The visitors left around 2 p.m., when the elderly couple were busy collecting seeds on the roof. They say they didn't notice which direction their daughter went, but assumed she'd gone back home.
Xiao got off work and arrived home at 5 p.m. The door was locked, and he figured his wife had gone to visit her parents. Because Xiong Wumei didn't use a cellphone, Xiao called her father, Xiong Guangshu, who said she had already gone back down the mountain. Xiao, not believing his father-in-law, got on a motorcycle and rode up to his wife's family home. They searched in and around the house but found no sign of the missing woman. Her brother Xiong Zhixi, who lived nearby, was called to join the search. When Xiong Zhixi asked Xiao whether he and his wife had fought again, Xiao hesitantly admitted that they had.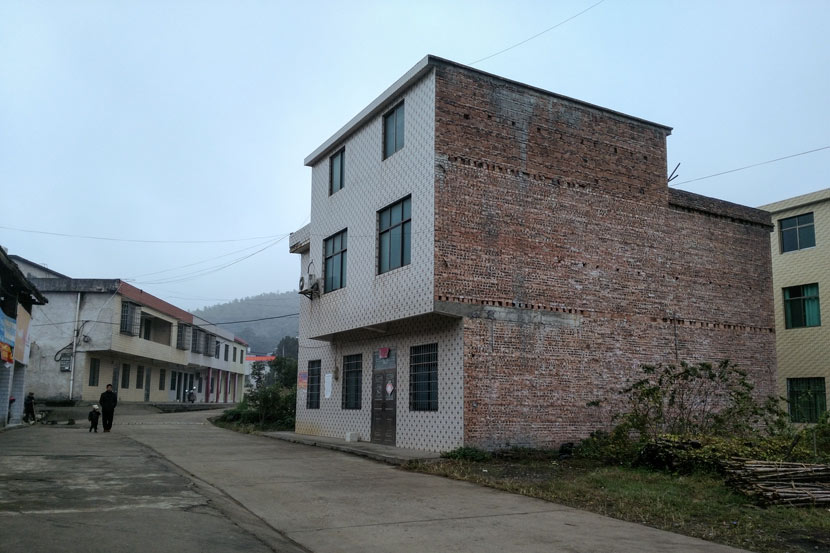 Xiao Wei and Xiong Wumei's house in Yanchong Village, Hunan province, Nov. 13, 2017. Zhang Xiaolian for Sixth Tone
Xiao and his wife quarreled often, and their confrontations frequently turned physical. Xiong Wumei is one of the tens of millions of Chinese women who have experienced some form of domestic violence, according to a 2011 survey by the All-China Women's Federation; the same report suggests that partner abuse is roughly twice as common in rural areas compared with cities. A week before Xiong Wumei's disappearance, the school principal had told Xiao that his first-grade daughter had been absent from class. When he asked the child about it, she said, "Mama wouldn't let me go." Xiao was furious at his wife. He remembers grabbing her by the neck, yelling, "Do you want to die?" It turned out that Xiong Wumei had kept their daughter home after taking her to get treated for tonsillitis.
Earlier in their marriage, when Xiao and Xiong Wumei were working in Guangzhou, she called her brother Xiong Zhixi in tears, saying her husband had hit her again. It didn't occur to Xiong Zhixi then that his sister was asking for help, so he simply pleaded with her to keep her cool. "We didn't realize that you could go to the police over these matters," he says.
"We used to fight a lot, sometimes physically," says Xiao. But in the last two years, he says, he only hit his wife twice.
On the night of Nov. 4, Xiao and other villagers searched for Xiong Wumei and the kids until 2 a.m. On the second day, they gathered all the young, able-bodied adults to help look, but had no luck. The family reported the disappearance to the police. The search expanded to neighboring villages on the third day, and a missing persons announcement made the rounds online. On Nov. 8, the police in Hengyang, the largest nearby city, dispatched search and rescue dogs to comb the area.
Meanwhile, the disappearance fed existing tensions in the family. Xiao began to doubt the elderly couple's story and believed his wife was simply hiding out with her parents — recalling that once, five or six years ago, Xiong Wumei stayed at her parents' house for a while after she and Xiao got into a fight. Xiong Wumei's siblings, on the other hand, suspected Xiao: Xiong Wumei's eldest sister tells The Paper that four years ago, Xiao beat her sister until she was "black and blue all over." The sister recalls begging Xiong Wumei to get a divorce, but she refused for the sake of her children.
Relations between the two families had long been strained. Xiao's parents used to live with the couple, and Xiong Wumei took issue with the way they cared for the kids. Xiao's father recalls that the early years of the couple's marriage went well, but that Xiong Wumei and Xiao had begun fighting more in the last two or three years, often about child care. "She felt that the grandparents didn't do a good job of it," the elder Xiao says. "She was constantly suspicious of other people."
In 2015, Xiong Wumei and her mother-in-law got into a serious fight. Xiao was working in Guangzhou at the time, so the village head and Xiong Zhixi, Wumei's brother, went over to mediate. That night, she went to stay at her parents' house. On the night of the second or third day, after her parents had fallen asleep, Xiong Wumei went to her room and drank pesticide. Her parents found her about an hour later and brought her to the hospital. It took a few days for her to regain consciousness.
After leaving the hospital, Xiong Wumei lived with her parents for more than three months, bringing the children to stay as well. It was only after Xiao's father celebrated his 50th birthday that she agreed to move back home. Xiao had also invited his wife's entire family to attend the birthday banquet, but none of them showed up.
Nearly a week after her disappearance, nobody had seen any trace of Xiong Wumei or the children. Then, around 7 a.m. on Nov. 10, her father was sitting on a bench in front of his house when Xiong Wumei suddenly came running out of the bamboo forest. She didn't respond when he called to her, but made a beeline for the water tank at the back of the house and ladled water into her mouth.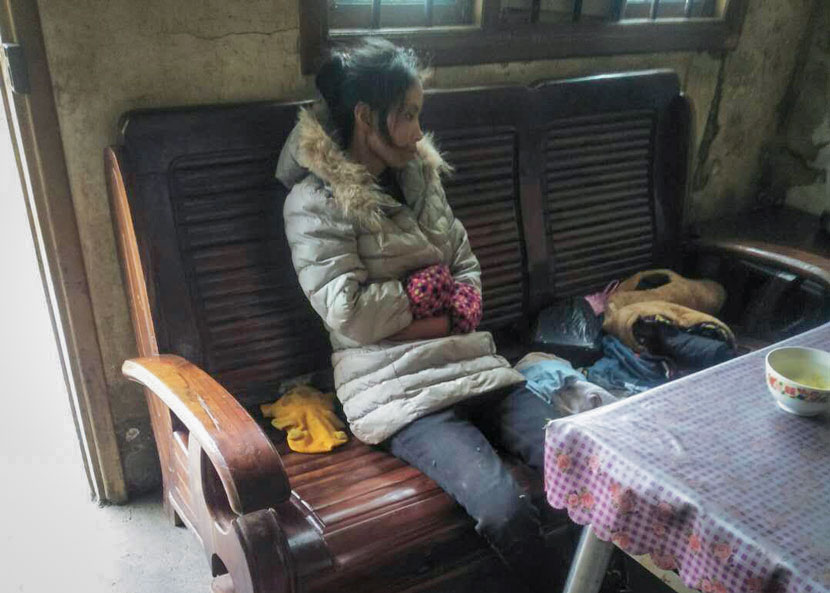 Xiong Wumei sits silently at her parents' home after reappearing in Yanchong Village, Hunan province, Nov. 10, 2017. Courtesy of Xiong Wumei's family
Her mother, who was burning firewood inside at the time, was equally stunned to see her, asking: "Where did you go? Where are your kids?"
"Don't rush; don't rush. I'll tell you when I'm done drinking," Xiong Wumei replied. Finally, she knelt down and pressed her hands to her face. Her entire body trembled.
Her father came rushing over and lifted her up by her shirt collar. He says he thought at the time that she may have been possessed by a forest demon, and used the back of his hand to smack her head three times to "exorcise" the evil spirit. Then he dragged her into the house and boiled her a cup of ginger tea. But Xiong Wumei did not say another word.
"As soon as I heard that the two children hadn't returned with her, I knew that it was bad," Xiong Zhixi, her brother, recalls. He phoned Xiao right away.
Xiao and several neighbors drove to the mountaintop and found Xiong Wumei lying on the couch in her parents' house. She had a lifeless look in her eyes, and she didn't react when she saw Xiao, who pleaded with her: "Wumei, tell me where the children are. I won't blame you, no matter what happened to them. If they're still alive, we can take them to the hospital. If they're not, we can have more children." But still, she remained silent.
Guo Xinxiang, mother of Xiong Wumei, demonstrates her daughter's behavior upon returning from her weeklong absence, Yanchong Village, Hunan province, Nov. 14, 2017. Zhang Xiaolian for Sixth Tone
More relatives and villagers came to help look for the kids, followed by the police with search dogs. After about half an hour, Xiao's sister suddenly let out a shout: "I found them! I found them!" The rest of the search party rushed over and saw the two children lying on the ground, side by side. Their heads were touching, "as if they were asleep," says a villager who witnessed the scene. Their clothes and shoes were spotless, but they had what looked like finger marks on their necks.
Throughout the previous week, Xiao had considered the worst-case scenario countless times in his head — but upon seeing the actual bodies of his children just a few meters away, he "still couldn't handle it," Xiao says. He wanted to get closer, but fellow villagers pulled him away and held him down. "I want to kill Xiong Wumei!" he screamed as he struggled to break free.
By the time Xiao returned from the forest, Xiong Wumei had been taken into custody by police. A villager who was at the scene tells The Paper that before the police took her away, they found sleeping pills, a lighter, and a small candle in her bag.
An uncle of Xiao's accompanied the forensic investigator back to the police station. He tells The Paper that police initially declared "choking or suffocation" to be the cause of death and said the children had been dead for at least four days. The autopsy found no food in their stomachs, but the forensic investigator examined their gastric fluids for traces of sleeping pills. Police refused The Paper's interview request, as the investigation is ongoing.
The vegetable field that Xiong Wumei's family tends in Yanchong Village, Hunan province, Nov. 14, 2017. Zhang Xiaolian for Sixth Tone
On the afternoon of Nov. 12, police brought Xiong Wumei's parents in for questioning and arranged for them to see their daughter. As soon as her mother sat down, Xiong Wumei began cowering in the corner. "You don't recognize your own mother?" the elderly woman asked, but Xiong Wumei did not respond. She remained silent throughout the questioning, which went on for over an hour.
In their report to the police, Xiong Wumei's family said that she had suffered from mild depression. On the afternoon of Nov. 15, the police sent Xiong Wumei to be evaluated at a psychiatric hospital in Leiyang. A doctor reported that she "wouldn't eat, wouldn't drink, and wouldn't talk" in her first few days there. A medical report has not been made public.
Xiao hasn't been home since the children's bodies were discovered. He says he's afraid that once he enters the house, "it will all be shadows and memories." He doesn't want to see Xiong Wumei, fearing that he might lash out or lose control. "Even now, I can't wrap my head around this, or why she would do it," he says. Once the case is resolved, he plans to move away for a while.
Upon hearing that Xiong Wumei has yet to utter a word, Xiao, chewing on betel nut, looks up at the night sky and softly says, "If she is clearheaded, then no doubt she is wracked with guilt."
A Chinese version of this article first appeared in Sixth Tone's sister publication, The Paper.
Translator: Katherine Tse; editors: Kevin Schoenmakers and Fan Liya.

(Header image: Xiong Guangshu, father of Xiong Wumei, sits outside his house in Yanchong Village, Hunan province, Nov. 14, 2017. Zhang Xiaolian for Sixth Tone)