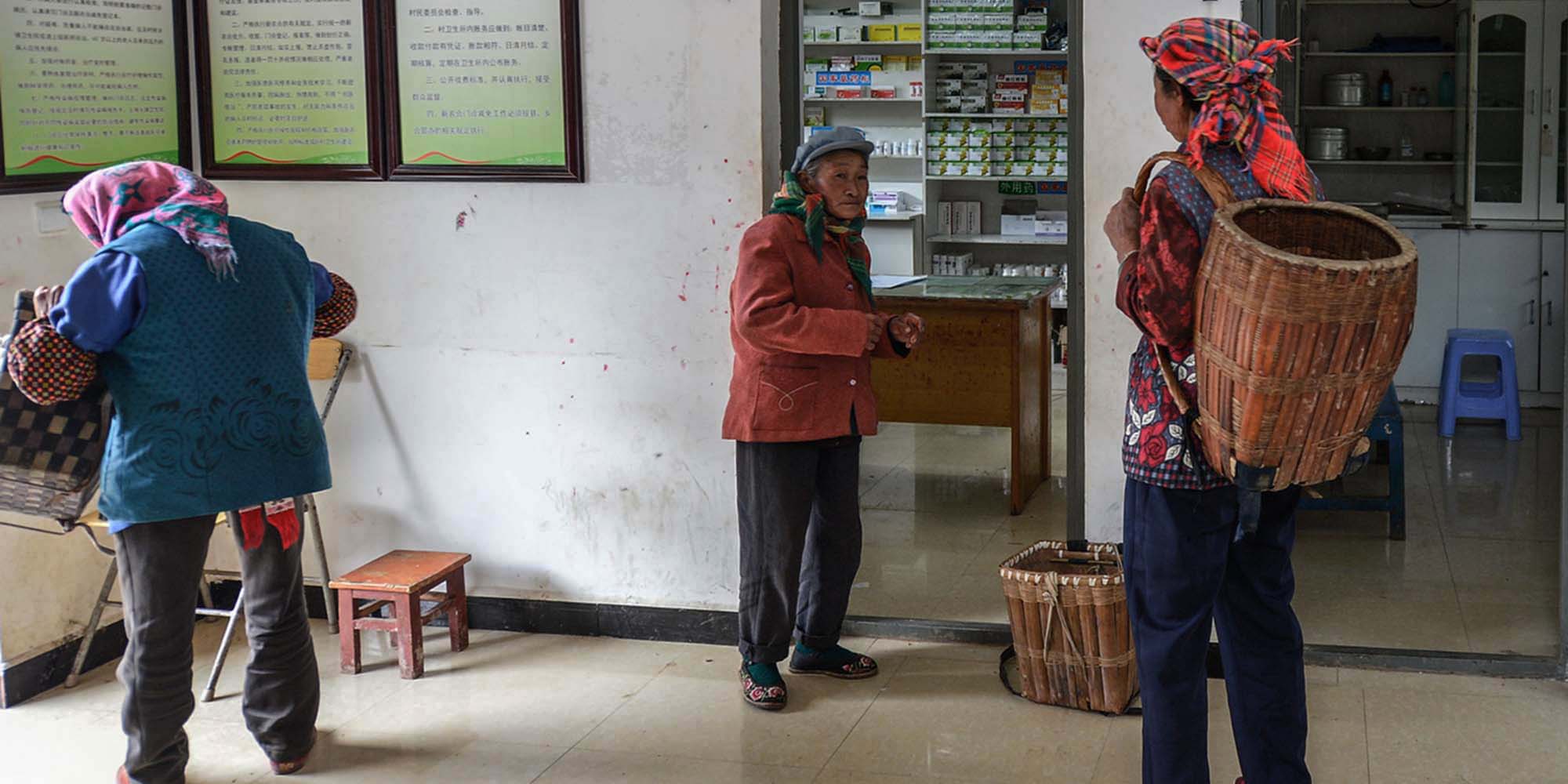 NEWS
Private Hospital Dupes Villagers With 'Free' Health Checks
By fraudulently diagnosing diseases involving reproductive organs, medical workers shamed rural patients into paying for treatments they didn't need.
For residents of a remote village in southwestern China, free health checkups and discounted prescriptions were supposed to be a boon, but instead, the unsuspecting villagers found themselves swindled out of thousands of yuan, Party newspaper People's Daily's reported Friday.
A private facility called Yilong Waifu Hospital provided villagers in Xianglu Village, Sichuan province, with free health checks on the last day of October. More than 20 villagers participated, nine of whom were told they were at risk of disease. Oddly, all of the diseases centered around the reproductive organs — specifically, the uterus and the prostate.
The three staff members who carried out the checks then offered to drive the nine at-risk villagers to the hospital for further screening and treatment, promising to provide half-price discounts on medications, should they be needed.
At the hospital, the villagers were charged hundreds of yuan for medication, with some opting for additional procedures that cost even more. One woman even had a surgery to remove a "cervical polyp" which may or may not have been present, and which cost her more than 4,700 yuan ($710). With all expenses accounted for, what started as free checkups costs the villagers over 11,000 yuan.
The villagers, meanwhile, said the staff spent hardly any time examining them before asking them to pay for medications. The woman who underwent the invasive surgery was not even given a medical report — just a bill for the procedure.
The scam was exposed in an online forum by a netizen claiming to be a relative of one of the villagers. "The villagers were naïve and thought it was the government offering a charitable service by providing a bus to take them for free checkups, so they were happy to go," read the article.
After the post was published, local law enforcement launched a series of investigations from Nov. 4, and found that the hospital not only failed to report offering health checks to the public, but also carried out medical procedures for which it was not authorized, such as X-rays, and hired unlicensed doctors. As punishment, the hospital was ordered to pay a fine of 3,000 yuan and had its license canceled, meaning it can no longer offer medical services.
Yilong Waifu Hospital could not be reached on Monday morning.
According to the report by People's Daily, the village's deputy director, He Shugang, said that the village Party secretary had received a phone call from the private hospital seeking approval to carry out the free health checks, so the secretary called the township hospital, which oversees all health activity in the village. The township hospital responded that as long as the private hospital did not charge fees or sell drugs at the scene of the checkup, then they saw no reason to disallow them.
When Sixth Tone called Chen Lin, the village Party secretary, on Friday, he said he was not aware of the incident and hung up. And when Sixth Tone called the township hospital, an administrator named Tan Lei said that the hospital had nothing to do with the private hospital's operations. Tan added that his hospital provides medical checkup every year for the villagers, as is required by the government.
Yin Huanwen, a village doctor based in Sichuan and the outreach coordinator of a WeChat account catering to village doctors, told Sixth Tone that according to his person experience, such scams are quite common in rural villages, and that they usually involve cash kickbacks for each "patient" brought in.
Yin explained that women, children, and the elderly are the groups most targeted by free health check scams, as they tend to be the easiest targets in isolated villages like Xianglu, whose residents have little contact with the outside world.
A few years ago, Yin recalled, someone on social app WeChat messaged him about organizing similar free health checks in his own village — a proposition he declined, despite the 5 yuan per head incentive he was offered, because of a bad experience in the past.
In 2010, a team of government-approved "health officials" came to Yin's village offering free medical checkups. Yin's sister was told that there was a "shadow" in her uterus, but upon further examination at a big hospital, she learned there was nothing wrong. Another female villager was less lucky: She went directly to the private hospital and, after her free checkup, had her uterus removed.
"Many village women and their families do not talk about these private diseases," Yin said. "Things like this happen, and they let them pass."
Yin said he was shocked by the scam in his village. "But as I heard about more and more similar incidents," he said, "I realized that what I experienced was just the tip of the iceberg."
Editor: David Paulk.
(Header image: Three elderly women visit a health clinic in rural Yunnan province, Oct. 2, 2017. VCG)