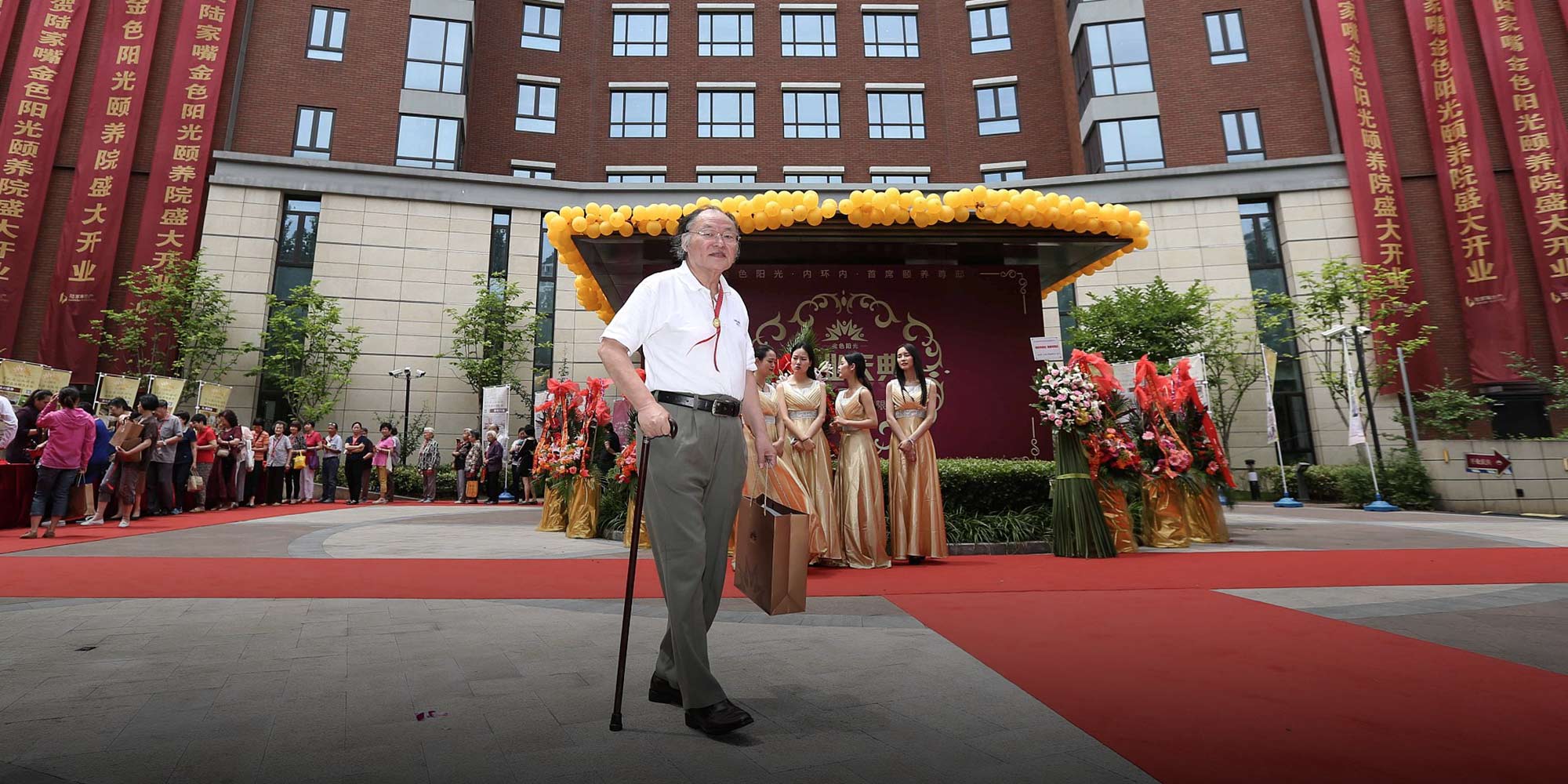 FEATURES
Shanghai's Elderly Elite Flock to Luxury Nursing Homes
Aging Shanghainese sell or sublet their valuable properties to afford a lavish retirement.
SHANGHAI — Huang Liangbao, 83, would like to live out the rest of her days in her own house. "If my children ever put me in a nursing home, I would feel like I was being abandoned," she says. Nevertheless, her 60-year-old daughter, Fan Yan, recently paid a visit to Golden Sunshine, a newly opened residential community for the elderly that she thinks her mother would love if she gave it a chance.
"Having professional staff to take care of my mother would really relieve me and my brothers from worrying all the time," Fan tells Sixth Tone. Her mother is reluctant, explains Fan, because she thinks of all nursing homes as the sparsely adorned rooms and run-down facilities of many state-run institutions.
Golden Sunshine, however, is different. Located in Shanghai's Pudong New Area, it's among a growing cohort of upscale elderly care facilities that promise a retirement complete with customized meals, on-call staff, and other luxuries. As a result, rooms here aren't cheap: Compared with the lower end of the market — where a bed generally costs less than 2,000 yuan ($300) per month — the monthly fee for an apartment at Golden Sunshine is 18,000 yuan. But as more well-off Shanghainese reach old age, demand for high-end senior living solutions is growing.
Shanghai is China's "oldest" city. At the end of 2016, over 4.58 million residents were aged 60 and above, making up one-third of the total local population — not counting migrants. In comparison, China as a whole had 231 million people in this age group, or 16.7 percent of the total population. Shanghai's elderly cohort is predicted to grow to nearly 45 percent of the population in the 2040s, making it one of the most senior cities in the world.
To cope with its aging citizenry, the Chinese government is promoting the establishment of more nursing homes. The State Council, China's cabinet, announced in December 2016 that it also wants to make the market more accessible for private capital. According to Luo Shanzhen, director at CHJ-Care Lezhi, a Beijing-based senior living service provider, most elderly care institutions in China today are still low-end. But, she tells Sixth Tone, the number of well-educated and relatively wealthy seniors has grown in recent years, and this group has higher-end lifestyle demands.
"At some luxury apartments in Beijing, older people are lining up to live there," Luo says. "Lower-tier cities have started to develop the upscale market as well." Such institutions provide daily care, entertainment, exercise, trips, and classes such as English, calligraphy, and knitting — all tailored to the elderly.
A coming demographic shift will quickly grow demand for such homes in the years to come: China's one-child policy was introduced in 1979, which means more and more Chinese who need regular elderly care don't have the traditionally large families to cater to this need. Over the next 15 years, as the first generation of parents affected by the policy enters their 70s and 80s, they will need more professional care and attention, says Luo. "Therefore, the residential compounds for the elderly — especially the upscale ones — will be in greater demand."
Yang Yuanzhang, 88, and his wife are ahead of the trend. The couple moved into Qinheyuan, one of China's first high-end retirement compound communities, in May 2015. Opened in Shanghai in 2008, the private complex consists of 15 residential buildings with over 800 apartments for the elderly. Residents are mostly well-off and well-educated: According to Qinheyuan, among the community's more than 1,300 elderly members with an average age of 78, more than 80 percent have a bachelor's or higher degree. "Our neighbors are respectable artists, famous writers, and retired military cadres," says Yang, himself a retired economist.
In 2015, Yang and his family paid a 980,000-yuan lump sum for a 15-year lease. If they don't stay the full 15 years, part of the rent will be refunded to them or their children. In addition, Yang and his wife pay a 45,000-yuan annual service fee, which doesn't include catering and special care costs. Despite the hefty price tag, staff at Qinheyuan tell Sixth Tone that the apartments have all been occupied since last year. Prospective residents can still tour the community but are put on a waiting list to move in.
On a typical day, the elderly couple get up around 6 a.m., have breakfast, and exercise on their spacious third-floor balcony. Yang often practices tai chi in the community's activity room, while his wife likes to read. If they don't feel like cooking, they can eat in the cafeteria or at one of several restaurants. Afternoons are spent watching TV together, or browsing social media on their smartphones. "Time goes by quickly here," Yang says. "My children and grandchildren visit us frequently just like in the old days; the only difference is that our home now is much nicer and twice the size."
The pair can afford such luxurious living quarters in part because they sublet their old 50-square-meter apartment in Lujiazui, Shanghai's financial district. They lived there for decades, but — tired of walking up and down three floors every day — had long considered selling it and moving into a building with more space and an elevator. The high cost of buying another apartment initially put the Shanghai couple off moving, but their daughter saw an advertisement for Qinheyuan on the internet and suggested her parents go have a look. "It was love at first sight," Yang says. "We had lived in a small apartment all our lives, and we are so happy that our living condition has improved in our last years."
Shanghai's lofty property prices play a key role in making luxury retirement homes affordable to the city's elderly. The latest report from the Shanghai Academy of Social Sciences shows that the average monthly income of the city's elderly — mostly from pensions and investments — reached just 3,863 yuan in 2015, still a 52 percent increase from 2013. However, the report also reveals that 93 percent of Shanghainese seniors own at least one apartment in the city. Considering the high value of real estate in Shanghai, elderly care expert Luo believes money is not the biggest obstacle to drawing the elderly to high-end senior apartments. "Some people are willing to spend 10,000 yuan on [places like these], while others still need more time to get used to the idea," she says.
The children of Huang, the reluctant 83-year-old, are looking to pay for their mother's future luxury home at Golden Sunshine by selling one of her properties in Shanghai's Hongkou District, which Fan and her two brothers say is worth about 3 million yuan. So far, Golden Sunshine, which opened in June, has an occupancy rate of less than 10 percent, which Fan attributes to its steep monthly fees. "The key question is whether [seniors] are willing to sell their homes so they can have a better life in their final years," Fan says, adding that she and her husband plan to move into a luxury retirement community after they turn 70.
Huang has agreed to do a trial stay at Golden Sunshine for a couple of days. "I want to fade away with dignity," she says.
Editor: Kevin Schoenmakers.
(Header image: An elderly man walks past the Golden Sunshine nursing home complex in Pudong New Area, Shanghai, June 16, 2017. VCG)