SHANGHAI — "With translation, sometimes you lose things. I hope you don't lose anything," said Antoni Muntadas, a Spanish media artist and former Massachusetts Institute of Technology professor, at the opening ceremony of his "Muntadas Video Works" exhibition at OCAT Shanghai. Upon hearing his words translated into Chinese, the audience burst into laughter.
For a translator, it is rare to be the butt of a joke — and rarer still to find yourself the subject of an art project. Translators are supposed to be invisible, working in the background, and even when they are the center of attention, the discussion usually revolves around whether they will be replaced by apps and artificial intelligence. But Muntadas is intrigued by translators — and translations — and has spent the past 23 years exploring them in his critically acclaimed art series "On Translation."
Born in Barcelona in 1942, Muntadas moved to New York in the '70s and knows firsthand the experience of living between languages. But "On Translation" is more about "understanding cultural, economic, and political differences" than linguistic exchange, he tells Sixth Tone.
For example, the triptych video installation "On Translation: El Aplauso" addresses the translation of violence. The left and right sides of the screen show close-ups of applauding audiences, while the center plays clips of violent conflict — an atomic bomb explosion, gunshots — mostly taken from Colombian media.
Despite his frequent interaction with China's art scene, the OCAT Shanghai show — which opened in October — was Muntadas' first solo exhibition in the country. Before leaving, he told one of the curators that South Korea reminded him of Italy, and Japan was like Germany — but, he said, "China is China."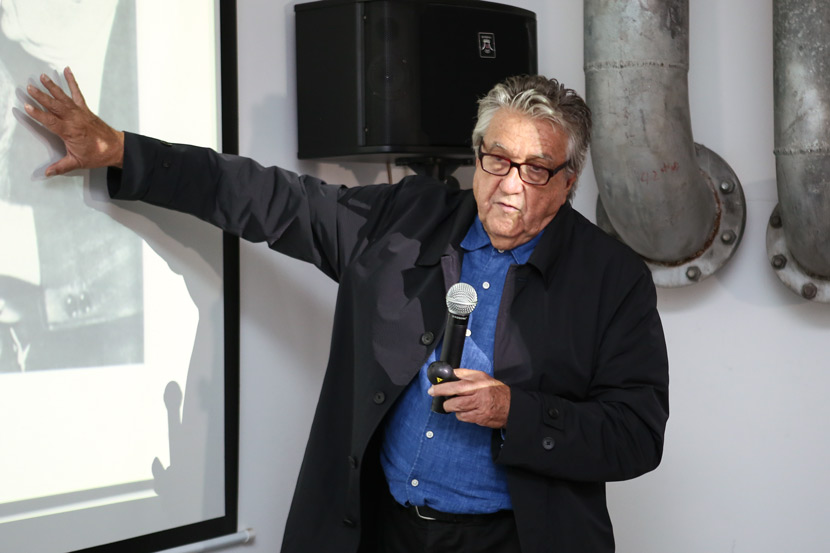 Antoni Muntadas makes a speech during the 'Muntadas Video Works' exhibition at OCAT Shanghai, Oct. 8, 2017. Jiang Yaling for Sixth Tone
Sixth Tone spoke with Muntadas about the translation of borders, Chinese media, the importance of context in translation, and why he believes AI can't yet compete with human translators. The interview has been edited for brevity and clarity.
Sixth Tone: How do you define "translation" in the context of your work? Does it extend beyond language to culture and other aspects of society?
Antoni Muntadas: I think there are two extremes of translation. On one end, you have literal translation; on the other, you have creative translation that helps to create a much more open interpretation. In a way, I feel the latter is more interesting because it considers the context and the information an audience has.
I would say the whole ["On Translation"] series explores different mediums and different situations in the territory of the two extremes.
Sixth Tone: Can you give us any examples from the series?
Antoni Muntadas: The two works "On Translation: Fear/Miedo" and "On Translation: Miedo/Jauf" are both about borders. A border is always an element of friction.
For "Fear/Miedo," I was interested to see translation from the north of Mexico to the south of the United States, and vice versa. Things are interpreted differently from an American perspective and a Mexican perspective. It's not about language — it's the issues of culture, economy, work, politics.
I used a similar strategy for the southern European and North African border for "Miedo/Jauf," in this case signified by water. Seeing the Arabic culture versus the European culture was very different, too. In this border, religion also plays a part.
Sixth Tone: How do you think a Chinese audience can understand these works in their own context?
Antoni Muntadas: The context is very important. It's not the same for me to work in Brazil, China, Spain, or the United States. [Context] means time and space, but also history. A relationship with history means every country has its own way of perceiving things. Chinese culture is one of the most ancient in the world. I think its people will understand [my work], depending on their education level.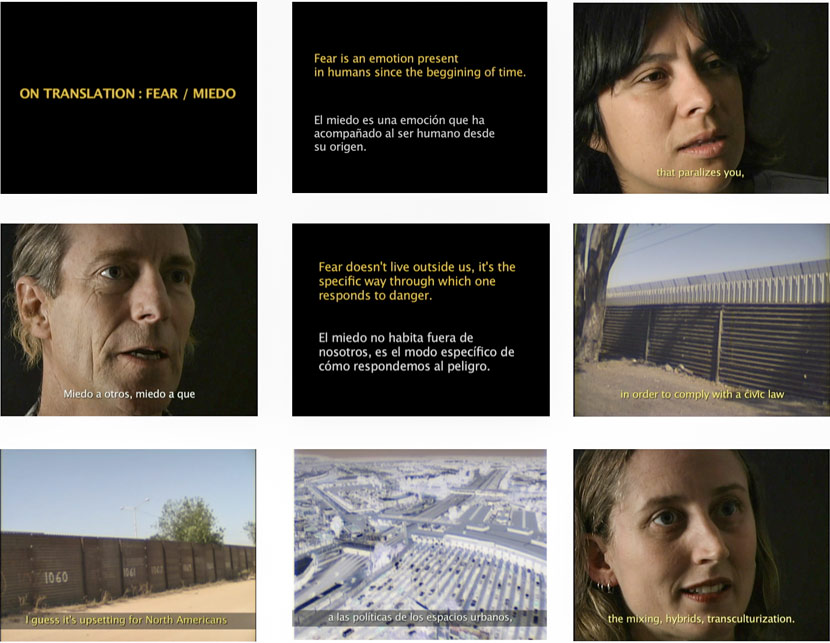 A still from Antoni Muntadas' work 'On Translation: Fear/Miedo.' Courtesy of Antoni Muntadas
Sixth Tone: Will viewers be able to draw similarities between the themes in your works and current issues in China?
Antoni Muntadas: Yes, although sometimes it's more difficult to see your own reality. It's like proximity makes you miss the overview, and sometimes you need to zoom in and zoom out your perspective, just like how you operate a camera lens.
If you want to understand a problem or situation, you need to zoom out and be distant from the facts to give yourself a broader perspective. When the perspective is too broad, it's better to zoom in and be closer to the locality of the situation.
Sixth Tone: "On Translation: El Aplauso" criticizes the Colombian media, and another work of yours, "The File Room," comprises an online archive of censored materials. What are your thoughts on China's media environment?
Antoni Muntadas: I'm not a Chinese media expert, but I did experience the limited access to internet when I was in China. In a way, this is also happening in other parts of the world — Turkey, Cuba — due to political reasons. In China, if you wish to connect, you will find a way.
I am skeptical about the media in general because I think not everything the media transmit is true. I think the manipulation of media is historical, not only in politics but also economics and sometimes culture, which may transform reality.
The media has all sorts of interests, including business interests. We see a lot of private media that is owned by multinationals or a group of investors. In some countries, the government is the conductor of the situation. You just need to see the forces behind the scenes.
Sixth Tone: When you travel around the world for exhibitions, your words are often translated or interpreted in the local language. How do you know whether your message has reached the audience?
Antoni Muntadas: You need to believe that [translators] are doing their job in an ethical way. Are they affiliated with a party? Are they independent? Are they aware that the job [comes with] immense responsibility? I only need to hope and trust that the person is doing their job. I hope they see my language as a sympathetic way to transmit ideas.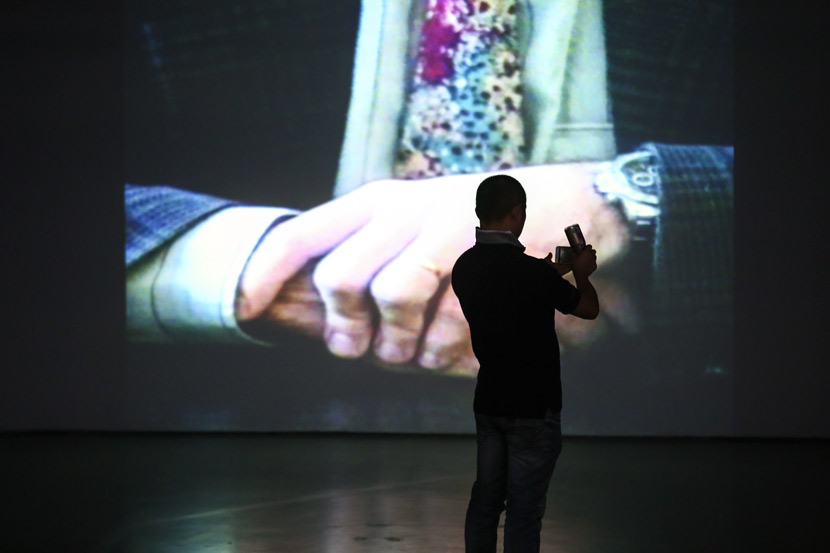 A visitor takes a photo at the 'Muntadas Video Works' exhibition at OCAT Shanghai, Oct. 8, 2017. Jiang Yaling for Sixth Tone
Sixth Tone: AI translation apps have seen mixed reviews in markets worldwide. What are your thoughts on this technology?
Antoni Muntadas: I don't think it's there yet. Machines are artifacts. [AI] can be used to translate from word to word, or to make associations between words. But it has very limited [understanding of] the context. [Machines] could probably take a text and not be affected by where that text is being read or being perceived.
There's still a long way to go for cognitive machines to really create an articulate translation.
Correction: A previous version of this article stated that the work "On Translation: Fear/Miedo" examines translation from the north of the United States to the south of Mexico. It looks at translation from the north of Mexico to the south of the U.S.
Editor: Denise Hruby.
(Header image: Visitors to the 'Muntadas Video Works' exhibition at OCAT Shanghai, Oct. 8, 2017. Jiang Yaling for Sixth Tone)