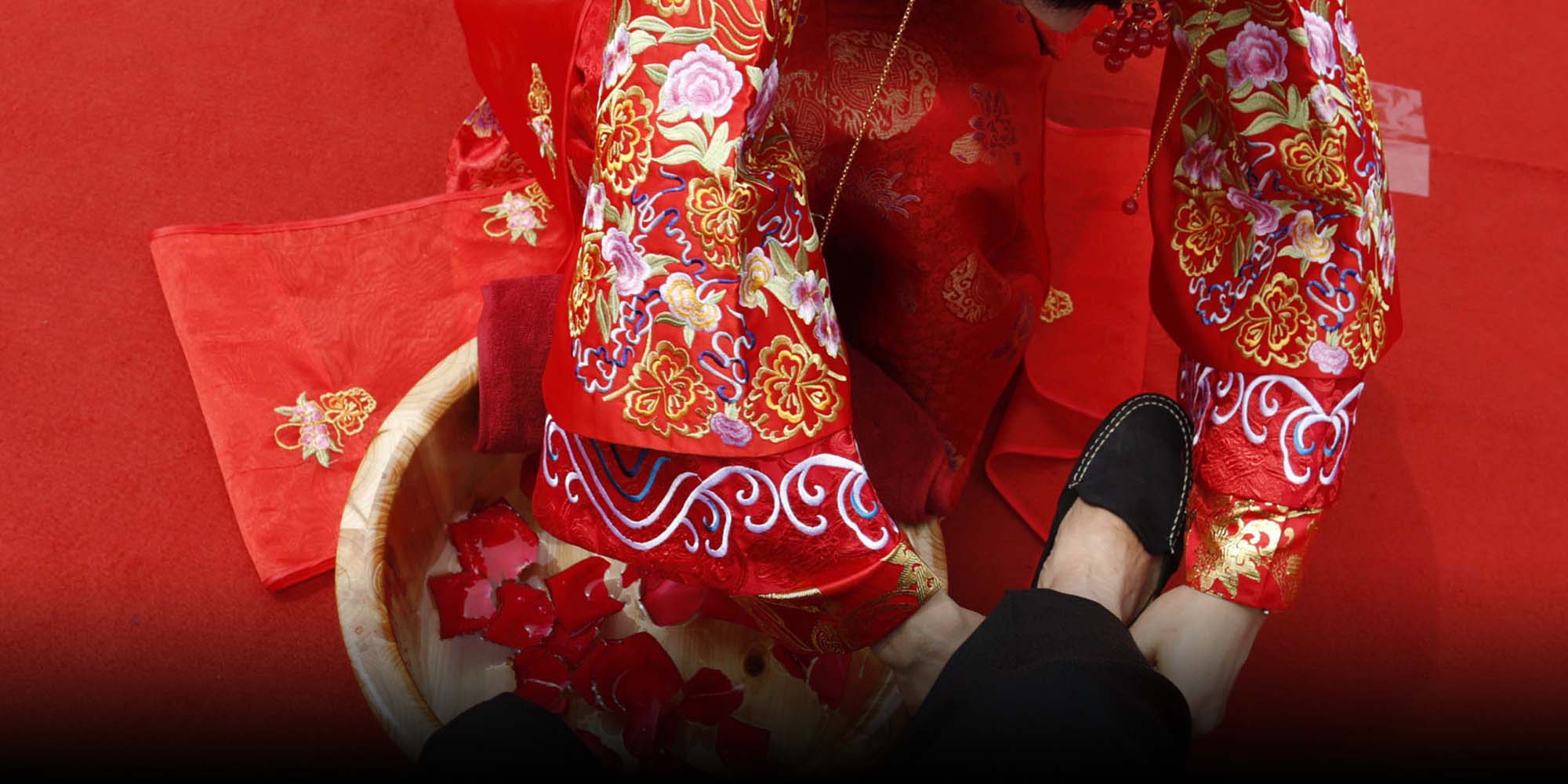 NEWS
Patriarchy 101: School Espouses Sexist 'Feminine Virtues'
Workshop teaches women to submit unconditionally to their husbands.
A video by undercover vloggers attending a "feminine virtues workshop" in northeastern China has gone viral online since it was posted Thursday by new media outlet Pear Video, attracting more than 28,000 comments — mostly critical.
"No matter what my husband says, I will always respond with 'Yes,' 'OK,' and 'Right away,'" says one female instructor shown in the video.
According to the report, trainees at the three-week workshop of the Fushun Traditional Culture Education School — a private but government-approved institute in Liaoning province — rise daily at 4:30 a.m. to be lectured on the do's and don'ts of being a lady and a dutiful wife. Specifically, the course focuses on the "four basic principles" of marriage: not fighting back, not arguing back, swallowing insults, and eschewing divorce.
"Women should stay at the bottom instead of reaching for higher social status," another female teacher said while kneeling to demonstrate how to properly mop the floor. In another shot, a male instructor explains how "well-behaved" women should not have full-time jobs: "Successful 'career women' always meet unfortunate ends," he warned.
In addition to professional and domestic duties, sex was also on the table — in a sense. "Mixing the semen of three men can be extremely poisonous, to punish wanton women," says a male teacher who, in a separate lecture, also discourages his students from ordering food delivery to get out of doing the dishes, a habit he says "derails women from the path of virtue."
The school, which is fully funded by a company called Fushun Taogong Cultural Development Co. Ltd. that dabbles in clothing, agriculture, and construction, provides free meals, accommodation, and study materials to all students, Si Xingyun, a spokesperson at the institute, told Sixth Tone. The couple who founded the school, Kang Jinsheng and Wang Li, firmly believe in the importance of traditional Chinese culture, which they hope to impart to others though the school, explained Si.
From the way they're depicted in the video, the students seem to be buying into the workshop's heavily gendered ideology. In one clip of a student scrubbing a toilet, she says, "It's filthy, but our hearts are even filthier." Another student laments how often she used to wear makeup, a violation of feminine virtue. Another woman says she is attending the workshop because her husband wants her to "regain the morality and tenderness of being a woman."
But 26-year-old Han Xiao, one of the undercover vloggers, apparently had a hard time stomaching the patriarchal platitudes. She told Sixth Tone she felt shocked by the workshop's teachings from the first day, and described the ordeal as "mentally painful."
Upon checking in at the school, Han and the other vlogger had their mobile phones confiscated and were instructed not to speak except during "sharing sessions." They were able to record videos, however, using hidden cameras on their watches.
On Day 17 of the three-week workshop, the pair informed the school that they wished to leave, citing differences of opinion. "They didn't urge us to stay," Han recalled. "They just said it was a pity."
By and large, netizens who have watched the video seem to share Han's views. "Turning the other cheek to physical and verbal assault, and standing firm against divorce — this condones domestic abuse, doesn't it?" commented one user on microblog platform Weibo under a post that included the video. "Please shut down these kinds of schools!" implored another.
Gao Yong'an, an associate professor of Chinese language at Renmin University of China in Beijing, told Sixth Tone that the ideas of male superiority and unconditional submission to mistreatment were relics of an ancient social order, and lacked a true understanding of traditional Chinese philosophy.
"Nowadays, people enjoy a social standing that their ancestors were never able to achieve," Gao said. Central to this progress, he added, are gender equality, marriage freedom, and basic human rights than cannot be deprived.
Editor: David Paulk.
(Header image: A young bride washes her mother-in-law's feet during an event aimed at preserving the tradition of filial piety, Hangzhou, Zhejiang province, May 10, 2015. Vego/VCG)