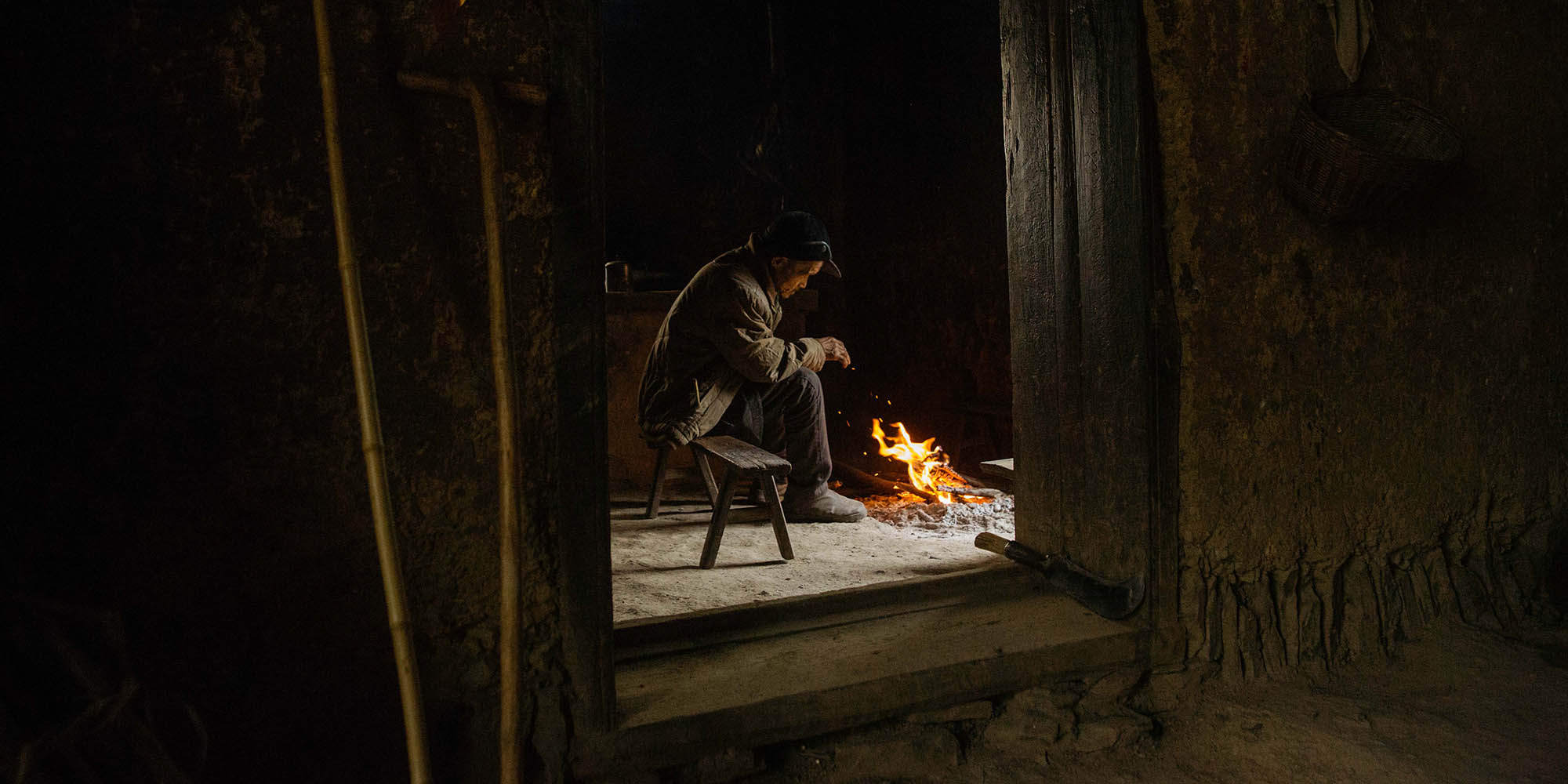 NEWS
Coal Ban Leaves Northern China Shivering
Coal-fired boilers have been confiscated, but switch to gas and electricity remains incomplete.
As local governments in chilly northern China wrap up their ambitious plans to switch from coal to clean energy, thousands of households are being left in the cold while waiting for gas-powered boilers to switch on.
State news agency China News Service reported Wednesday that a laborer in Xinzhou, Shanxi province, was punished with five days' detention for burning coal outside the construction site where he was working. According to police, the man had violated a law on preventing and controlling atmospheric pollution.
The case of the detained construction worker is emblematic of a much larger problem: Burning coal is being prohibited in more and more cities, even where more environmentally friendly initiatives have not yet been fully implemented.
In October, Sixth Tone reported about several villages in Shanxi that were part of a large-scale pilot program being rolled out in Beijing, Tianjin, and 26 other cities to switch from coal to natural gas. From Nov. 1, a total of 134,000 households in Taiyuan, the capital of Shanxi, were supposed to have functional heating powered either by electricity or natural gas.
But Zhang Peiying, a 76-year-old resident of Taiyuan's Beiwayao Village, told Sixth Tone that the gas supply in Beiwayao didn't start until mid-November — more than two weeks after the officially scheduled start date. By then, temperatures in Taiyuan had dropped to below freezing at night. With their coal-fired boilers confiscated, Zhang and her neighbors had to grin and bear it through chattering teeth.
According to the Taiyuan Environmental Protection Bureau, thousands of households in the city are still without heating. "The staff working at the gas and electricity companies need to check the devices in each household one by one — and at over 100,000 households, we're talking about a large scale," Song Li, the director of pollution control at the provincial Environmental Protection Bureau, told Sixth Tone. He added that the central government considered its goals achieved once heating equipment was in place at the end of October — but that didn't mean it was functioning.
Other cities have seen similar setbacks. In Linfen, another city in Shanxi, gas radiators remain cold because equipment inspections have not been completed. And in neighboring Shaanxi province, local media reported that students have resorted to clutching cups of hot water in their hands until construction on gas pipelines is finished.
The surge in demand for natural gas accompanying China's push for clean energy has put a strain on supply and resulted in a price hike. This October, China imported 48 percent more natural gas year-on-year, according to Bloomberg. In response to increased demand, PetroChina, the country's state-owned oil supplier, has said it will raise prices by up to 20 percent over this year's "heating season" — the period from Nov. 1 to March 31 over which China activates central heating nationwide.
To ensure that their daily supplies of the fossil fuel are not interrupted, provincial and local governments have taken matters into their own hands. A city in eastern China's Shandong province, for example, has opted to cut off the gas supply from midnight to 5 o'clock in the morning.
"Although the Chinese government is capable of regulating and controlling the supply of natural gas, the supply cannot keep up with the surging demand in such a short period," Li Xiangfang, a professor of natural gas engineering at China University of Petroleum in Beijing, told Sixth Tone. He added that suppliers should consider establishing a priority scale to regulate access to gas, balancing residential, commercial, and industrial needs.
Zhang, the elderly Taiyuan resident, said she is not sure how much it costs to use gas, though she turns the radiators in her home off at night and only keeps them on for a limited time during the day. "It's cold," she explained, "but gas is expensive."
Hiccups aside, the coal-to-gas initiative has already helped to reduce air pollution. In a progress report on Tuesday, a local broadcaster in Taiyuan said that the average concentration of PM 2.5 in the city from Nov. 1 to Nov. 26 was 25.5 percent less than over the same period last year.
Editor: David Paulk.
(Header image: An elderly man warms himself over a fire at his home in the mountains, Donghe Township, Shaanxi province. Nov. 14, 2017. Wu Huihuan/Sixth Tone)