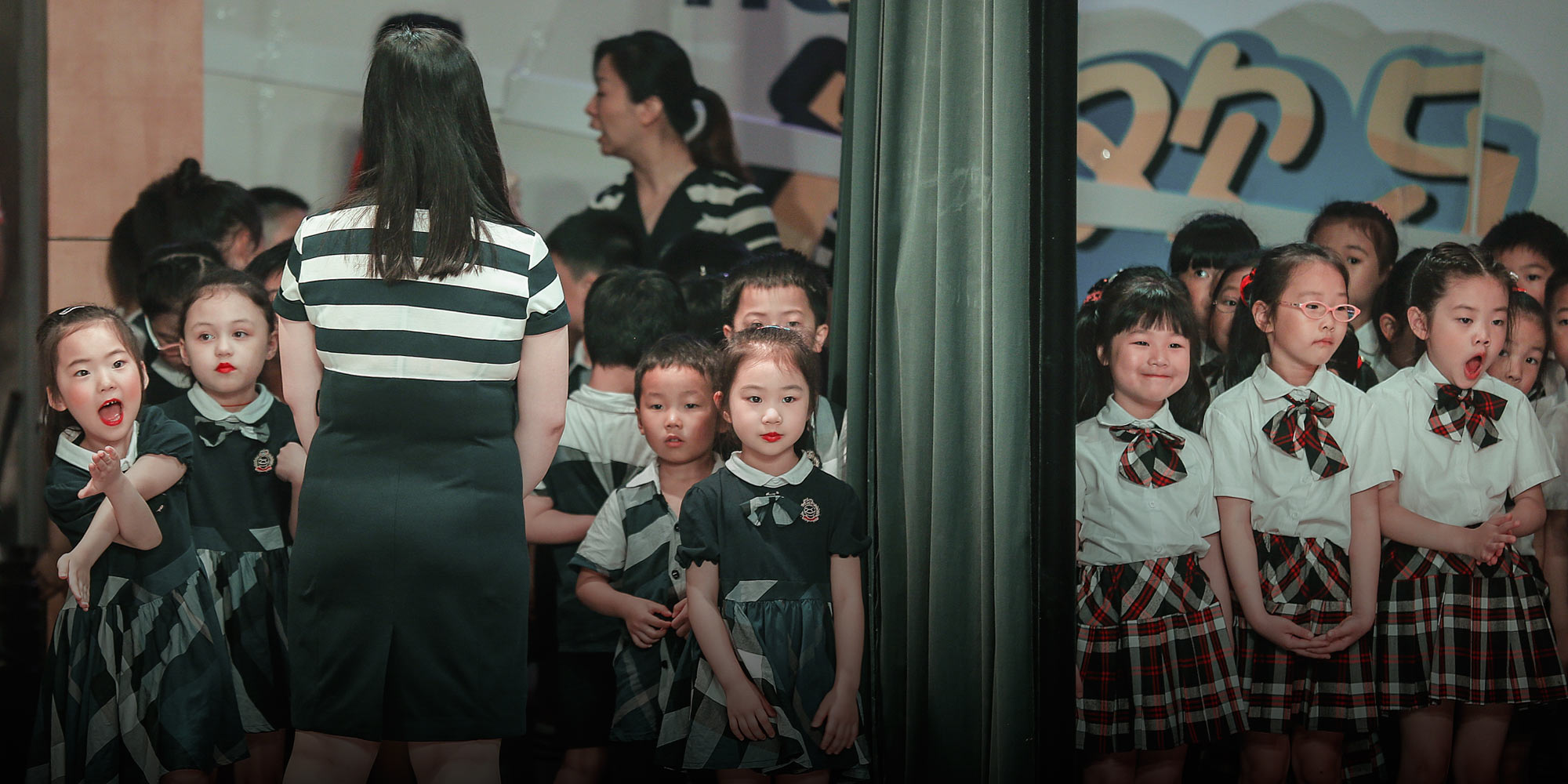 NEWS
China's Cities Unveil Plans to Prevent Kindergarten Abuse
New strategies include teaching qualification reviews, comprehensive video surveillance, and unannounced inspections.
Over the past week, Chinese netizens have been up in arms over disturbing allegations of child abuse at a Beijing kindergarten. Parents claimed their children were pricked with needles, given strange pills, made to stand naked, and exposed to strangers. A preliminary investigation carried out by the Chaoyang District police, however, determined that there was no truth behind any of the allegations, apart from the use of sewing needles as a disciplinary tool — a lapse in judgment for which RYB Education, the company behind the school, apologized on Wednesday.
Now, amid the wave of controversy surrounding the case, local governments across China are outlining how they intend to prevent similar tragedies from occurring under their watch.
The Shanghai government on Monday issued a plan to standardize kindergarten operations and review teachers' qualifications in order to "further strengthen the city's kindergarten management and secure the mental and physical health of its young children." Moreover, local education officials will carry out unannounced inspections at kindergartens that were recently opened or that cater predominately to the children of migrant workers, the city government announced Monday on its Weibo microblog.
In Beijing, meanwhile, the government has ordered that surveillance cameras be installed at kindergartens until every corner of every room is monitored. Shijiazhuang, capital of Hebei province in northern China, has explicitly banned nurseries and kindergartens from drugging children and announced that it will carry out a comprehensive citywide inspection of all such institutions.
Cities like Nanjing, Xi'an, and Wuhan, too, have announced that in addition to welcoming inspectors from the central Ministry of Education, they will carry out their own inspections of institutions providing care to young children.
China suffers from an overwhelming demand for early childhood education. In 2016, just 77 percent of children aged 3 to 6 attended kindergartens. Though the sector has grown steadily in recent years, largely thanks to increased government funding since 2010, the supply of spots at public kindergartens has not kept pace with demand.
To cope with this imbalance, private kindergartens have proliferated and thrived, to the extent that they now outnumber public kindergartens nearly 2-to-1. But these institutions also present their own pros and cons: While they may be more likely to have open enrollment, they may also have high tuitions or less qualified teachers than their more strictly regulated public peer institutions.
"For the time being, child abuse cases are mainly occurring at private kindergartens," Yuan Yingke, a professor of education, told Sixth Tone. "This [Beijing abuse] case has alerted us to the fact that private kindergartens have always been the weaker side of preschool education."
Private kindergartens are subject to less official oversight, Yuan explained, and their criteria for hiring new teachers are often less rigorous. "It's entirely possible that the owners of private kindergartens are motivated by profits — a notion that runs counter to the philosophy of the public education system," he said.
Following the allegations of abuse being shared on social media, share prices for New York Stock Exchange-listed RYB Education fell by nearly 40 percent on Friday. The same day, the company drove the price back up by announcing it would buy back $50 million in shares.
Because teachers at public kindergartens are state employees, they must meet, and continue to adhere to, a set of well-defined national standards. If they manage to do this, their positions are relatively stable, and therefore more coveted than private school jobs.
"Once you're hired to teach at a public school, you can't afford to make a big mistake," said Yan Lihua, the mother of a 7-year-old daughter. "Teachers at privately run kindergartens are highly mobile: If they aren't successful at one school, they go to another one. Given that record-keeping is not well-established in China, and previous work experiences might not be properly documented, it's easy to get hired somewhere else, even with a history of past misconduct."
But some parents have few other options, given the high demand for public kindergartens. "Sometimes, enrollment depends less on a family's school district and more on their personal relationships," Yan told Sixth Tone, adding that she had to pull some strings herself to get her daughter admitted to two public kindergartens in Jiangsu province, eastern China.
Though there are a host of variables to consider when it comes to improving early childhood education in China, to Yuan, the professor, the answer is fairly straightforward. "The government must play a more active role in preschool education by establishing more public kindergartens."
Even as education officials set their sights on the future, public security authorities are scrambling to manage the present: At least one person has been detained for "spreading rumors" about the Beijing kindergarten case on social media.
Contributions: David Paulk and Colum Murphy; editor: David Paulk.
(Header image: Children rehearse for their graduation ceremony at a kindergarten in Shanghai, June 8, 2016. Liu Xingzhe for Sixth Tone)