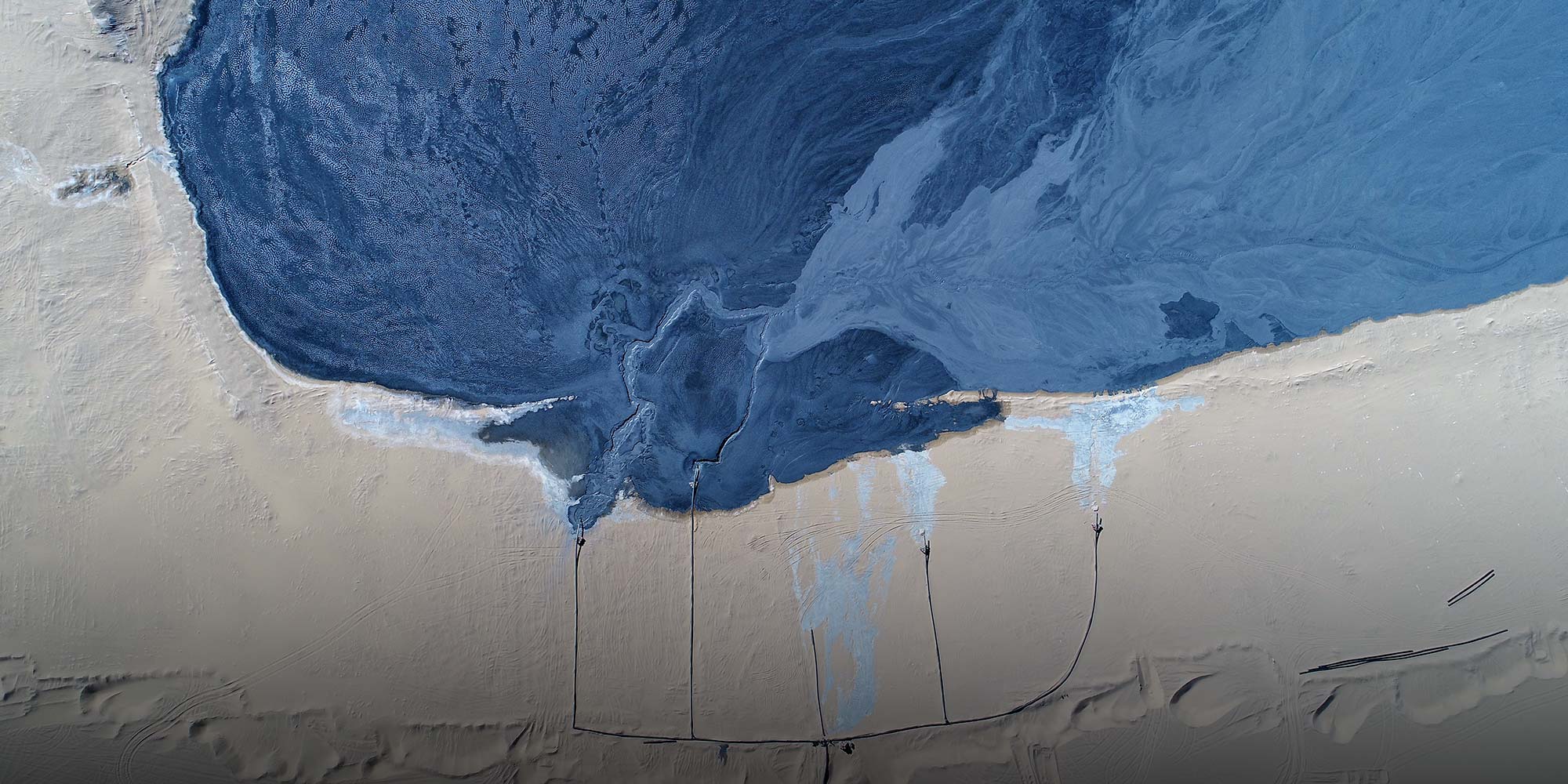 NEWS
Mining Company Investigated for Dumping Sludge in Qaidam Desert
Green group reported the factory for discharging vast tracts of cement-like waste.
Authorities in northwestern China are investigating an iron mining company after an environmental group revealed that its factory had been dumping massive amounts of liquid waste into the Qaidam Basin Desert, Sixth Tone's sister publication The Paper reported Friday.
Videos and photos posted to social media by the environmental NGO Guangzhou Green Data Environmental Service Center on Friday show several large pipes extending from a factory in Golmud, a city in Qinghai province, emitting gray liquid waste into the nearby desert. According to Green Data, tracts of the hardened, cement-like waste stretch 16 kilometers from the pipes.
"If the waste is classified as 'hazardous solid waste,' it could harm the soil and groundwater," Qi Biao, an engineer specializing in pollution treatment at the Qinghai Environmental Science Research Institute, told Sixth Tone on Monday. He added that he could not draw conclusions about the extent of the damage without seeing the results of a laboratory analysis.
A staff member at Green Data told Sixth Tone on Monday that the group discovered the waste deposits in early October, largely because Golmud Qinghua Mining, the company that owns the factory, was already on their watch list for previous violations. The staff member — who would not give his name for fear of retaliation from the mining company — said that he and his colleagues visited the "large area of industrial waste" in November.
In 2011, the company invested 1.85 billion yuan ($280 million) into its iron mining operation in Golmud. The factory, constructed that year to process up to 2.5 million tons of ore annually, passed its environmental impact assessment, carried out by the local government.
However, in 2015 the prefecture-level environmental protection bureau fined Golmud Qinghua Mining 20,000 yuan for not incorporating a water treatment system into its operation. Whether the company ever fulfilled this responsibility could not be determined.
When Sixth Tone contacted Zhang Shengjun, a communications representative for the company, he said he could not hear the questions clearly because of bad signal. His phone was turned off when Sixth Tone called back.
A deputy director at Golmud's environmental protection bureau surnamed Zhou told The Paper on Friday that the bureau had only recently learned about the situation and was sending a team to the scene over the weekend to conduct a full investigation. Green Data's staff member confirmed that they, too, are analyzing samples taken from the polluted land, and that results should be available later this week.
Another official from the environment bureau told Sixth Tone on Monday that a press conference will be held to announce the results of the city's investigation, though a date has not been set.
Similar cases of illegally dumped industrial waste have occurred elsewhere in China, especially in sparsely populated areas like Qinghai, where official oversight presents greater challenges.
In November 2014, media reports revealed that several companies had been emitting waste covering an area the size of several soccer fields in Inner Mongolia's Tengger Desert. A dozen companies were shut down and over 20 officials were suspended, in accordance with instructions directly from President Xi Jinping.
Editor: David Paulk.
(Header image: An aerial view of the land contaminated by the ore processing factory in Golmud, Qinghai province, Nov. 3, 2017. Courtesy of Green Data)