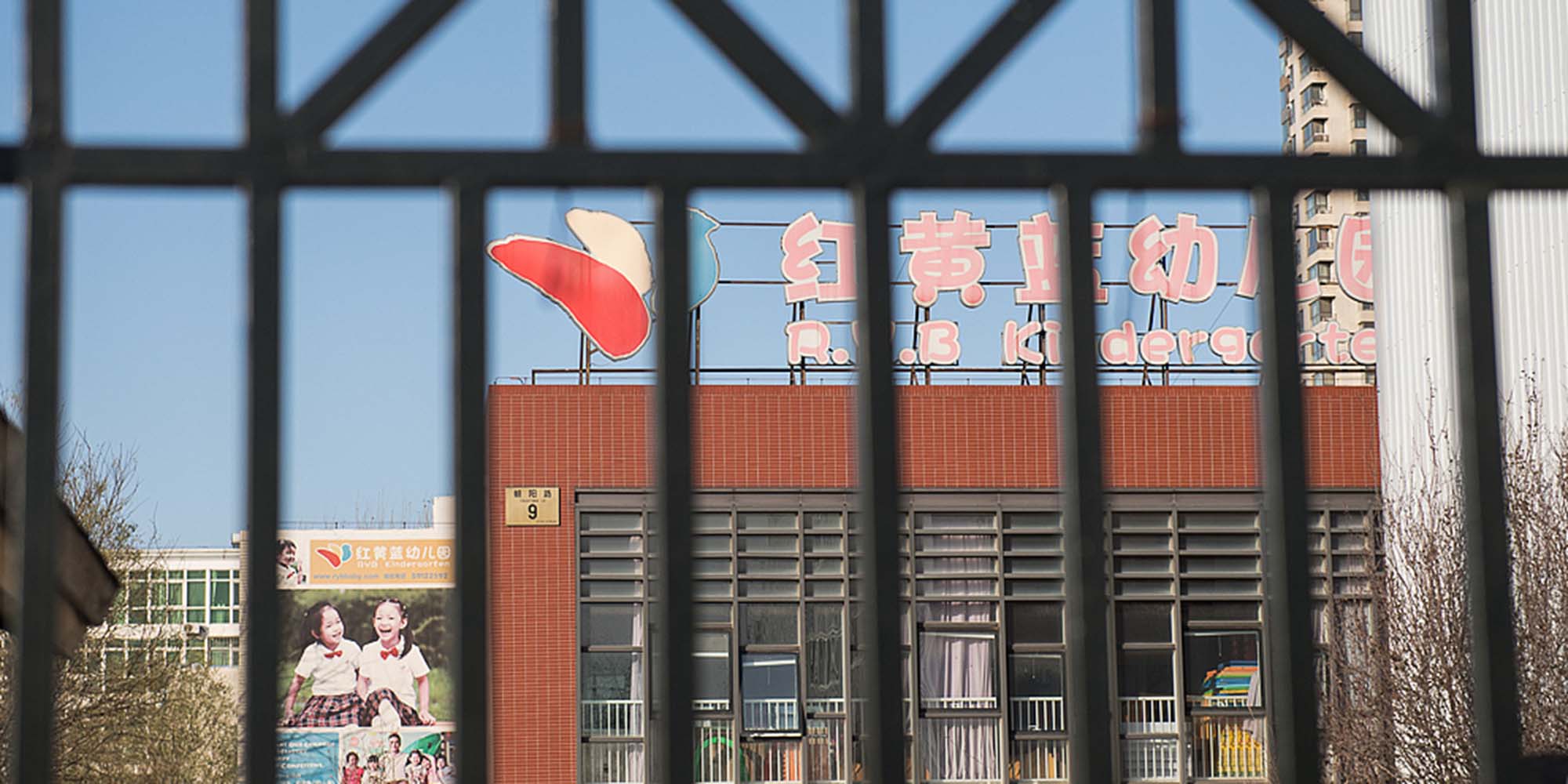 NEWS
Kindergarten Investigated After Parents Find Needle Marks
Beijing police are investigating allegations of abuse of children who attended RYB Education facility.
A kindergarten in Beijing that is part of one of China's most well-known early education franchises is under investigation for child abuse. The catalogue of allegations includes sexual molestation and giving children tablets and injections without parental consent. The children at the center are aged 2 to 6.
Located in Beijing's Chaoyang District, the kindergarten is part of RYB Education, a company that was listed on the New York Stock Exchange in September. Founded in 1998, the company advertises that it has 1,300 learning centers and 500 kindergartens in over 300 cities in China.
According to Beijing Youth Daily, an employee of the Chaoyang District education committee said that the police have seized the kindergarten's video surveillance records, and that three teachers have been suspended. The investigation is still ongoing.
Sixth Tone's sister publication, The Paper, launched a live blog today on the abuse allegations, which have shocked the nation — especially in the wake of child abuse at a Shanghai day care center that was exposed earlier this month.
A parent told The Paper that his child began attending the Beijing kindergarten in September, and told him in October that teachers were mistreating him. Soon after, another parent alleged that three children were punished by being told to stand naked. Then, parents said they found needle marks on their children's bodies. As of Wednesday, eight parents had reported allegations of abuse to police, according to the parent of a 3-year-old in a video interview with Tencent News that was later taken offline.
On Thursday, Chinese social media responded to the abuse allegations with fury and disgust, at a time when the nation is actively encouraging more families to have second children. "If the government doesn't punish them severely, it would be nonsense to talk about a second child. I wouldn't even dare to have a first child," wrote one commenter on microblog platform Weibo.
In April of this year, RYB Education suspended the headmaster and two teachers of another branch in Beijing after a video showing a teacher kicking and pushing children went viral. And in October 2016, a district court in Siping, in China's northeastern Jilin province, sentenced four teachers from an RYB Education center in the city to prison terms ranging from two years and six months to two years and 10 months for child abuse that also involved needle marks.
Clarification: A previous version of this article said that the 2016 Jilin case involved injections. The court said that victims were pricked with needles but did not report injections.
Contributions: Fan Liya; editor: Qian Jinghua.
(Header image: An exterior view of the RYB Education kindergarten in Beijing where staff have been accused of abusing children, Nov. 23, 2017. VCG)