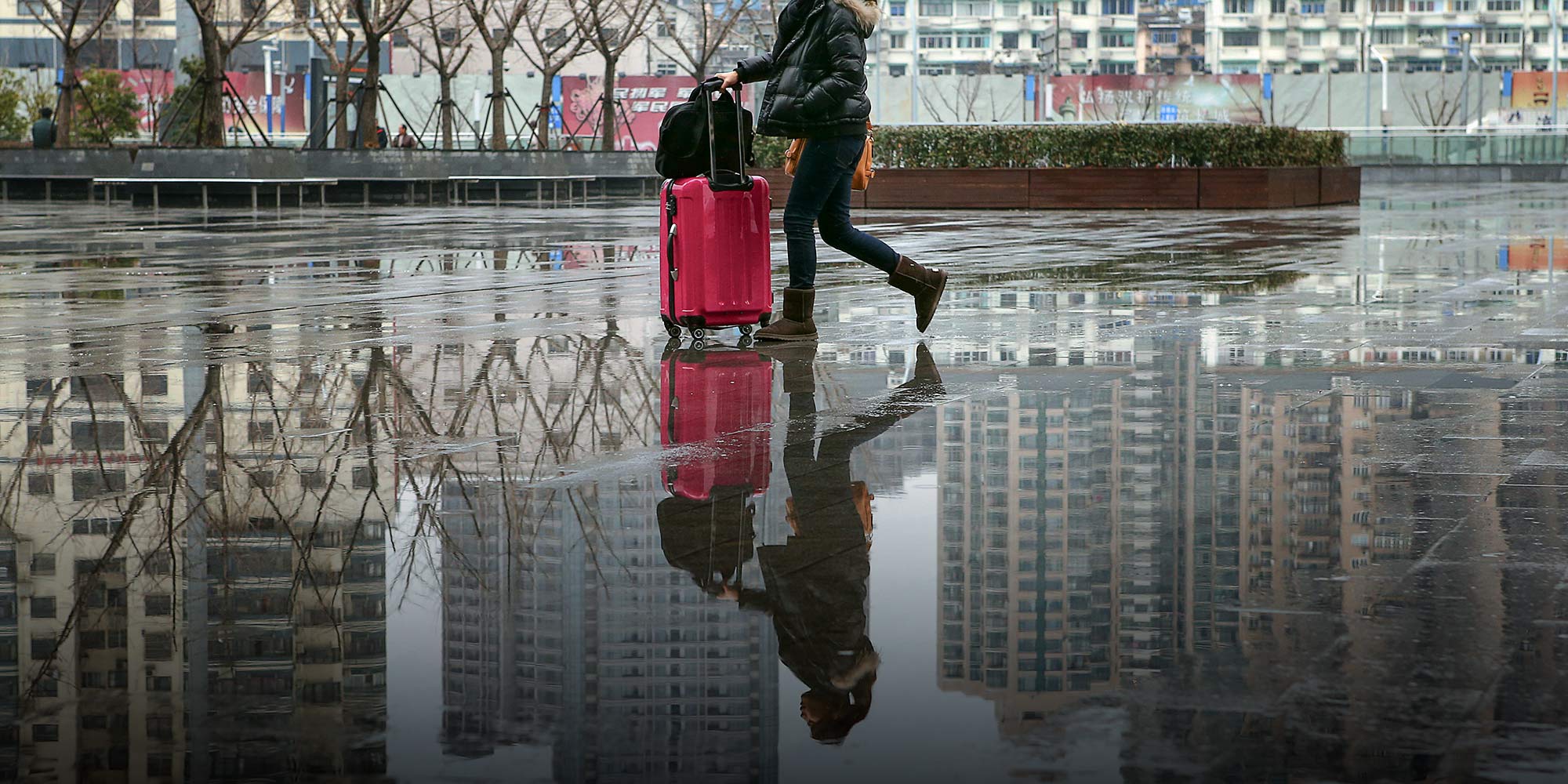 FEATURES
The Young Renters Hurt by China's Housing Boom
Government efforts to improve the rental market are causing companies to see dollar signs, but tenants are still left out of pocket.
SHANGHAI — When Nie Wenqin moved into her Shanghai apartment last month, she was hoping it would be fourth time lucky.
The 29-year-old finance worker had already battled broken appliances and bad roommates, but Nie's fourth rental apartment during her five years in Shanghai turned out to be the worst yet.
"The pungent smell in the room made me feel sick," said Nie, who hails from eastern China's Jiangxi province. When she used a store-bought detector, she found her tiny 15-square-meter room had levels of formaldehyde — a harmful chemical sometimes found in paint — three times higher than the Ministry of Environmental Protection standard.
"The neighbor told me that the apartment had only been decorated a week ago," Nie told Sixth Tone. "But the owner shouldn't put my health at risk — even if they just want to fix up the apartment to turn a quick profit."
Nie said that although she made several calls to Ziru, the rental apartment company that owns her residence and operates under one of the largest real estate companies in China, she was told her complaint wasn't valid, as she had detected the chemical herself. Worse still, she wouldn't be able to retrieve her 2,100-yuan ($318) deposit — equivalent to one month's rent — if she moved out. Tired of relocating, Nie kept the apartment and now regularly spends the night at friends' houses to avoid the possible effects of the chemical, which can irritate the skin, eyes, nose, and throat — or even cause cancer. A Ziru spokeswoman told Sixth Tone that the company did use paint with formaldehyde, but at levels that met the regulatory standard. While she did not know the details of Nie's complaint, it was common practice to switch customers' apartments for free if they detected unusually high levels of chemicals like formaldehyde, she said.
Unfortunately for the millions of renters in China, Nie's trials are not uncommon. Rising demand for apartments over the past five years has seen renters pushed into paying more for less, and many feel they have limited recourse when things go wrong. Over the past five years in Shanghai, real estate prices in the city proper have increased 80 percent — much more than incomes, which have increased 39 percent over the same period, according to the Shanghai Municipal Statistics Bureau. China currently has 168 million renters — or 12.1 percent of the population, according to figures from the government-funded Shanghai E-House Real Estate Research Institute. Many of them share apartments, as there are just an estimated 77 million rental properties. And the problem is expected to get worse: The institute estimates that the number of renters will grow to 200 million in the next decade.
Zhou Zhifeng, head of research for China at real estate services firm Jones Lang LaSalle, said urbanization and the growing millennial generation are behind the surge in demand for rental housing. "Renting is a temporary option for young people who can't afford to buy apartments due to the rocketing property prices in China's major cities," Zhou told Sixth Tone. Most tenants deal with small-time landlords, resulting in less transparency and limited trust between tenants and landlords, he added. According to Yan Yuejin, director of Shanghai's E-House China R&D Institute, many young renters are forced to live in run-down residential areas with poor living conditions, or rooms in nicer areas that have been divided and rented to several people.
Xu Juan, a 28-year-old medical company employee who moved from northwestern China's Xinjiang Uyghur Autonomous Region to Shanghai in 2014, is another such millennial who has run into housing issues. When the agent showed Xu around the apartment last year, all the home appliances looked new — but after signing the contract, she found that the landlord had swapped the new air conditioner with an old one, and never responded to her complaints about the switch. She's also worried about security in her shabby neighborhood. "You have no idea who your neighbors are and whether the community is safe," Xu said.
Neither Xu nor Nie considered taking legal action — which isn't uncommon, according to Shanghai-based lawyer Ding Jinkun. China does have laws to protect tenants, but they are relatively weak compared with those in more developed countries, and the public aren't educated about their rights, he said. Yet problems with rental apartments are widespread: According to a survey reported by state news agency Xinhua earlier this year, three-quarters of young tenants in Beijing believed their legal rights had been infringed upon in the past, with many claiming they had fallen victim to fake apartment listings, unfair commissions, or landlords increasing rental fees without warning.
The government has stepped up efforts to improve conditions for renters. In June last year, China's top administrative body, the State Council, issued general rental housing guidelines that offer incentives to property developers to expand into the rental business, tighten regulation and supervision of rental agencies, and better protect the interests of tenants. Since then, other local governments — including Shanghai's — have begun introducing more pro-tenant policies. Since July this year, Shanghai has set aside 21 plots of land for rental housing, which have all been sold to state-owned companies. Shanghai has been slower to take action than other cities: Guangzhou, for instance, recently implemented a new policy that extends access to education to out-of-town renters, not just homeowners.
The central government's rental housing push has led to growing interest from investors, property agents, apartment operators, and developers, who all want a slice of China's seemingly lucrative rental market. Shanghai-based home rental website Mogoroom, for example, has started offering renters zero-deposit deals on over 2 million properties by collaborating with Sesame Credit, a credit scoring system from Alibaba affiliate Ant Financial. Meanwhile, Shanghai-based property operator Harbour Apartments has attracted 400 million yuan in investment in its network of co-living residences. The apartments mainly target young people earning around 150,000 yuan a year — a fairly average salary for a young Chinese professional — and charge a monthly rental fee of between 3,000 and 6,000 yuan, or around a quarter to half of tenants' monthly salaries. Within two years, the company has invested in 20,000 apartments across 50 communities in major cities, including Shanghai, Beijing, and Shenzhen.
For Harbour CEO Huang Haibin, the future looks bright. "As the rental market in China is just emerging, we're confident it will increase from the current [value of] 150 million yuan to 500 million within 10 years," he told Sixth Tone.
Analyst Zhou also hailed the cash flow, saying the investments could bring greater transparency and credibility to the murky rental housing market. In the future, rental properties could be managed by bigger companies — rather than private individuals — meaning rules would be easier to enforce.
But while new government policies are attracting commercial interest, which may improve the sector in the long term, the renters themselves have yet to see any direct benefits. Nie's current rent accounts for almost one-third of her salary, and if the rental fees and other living costs in the city keep increasing, she may be forced to pack her bags. "I hope the government will provide more subsidies," she said.
Despite the high cost of living — and series of housing dramas — Nie said she doesn't regret moving to Shanghai. "I've been to amazing events and watched incredible concerts," she said. "I don't think I would ever have had such wonderful life experiences if I hadn't moved to this city."
Editor: Julia Hollingsworth.
(Header image: A woman drags her luggage at a railway station in Shanghai, Jan. 13, 2013. Wang Chen for Sixth Tone)