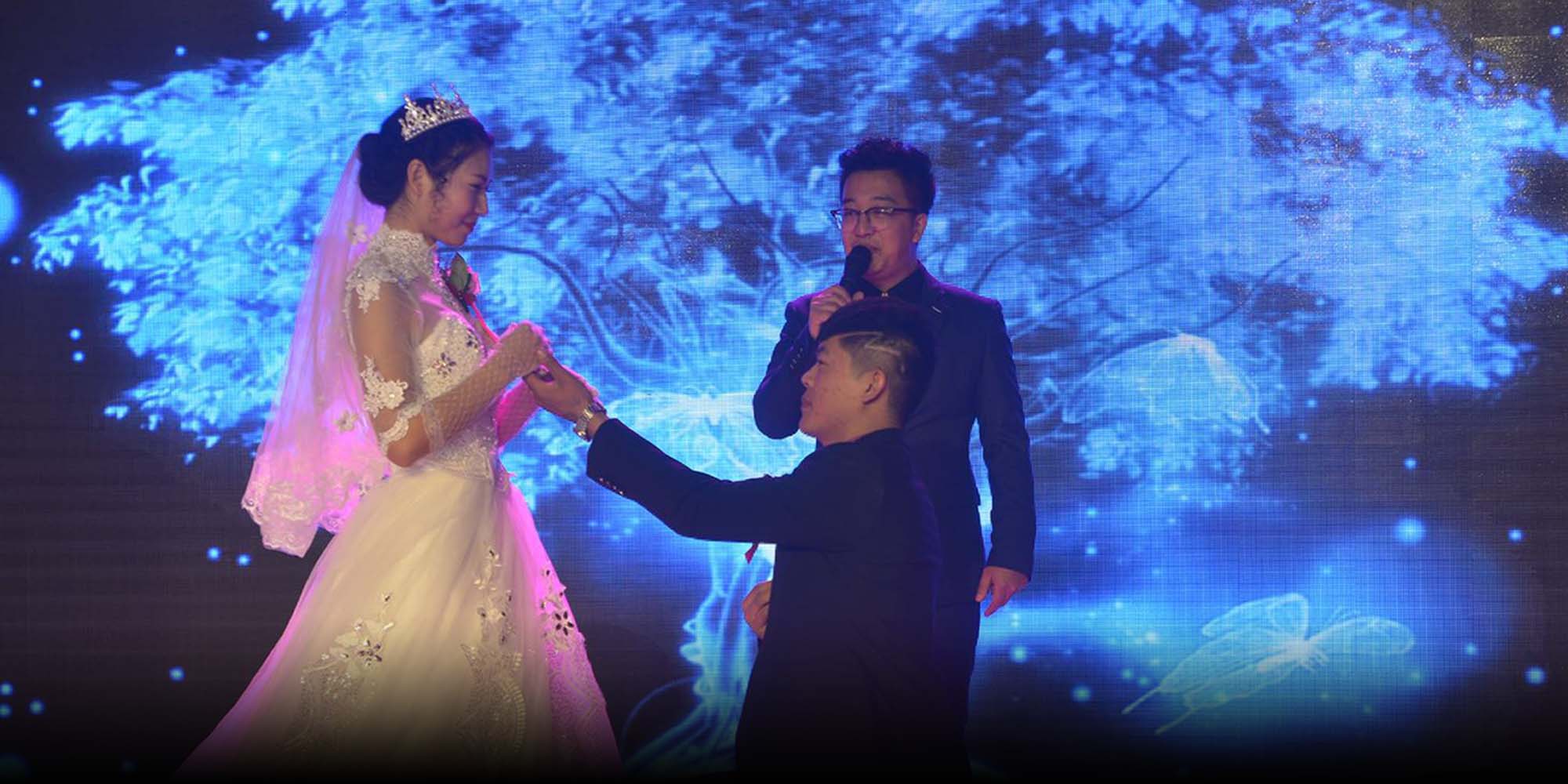 NEWS
Government Praises Woman for Marrying Without 'Bride Price'
Newlywed who refused betrothal gifts is honored with gifts.
A municipal government in northern China has congratulated a newlywed couple with gifts of a rice cooker and a pair of handcrafted figurines for marrying with "zero bride price."
According to Hebei province's official news outlet, the Party secretary for the city of Hejian presented the wedding gifts to the couple last week to commend the bride, Liu Yingying, for rejecting the tradition of bride price that men typically pay their fiancée's family. Around Hejian nowadays, grooms are expected to fork out more than 188,000 yuan ($28,000) in cash.
In an interview with The Paper, Sixth Tone's sister publication, Liu said that she fell in love with her husband, not his family background: "It's not necessary to put my husband and his parents under [financial] strain," she said.
Betrothal gifts are a traditional part of marriage in China, but in the past they were often symbolic offerings: In the 1950s, several pieces of cloth would be considered a fine gift. These days, however, cash gifts have become the norm, and the "bride price" has skyrocketed due to an increasingly skewed sex ratio. In some areas, desperate bachelors and a mercenary, competitive mentality have combined to raise the average bride price to as much as 300,000 yuan — not to mention the expectation that prospective suitors have a house and car.
The issue has captivated public attention with horrifying cases like a 2015 double murder in which a man in northern China's Shanxi province killed his girlfriend and her mother over betrothal gift disputes. And last week, a court ruled against a man in eastern China who had sued a hospital for the bride price he'd paid his ex-wife's family after medical staff gave her a false negative result on an HIV test before the couple's wedding.
The government has taken notice, now discouraging the practice of inflated bride price alongside other nuptial traditions considered extravagant and outdated. Last year, the national publicity department urged local governments to reform rural customs, after which many villages set up committees promoting thriftier weddings and funerals. Some go as far as recommending how long ceremonies can go on for and what should be on the banquet menu.
All of this points to the bride, Liu, being held up as an exemplar of modern marriage. But while some commenters online echoed the local government's admiration, others were left unconvinced.
"It is a personal choice whether or not to ask for a betrothal gift," reads one upvoted comment on microblog platform Weibo. "A betrothal gift is not used to buy love. In the past, it was a way to reward the bride's parents for their devotion. Now, it's more like a guarantee for the wife's rights, given the possibility of divorce."
Editor: Qian Jinghua.
(Header image: Liu Yingying's husband-to-be kneels before her during their wedding ceremony, Nov. 4, 2017. Courtesy of Liu Yingying)