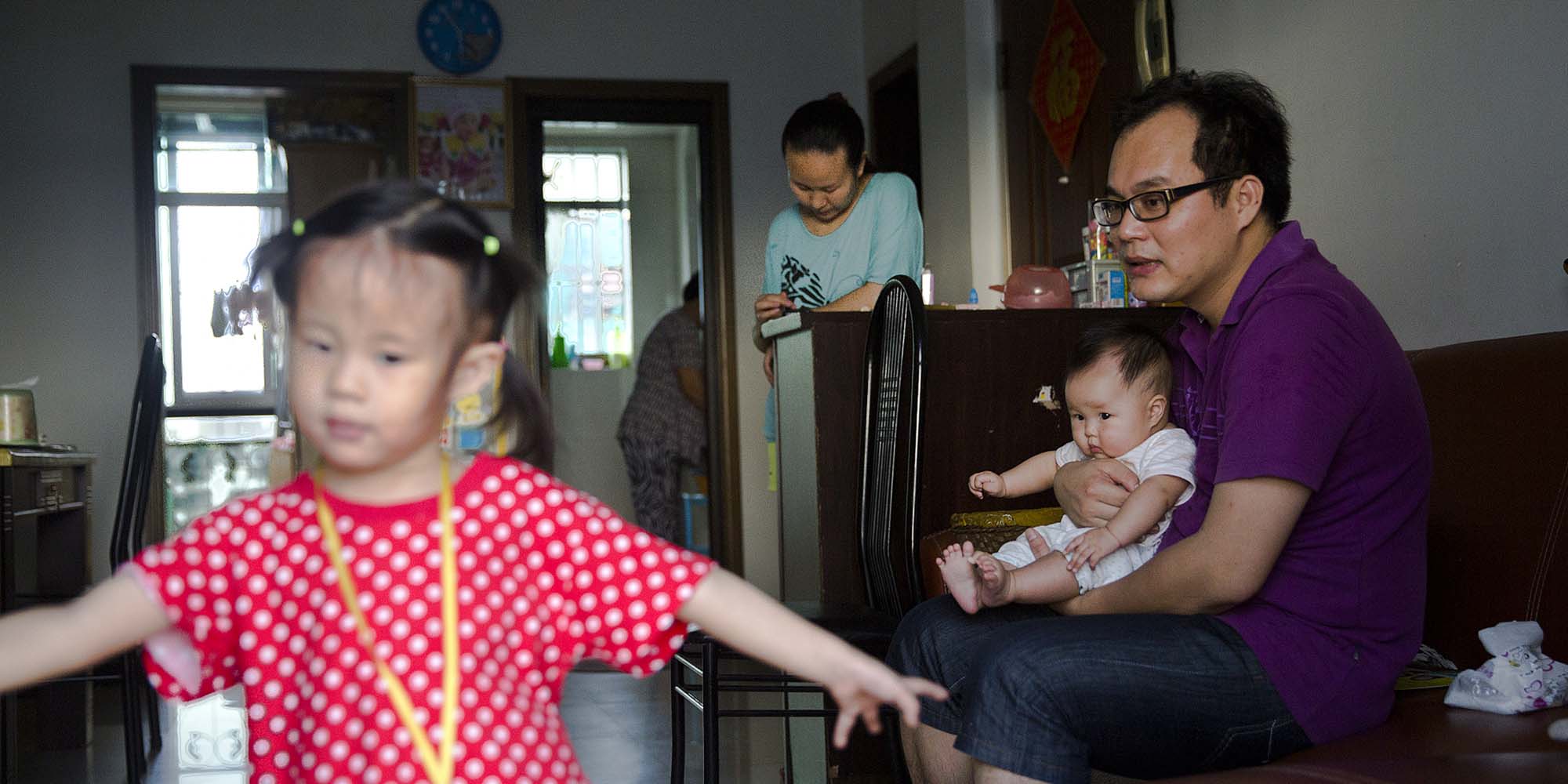 NEWS
High Court Accepts Appeal Against Family Planning Fine
Several families have contested penalties levied against them retroactively, but as yet none of the cases have reached verdicts.
Earlier this month, a high court in eastern China accepted a couple's appeal against a fine they received for having a second child, Sixth Tone's sister publication The Paper reported Tuesday. The case will test whether the two-child policy can apply retroactively for those who have unpaid family planning fines.
The couple had their first child, a girl, in 2008, and then a son in June 2012, when the one-child policy still applied. But no one mentioned a fine until May 2016 — five months after the two-child policy came into effect nationwide. Then, the local health and family planning commission in their hometown of Suining County, Jiangsu province, told them they owed 104,584 yuan ($15,800) for having a second child, who was by then 4 years old.
"Since the two-child policy is now being promoted across the country, why do we still have to pay the fine?" Tong Gang, the 34-year-old father, told Sixth Tone on Wednesday.
In the 1980s, such fees — which vary from place to place, based on average local income — were termed "fines." The name has since cycled through various euphemisms, the latest of which is "social maintenance fee." But the fee has remained compulsory, with the rationale being that those who have children in excess of family planning limits should foot the bill for placing an extra burden on social resources. In 2012, such fees totaled nearly 20 billion yuan across the 24 provinces that released this information.
Yet now China not only allows families to have two children, but actively encourages it as the country faces acute economic and social challenges associated with its aging population. Last month, the minister of the National Health and Family Planning Commission said that the bureau would carefully evaluate whether the nation should lift all family planning restrictions.
Lawyer Wu Youshui, who has worked on similar cases to Tong's, told Sixth Tone that while judges should bear the previous regulations in mind, they should also consider a more lenient application if it is more beneficial to society at large.
Tong and his wife filed their lawsuit against the local authorities in November 2016, but Xuzhou's railway transport court, which specializes in administrative disputes, ruled against them. According to a copy of the verdict seen by Sixth Tone, the court ruled that the new family planning policy was not retroactive. The couple's appeal in an intermediate court also failed.
"In the past year, my family has had to bear too much financial and mental stress," Tong said. "Even after we lost the first two cases, I firmly insisted on a third hearing." The high court has accepted the case, though a hearing date has not been set.
Tong said that their second child was unplanned, and that the family chose not to terminate the pregnancy because they were worried doing so might endanger the health of Tong's wife. "It's quite common for people from rural areas to have two children," Tong added, though he refused to say whether other families in their hometown had been subjected to similar fines.
Suining County's health and family planning commission could not be reached for comment on Wednesday, but an employee told The Paper in August that the reality is that Tong's family had violated the family planning policy at the time, so it was fair for the county to impose the fine.
Though other families have also contested family planning fines in court, thus far none have resulted in a verdict. In August, two similar cases — both represented by Wu — ended with the plaintiffs withdrawing their appeals to the high court of Zhejiang province in eastern China after mediation.
"I hope Tong's case will get an answer, and I hope they will persist with the appeal," Wu said.
Contributions: Zhao Meng; editor: Qian Jinghua.

(Header image: A father holds his infant daughter, who was born after the two-child policy was passed but before it came into effect, Guangzhou, Guangdong province, May 25, 2014. Sun Junbin/VCG)