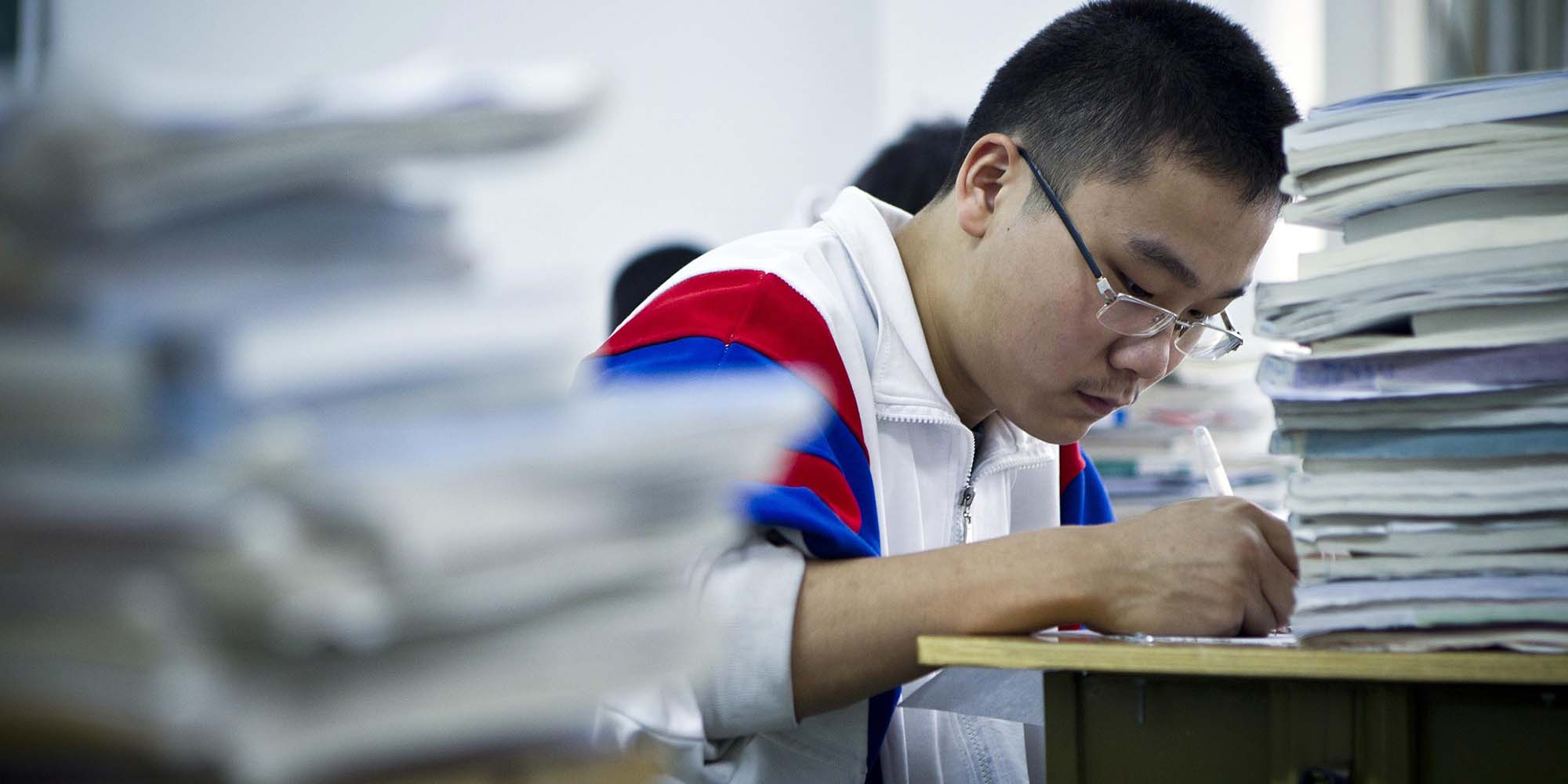 NEWS
Fujian Province Cracks Down on 'Exam Migrants'
Students suspected of taking advantage of the college entrance test quota system have been disqualified.
Authorities in Fujian are clamping down on students who come to the eastern province for a better shot at the gaokao, China's national college entrance exams.
According to an announcement from the provincial exam authority on Monday, 224 students from other provinces are suspected of violating regulations, and among them 63 candidates have been penalized for faking their household registration in Fujian. They have been barred from taking the next exam in June 2018, for which they had already registered.
"We will strictly screen the candidates' qualifications and ban gaokao migrants who take advantage of the system," Wang Xiazhou, the director of communications at the Fujian exam authority, told Sixth Tone.
Though students across the country must take the gaokao to enter tertiary education, Chinese universities have higher admissions quotas for applicants from within their home province, which makes it easier to gain entrance in places with either many colleges or fewer applicants. In Henan province, for example, which has more than 865,000 gaokao candidates each year, the competition is fiercer than in Fujian, which has about one-fifth the number of test-takers but three-fifths the number of quota spots.
"Gaokao migrants move to provinces where it's easier to get into universities," Liu Haifeng, the director of Xiamen University's Institute of Education, told Sixth Tone. In 2017, Fujian ranked fifth in the country for acceptance rates to top-tier universities, following Beijing, Tianjin, and Shanghai — three cities known for higher education — as well as sparsely populated Ningxia province.
With Fujian becoming a popular destination for gaokao migration, an industry has sprouted to help pave the way. Agencies advertise that students can get into universities with a substantially lower score if they move to Fujian, and some families purchase real estate in remote towns in the province just to secure a gaokao seat for their child.
According to Monday's announcement, the 63 disqualified candidates had sought the services of gaokao agencies who collaborate with vocational universities to unlawfully obtain collective household registration. The remaining 161 students suspected of violations come from families who have acquired Fujian household registration through purchasing property in the province. Wang said that their cases will be individually reviewed to confirm whether they're eligible to take next year's exam.
Many Fujian locals do not welcome gaokao migrants — even those who have not done anything unlawful. "Students who have studied hard for more than a decade in Fujian are losing out to migrants from other provinces who just bought an apartment here," one comment on social media read. "Where is the equality?"
To stem gaokao migration, Fujian education and police departments issued a joint notice on Monday clarifying the policies for students from elsewhere: Students must have had Fujian household registration for at least one year, and studied at a high school in the province for at least one year, before they qualify to take the exam in Fujian. In addition, their parents must have residency, stable employment, and records of social security payments in the province for at least one year.
Going forward, regulations will become even stricter: For students sitting the gaokao in 2019, the requirements will increase to two years, and three years for those taking the exams in 2020.
However, setting a higher bar for students from other provinces could disadvantage candidates whose families are new to Fujian, particularly those from low-income households who work without formal contracts or don't own property. Migrant workers' children are already marginalized in China's education system, as the right to attend public schools and take exams is linked to household registration, which many lack even if they migrated years ago.
Under Fujian's current regulations, those who don't have local household registration can take the gaokao as long as they attend high school in the province for at least three years.
"It is tricky to achieve a good balance in making this policy," Liu said. "If it's too strict, it will leave many migrant workers' children out in the cold, but if it is too lenient, it opens the door for people to game the system."
But inevitably, Liu said, "the system will be more beneficial to families with better economic conditions."
Editor: Qian Jinghua.

(Header image: A student registers for the national college entrance exam in Beijing, Dec. 1, 2010. Wang Lei/VCG)