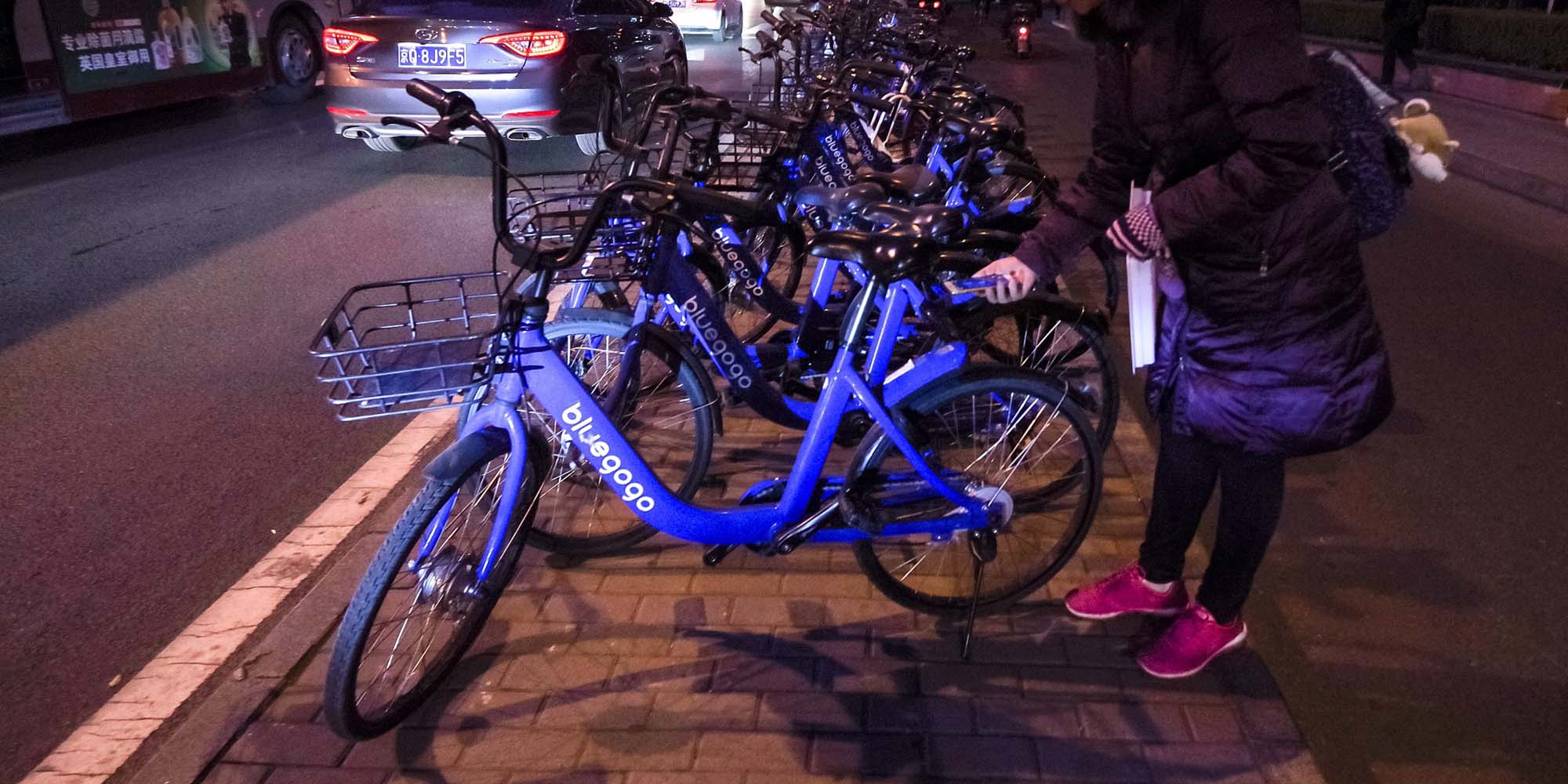 NEWS
Bike-Sharing Demise Heralds 'Age of Two Oligarchs'
Amid the crash of China's fourth-largest bike-sharing company, Bluegogo's founder admits he made mistakes.
One of China's largest bike-sharing companies, Bluegogo, has become the latest casualty of the country's cutthroat bike-sharing market, leaving both customers and staff out of pocket.
In a statement published by tech news website 36Kr.com on Thursday evening, Bluegogo's founder, Li Gang, launched into an emotional apology, admitting he had made mistakes that led to the company's downfall.
"I was touched to know that many users regarded Bluegogo as [having] the best shared bikes," Li wrote. "But no matter how good the bike is, without financial support and expertise in financial planning, the company is weak."
By the end of last month, Beijing-based Bluegogo had 2.23 million monthly active users in China, making it the country's fourth-most-popular bike-sharing company after Mobike, Ofo, and Shanghai-headquartered Hellobike, according to Beijing-based research firm Analysys. Li's statement comes about two weeks after Chinese media reported that Bluegogo users were having trouble withdrawing their 199 yuan ($30) deposits.
Bluegogo — which also operated in the United States — spent several million yuan earlier in the year manufacturing more bikes in a bid to grow its share of China's competitive bike-sharing industry, Li said. The expense appeared to put a financial strain on the company, and fundraising efforts to fix the problem failed, he added.
"As the capital market calmed down and other incidents dealt a blow to the company, the fundraising fell through," Li wrote, adding that Bluegogo had lost the chance to merge with a competitor. He talked to investors from more than 100 fund firms, but his efforts proved fruitless.
Li also attributed the failed fundraising attempt to an ill-timed marketing campaign over the summer. On June 3, the app's maps showed tank icons instead of bikes scattered through Beijing's city center as part of an offer for customers to win headphones and fitness trackers.
Sixth Tone's calls to the company on Friday went unanswered, and a visit to Bluegogo's Beijing office on Wednesday by Sixth Tone's sister publication, The Paper, found the premises had been vacated. The company owed around 2 million yuan in rent, according to an employee of the building's property management company.
Bluegogo's business has been handed over to bike-sharing competitor Sichuan Biker Technology, according to Li's statement. Li said he would try to pay employees as soon as possible. Riders can still use Bluegogo's services, but it's still unclear whether they can get their money back — which caused some customers to feel left in the lurch.
"I only found out through Weibo yesterday that Bluegogo had gone out of business," a netizen wrote on Chinese microblogging platform Weibo. "What about my money? Who can help me?"
Bike-sharing rose to prominence in China last year, with colorful bikes clogging sidewalks and piling up outside subway stations in big cities. The dockless bikes allow users to locate and unlock a bike using their phone and park anywhere on the streets. Most shared bike apps require users to pay up to several hundred yuan as a deposit before their first ride.
But after a year of explosive growth, the gap between the industry's giants and smaller players has widened, as Mobike and Ofo — the country's biggest shared-bike companies — continue to rake in billions of dollars while a slew of smaller players run out of juice.
The industry witnessed its first casualty in June, when Wukong Bike, based in the southwestern megacity of Chongqing, went out of business after just six months of operation. Another struggling shared bike app, CoolQi, is making its users travel to Beijing to recover their deposits.
"The dust began to settle toward the end of the summer, as we saw more and more small- and medium-sized businesses exit the market," said industry analyst Wang Huie. "Now, it's the age of two oligarchs."
Wang attributed Bluegogo's demise to its failure to secure a larger share of the market in its early days. "The business model is really easy: The more market share you have, the longer you're likely to exist, and the more money you'll raise from investors."
Bluegogo was founded in late 2016, and its services were available in a number cities, including Beijing, Shenzhen, and Chengdu. It raised 400 million yuan in January and expanded into San Francisco the same month.
In the future, it will only get more difficult for small shared-bike companies, Wang predicted. "The window has closed for small and midsize companies," she said.
Editor: Julia Hollingsworth.
(Header image: A woman scans a QR code to unlock a shared bike in Anqing, Anhui province, Nov. 16, 2017. Jia Tianyong/VCG)