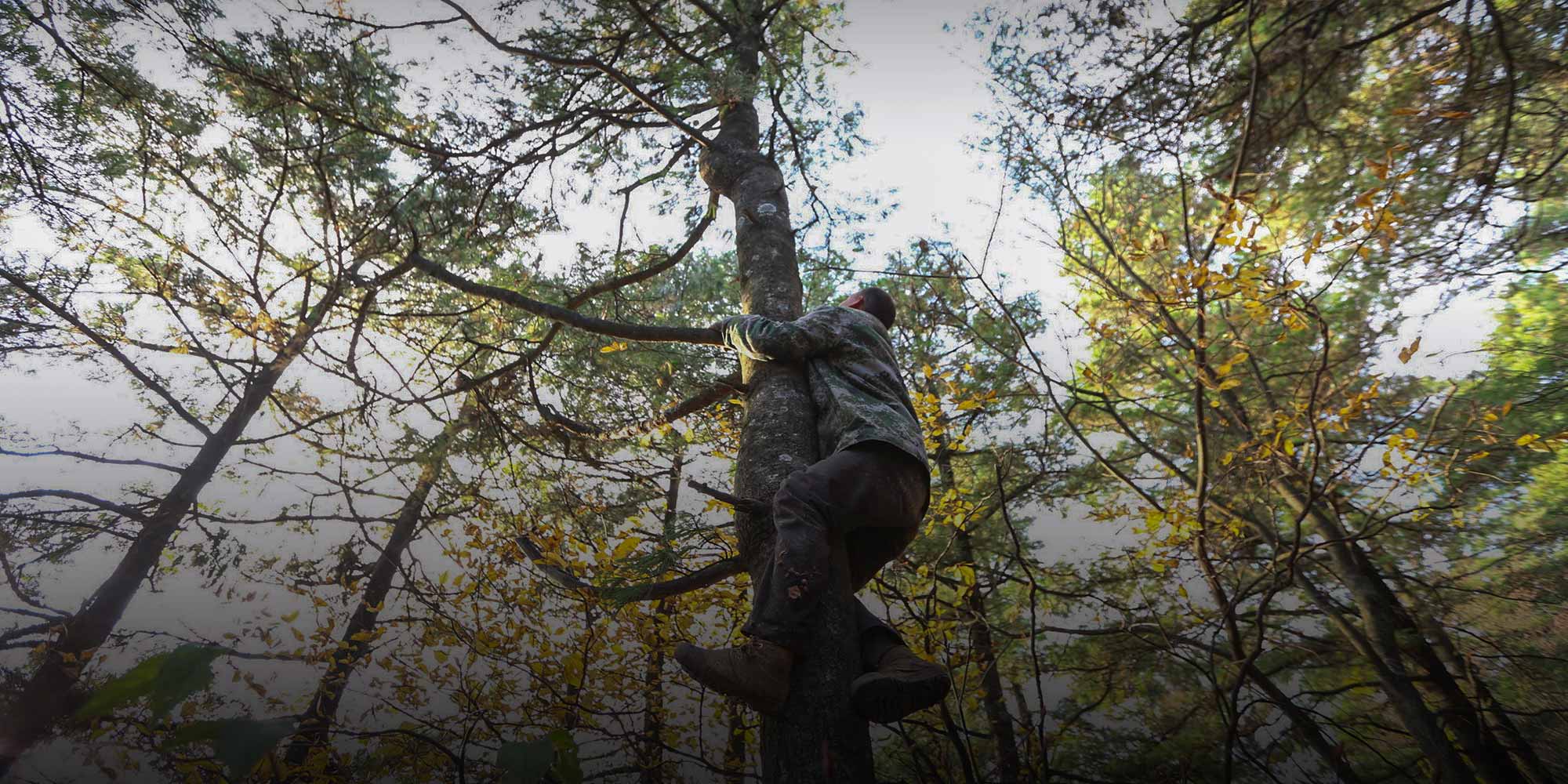 FEATURES
The Life and Death of a Pine Nut Picker
Thousands are drawn to the lucrative pine nut picking industry, but a worker's disappearance shows it can be a risky business.
JILIN, Northeast China — Two months ago, pine nut picker Bi Kesheng disappeared in a gas-powered balloon near China's mountainous border with North Korea. The 59-year-old hasn't been seen since.
Bi was one of thousands of workers from Jilin province who headed into pristine forests at the start of September to undertake lucrative — though sometimes dangerous — work: pine nut harvesting. But while most of the workers returned home to the nearby cities of Ji'an and Linjiang at the end of the month, Bi wasn't among them.
His son, Bi Jianhua, had warned him of the risks. "I won't go this year," the 34-year-old recalled telling his father. "You don't need to either. It's too dangerous." Despite working a number of low-wage jobs, the Bi family were always short of money — and this year, there was the added financial pressure of the birth of Bi Jianhua's first child, he told Sixth Tone's sister publication, The Paper.
Like many other workers in the area, both father and son were drawn to pine nut picking for the money. Many pickers — including Bi Kesheng — were once loggers, but declining forest industry revenues due to government policy changes have seen blue-collar workers switch to the lucrative pine nut picking sector in China, one of the world's largest producers of pine nuts.
When the pair first began harvesting pine nuts in 2002, wages were around 50 yuan ($7.50) a day. Now, pine nut pickers can expect to earn around 20,000 yuan a month, or even 40,000 yuan in a bumper year, according to Sun Yufa, Bi Kesheng's brother-in-law. That's much higher than the monthly minimum wage in Jilin, which increased to 1,780 yuan last month. Since 2002, the price of pine nuts has also risen, going from around 6 yuan to more than 20 yuan for half a kilogram, Sun said.
But harvesting pine nuts can be dangerous. Traditionally, the pickers scaled trees with the help of spikes attached to their shoes, and knocked pinecones from overhead branches using a long pole fitted with a hook. If the branches broke, workers could fall. Over the last two years, more workers have switched to using a hydrogen or helium balloon secured with a rope, which is considered a safer approach, according to Bi Kesheng's picking partner, Xu Yeyi.
On Sept. 6, the elder Bi and 61-year-old Xu headed to the Changbai Mountains on the China-North Korea border to kick off what was to be their last pine nut picking season together, under the management of a local entrepreneur surnamed Wu. (Wu declined to give his full name, as his business is not aboveboard.) According to Bi Jianhua, his father hoped to earn around 500 yuan per day and finish the season quickly, before heading home to meet his first grandchild.
The team began by scaling the 20-meter-tall trees the traditional way, the younger Bi said. At only 160 centimeters tall and weighing just 60 kilograms, his father had no problem climbing the trees despite his age. Bi Kesheng had never had an accident in his 16 years of pine nut picking, and at first, this season was no different.
A few days later, a picker from Xu's village had an accident. "He slipped and fell face down on the ground. He died on the spot," Xu told The Paper. After Wu heard the story, he bought an 8-by-8-meter, 18,000-yuan gas balloon for his two aging workers and hired a sturdily built man named Wang Pingwen to anchor the balloon with a rope. The balloon could lift around 200 kilograms, and Bi Kesheng and Xu were instructed to work together inside it, as they had a combined weight of only 150 kilograms. The group did a brief training on Sept. 14 before trialing their new technique the following day.
Over the next few days, the new approach worked well. When there was no wind, the balloon was quite stable, according to Xu. Up in the air, Xu — the stronger of the pair — used a hook to stabilize the balloon's basket against the tree, while his partner picked pinecones.
But on the morning of Sept. 20, disaster struck. Xu and the elder Bi both got into the basket and started to release the rope, but no matter how much they reeled off, the balloon just hovered low in the air. Xu remembers Wu shouting up at them: "Why doesn't one of you get off the balloon and see if it works?"
Without a second thought, Xu got out of the balloon. As he removed his left foot, he heard a "ping" sound. The balloon had suddenly gained altitude.
Bi Kesheng yelled down at Wang to hold the rope, but Xu called back that it was impossible. Xu told his partner to deflate the balloon, which could be done using a zipper-like feature to release the gas. He said he heard Bi Kesheng trying to do just that, but the balloon — and its passenger — disappeared into the low-hanging fog.
Xu recalls his legs trembling in shock. Back on the ground, Wang was standing on part of the rope and gripping it in his hands. As the balloon rose, he was lifted 2 to 3 meters off the ground before he eventually felt he couldn't hold on any longer, Wang told The Paper.
Bi Kesheng was wearing only a thin sweater under a cotton jacket, according to his son. He had two bottles of peanut milk and half a bottle of soda water — but no phone. That day, nearby Linjiang recorded a minimum temperature of 6 degrees Celsius.
When the younger Bi heard about his father's disappearance that evening, he felt weak. The family searched for Bi Kesheng, and within a few days, a notice about his disappearance had made the rounds on social media throughout Baishan — the city at the foot of the mountain range that administers Linjiang, according to Bi Kesheng's sister, Bi Kehua. Despite the attention, almost two months later, Bi Kesheng still hasn't been found.
It's not the first accident involving a pine nut picker and a balloon. Earlier in September in the same province, a balloon carrying Yin Yanlei flew away, state news agency Xinhua reported. But Yin's story ended differently: He was carrying his cellphone, so he was able to contact his family and was rescued two hours later, 50 kilometers from his starting point.
Local forestry authorities have considered ways to make the industry safer, according to Sun Yejin, the manager of Lushuihe Village Forestry Bureau and no relation to Sun Yufa. They tried portable lifts, but the cost of the machines ran into the millions, and the steep terrain of the Changbai Mountains made them impractical. They even tried training monkeys to pick the pinecones, but found that the pine trees' sap would stick to the monkeys' fur, and the animals couldn't be coaxed to climb the trees a second time.
For now, Sun Yejin believes the best alternative to the primitive tree climbing method is to use gas-filled balloons — like the one Bi Kesheng was in when he went missing.
Six days after Bi Kesheng's disappearance, his family abandoned the search. That same day, Bi Jianhua's wife gave birth to a son. "The old man looked forward to this moment for so long, wondering if it would be a boy or a girl," Bi Kesheng's wife said through tears. "Now, he will never find out."
A Chinese version of this article first appeared in Sixth Tone's sister publication, The Paper.
Translator: Clemens Ruben; editors: Zhang Liping and Julia Hollingsworth.
(Header image: A worker climbs a pine tree to harvest nuts in Shangluo, Shaanxi province, Oct. 28, 2017. Chen Feibo/IC)