To most people, flying cars sound like a fantasy of the distant future, but after acquiring a U.S. flying car startup, Chinese automaker Geely is promising to make them a reality in the next two years.
On Monday, Zhejiang Geely Holding Group — which owns global car brands Volvo and Lotus — announced that it had bought flying car maker Terrafugia for an undisclosed amount. In an official statement, the Hangzhou-based company said it would have its first flying car on the market by 2019, and the world's first vertical takeoff and landing flying car released by 2023.
But while the American startup will now be fully owned by the Chinese auto giant, there are no immediate plans for Chinese consumers to start driving flying cars. Instead, Terrafugia will focus on the market in the U.S., where the government has already approved plans to open part of its low-altitude airspace and construct infrastructure for flying cars, Geely spokesman Ash Sutcliffe told Sixth Tone.
Sutcliffe said that the company would announce its plans for a Chinese release at a later date, and that it would initially target private users, who will be required to obtain a special license to drive the cars. He further pointed out that the product has a wide range of applications, from sky taxis to search-and-rescue vehicles.
Geely's founder and chairman, Li Shufu, said in the statement that the company is committed to supporting Terrafugia to "make the flying car a reality."
"This is a tremendously exciting sector and we believe that Terrafugia is ideally positioned to change mobility as we currently understand it, and herald the development of a new industry in doing so," Li said. Terrafugia's chief executive officer, Chris Jaran, was also quoted in the statement as saying that the company offers a "unique opportunity to be at the forefront of a fledgling but enormously exciting industry."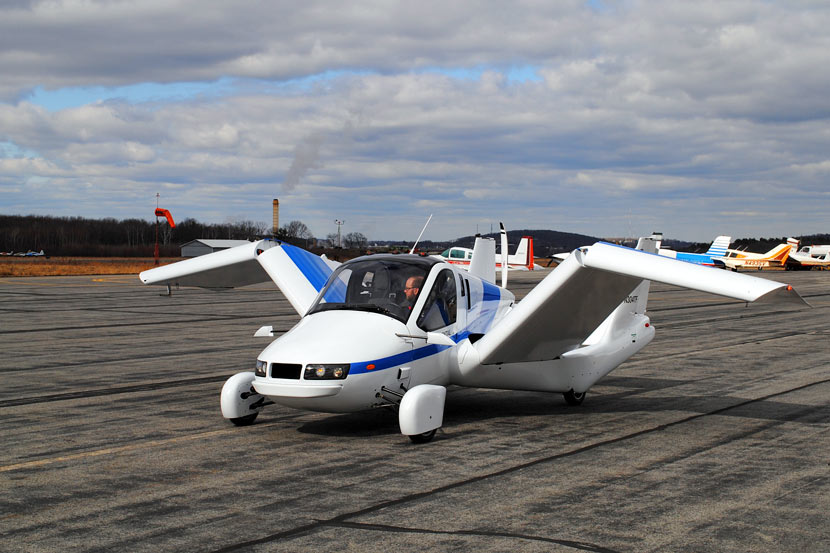 This Terrafugia model can convert from a plane to a car in one minute. Barcroftmedia/VCG
Terrafugia was founded in 2006 by five graduates of the Massachusetts Institute of Technology. In 2014, Carl Dietrich, one of the co-founders, told media that the company was aiming to get its first flying car onto the U.S. market by 2015, and that it saw huge opportunities for airborne vehicles in China.
In the lead-up to the acquisition, Geely tripled Terrafugia's team of engineers, Sutcliffe said, and following the acquisition, still more jobs will be created. "Terrafugia had financial issues as a startup," he added. "With Geely's financial backing, these issues will go away."
Despite no immediate plans for China, Terrafugia would undoubtedly face obstacles there, thanks to the country's strictly controlled airspace and the mounting restrictions on drones and other unmanned aerial devices.
Jia Xinguang, a Beijing-based analyst for the China Automobile Dealers Association, told Sixth Tone that there are numerous reasons behind Geely's entry into the U.S. market. First, the U.S. has lifted air-traffic restrictions in specially designated areas, while China has not. Second, although the two countries are of similar size by area, the U.S. is much less densely populated, which favors flying cars.
And while the U.S. has tens of thousands of private planes in use, they don't have access to all of the country's airports. "The most tempting aspect of flying cars is that you could land them in a parking space right next to your house," Jia said.
"Geely's focus after this acquisition is to further improve the product and lower its costs," Jia explained. "Geely is very powerful in terms of raising capital — so if they do things right from the sales side, this project will indeed be promising."
But some industry experts, such as Aaron Guo, a senior analyst at British market research firm Mintel, see the new deal as a move that's more promotional than practical.
"Since flying cars are still in their infancy," Guo told Sixth Tone, "this acquisition has greater impact in terms of marketing than in terms of making an actual difference."
Additional reporting: Qian Zhecheng, editor: David Paulk.
(Header image: A flying car takes to the skies during a test flight in Woburn, Mass., U.S. UNIMEDIA/SIPA/VCG)