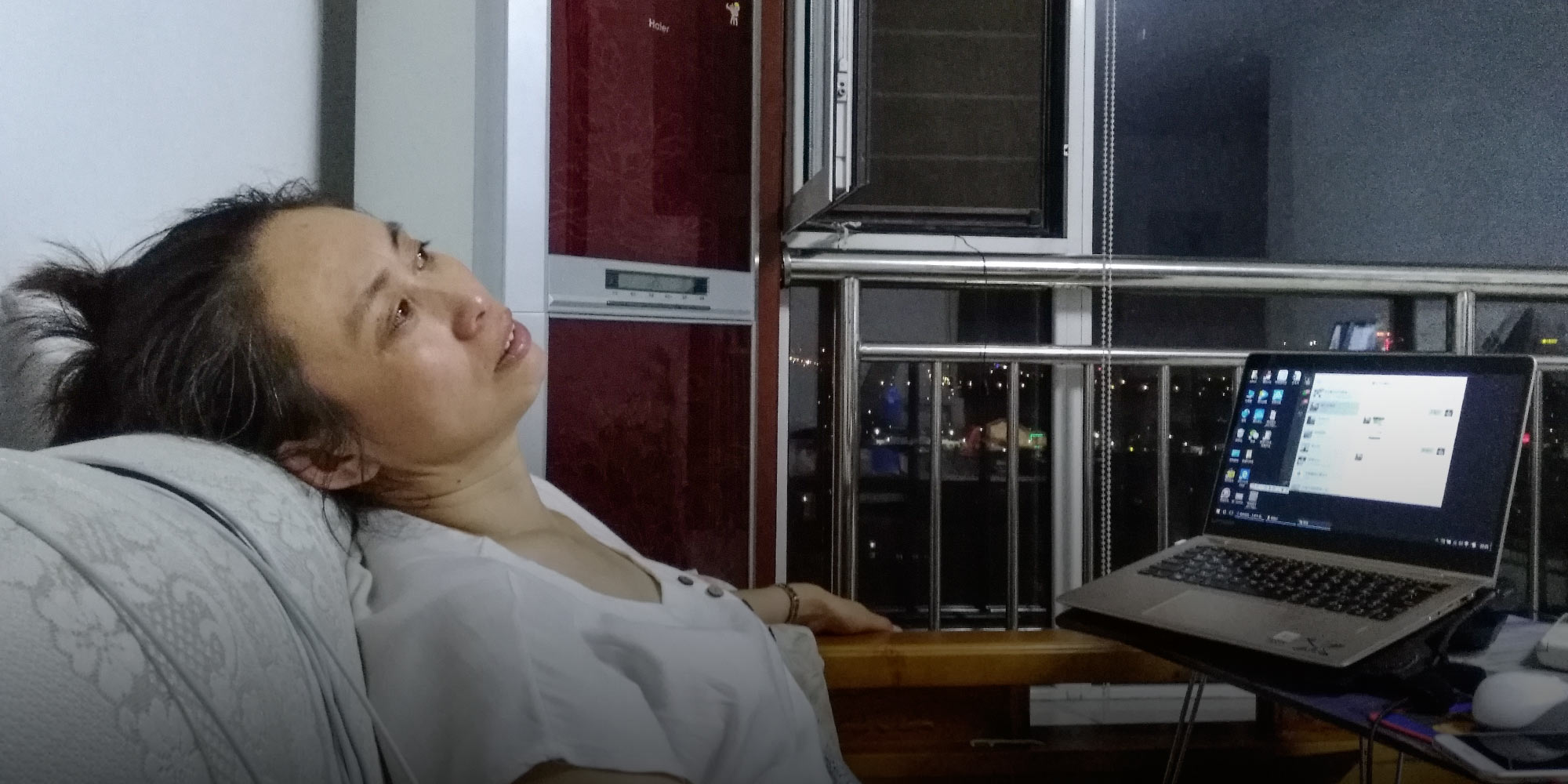 NEWS
Chinese Netizens Play Moral Jury in Tokyo Murder Case
Following a video of Liu Xin meeting her slain roommate's mother, social media users say she should have been the one to die.
A violent murder in Tokyo more than a year ago continues to provoke public debate in China, with crowds of armchair analysts chiming in to comment on morality and law, crime and punishment.
The incident involved three Chinese graduate students; two women who lived together, and the ex-boyfriend of one of them who is accused of the crime. The murder took place around midnight on Nov. 2, 2016. Jiang Ge, a 24-year-old graduate student at Hosei University, was fatally stabbed in the hallway outside the apartment she shared with her close friend, Liu Xin, who was inside the flat. Liu had recently moved into Jiang's apartment after she split with her ex-boyfriend, Chen Shifeng.
Though the case received little attention in Japanese media, it has become a hot topic for commentary, speculation, and gossip on Chinese social media, where questions of ethics often attract lively discussion. Yet instead of condemning the murderer, the latest spate of netizen comments focuses on Liu, the victim's roommate and the accused killer's ex-girlfriend.
Chen was charged with the murder after he was first apprehended on Nov. 7 last year on suspicion of sending a threatening email to Liu on the day of the stabbing. According to local police, surveillance camera footage showed Chen near the girls' apartment at the time of the murder, and he had also been spotted near Liu's workplace earlier in the day.
The victim's mother, Jiang Qiulian, identified her daughter's body at a Tokyo police station on Nov. 4, 2016. According to an interview in Sixth Tone's sister publication, The Paper, she said that there were 10 stab wounds on her daughter's throat and others elsewhere on her body.
In the last week, netizens have weighed in on a video published Friday by The Beijing News, which shows the first meeting between Jiang Qiulian and her late daughter's housemate, Liu, on Aug. 23 — nearly 10 months after the murder. The video has attracted more than 100 million views and a flood of comments criticizing Liu.
Some accuse the young woman of not doing enough to save her friend on the night of the incident, while others take her to task for what they perceive to be coldhearted conduct since the tragedy.
According to Jiang Qiulian, though Liu had initially promised to tell her what happened on the night of Nov. 2, her messages and calls had gone unanswered since December. In May, Jiang posted on social media, accusing Liu of locking the door while her daughter was being attacked. In the post, she revealed the full names of Liu and her family, as well as their ID numbers and contact information.
Liu was soon bombarded with abuse from strangers, and her family threatened to sue Jiang for disclosing their personal details. In one phone conversation with Jiang, The Beijing News reported, Liu's mother said in anger that Jiang Ge was doomed to die early. Even this week, after online vigilantes misidentified Liu's family's phone number, an elderly woman unrelated to the case received more than 2,000 calls and hundreds of messages in three days, cursing Liu and her family.
According to an interview with the reporter who arranged the meeting, Liu said she stopped replying because she was angry that Jiang had posted about her on social media, and because the case had gotten so much attention online.
In Friday's video, Jiang accused Liu of deliberately locking her daughter out, to which Liu said she'd gone into the flat first to use the bathroom. When she heard Jiang Ge's scream, Liu said, she rushed to open the door, but it slammed back and jammed. She then called the police. According to previous news reports, Jiang had already lost a considerable amount of blood by the time police arrived, and she was later pronounced dead at the hospital.
Popular social media content creators quickly piped up. On Sunday, Mimeng, a WeChat content creator with more than 10 million followers, published an article lambasting Liu, and more enraged comments followed. "We can fairly say that Jiang Ge died because of Liu Xin," another commenter said. "Though her ex-boyfriend was the murderer, Liu did not save Jiang and watched her die. That's even worse than what a jackass would do."
Others empathized with Liu's actions on the night but condemned her for her conduct afterward. "I can forgive Liu Xin for not opening the door because she was concerned for her life, but I cannot forgive her for treating Jiang Ge's mother like that. Jiang Ge traded her life for Liu's, and Liu Xin should have been the one to die," one commenter wrote.
Zhan Jiang, a professor at the School of International Journalism and Communication at Beijing Foreign Studies University, told Sixth Tone that he believes the online response has been misguided. "A lot of the details online are pure speculation," Zhan said. "It is problematic to use moral preaching in place of the legal process." He said that Jiang Qiulian publishing Liu's personal information online, for example, is against the law. He added that the rapid expansion of social media in China has paved the way for extreme stories to spread, as polarized opinions often attract more attention.
Zhan added that the amount of attention to the case suggested a lack of legal awareness, and that many people were still accustomed to resolving conflict outside of the legal system. "This incident shows that our country is still far from being a nation under the rule of law," Zhan said.
On Tuesday afternoon, Sixth Tone spoke to Jiang, who is in Japan petitioning for Chen to get the death penalty. She said that she has tried to contact Liu since their meeting in August, but has once again received no reply, though in the video Liu promises to help collect signatures for the petition.
"She promised me … but all her words are in vain," Jiang told Sixth Tone. She added that her health has deteriorated, and she now sleeps less than four hours each night.
Jiang raised her daughter alone in Qingdao, a city on China's northeast coast. She says that her daughter was always a caring child, who worked to support herself and forbade her mother from sending her any money when she moved to Japan in 2015. She had called her mother on the night of her death, saying that she was planning to return to China.
Jiang told Sixth Tone that she has now collected more than 1.5 million signatures from China and abroad for her petition. But her lawyer, Yohei Oe, told The Paper that it is very rare under Japanese law for an offender to be sentenced to death for a single murder, though Jiang's campaign could sway the sentence. According to Oe, the penalty will most likely be 20 years to life. If Chen returns to China after serving his sentence, the Chinese legal department has the power to prosecute the crime.
Chen will stand trial in Tokyo on Dec. 11.
Contributions: Fan Liya; editor: Qian Jinghua.
(Header image: Jiang Qiulian reclines on the sofa after a long cry at her home in Qingdao, Shandong province, Aug. 16, 2017. Zhang Xiaolian for Sixth Tone)