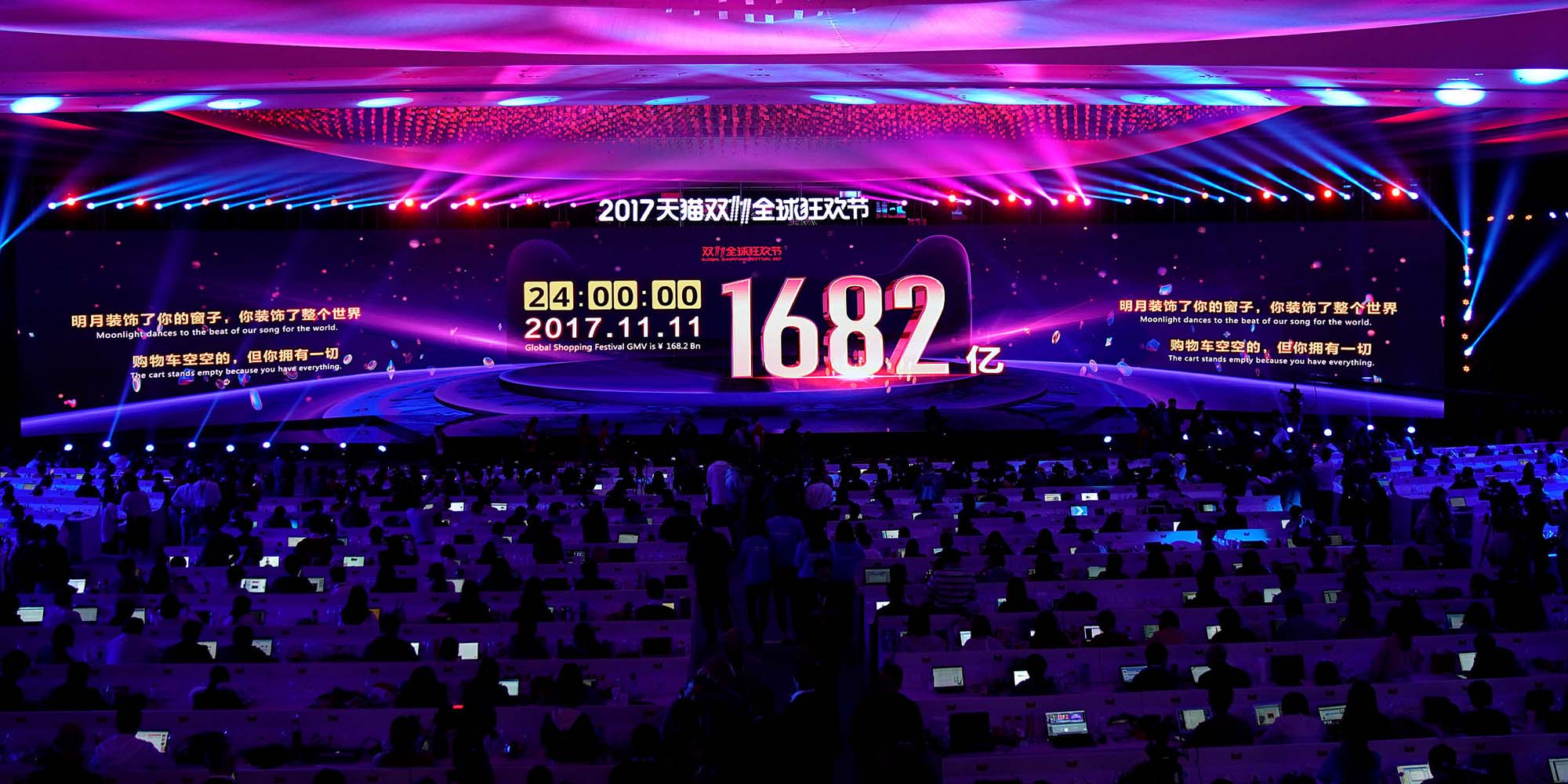 NEWS
Alibaba and JD.com in Media Spat Over Who 'Won' Singles' Day
E-commerce rivals question each other's methodology for arriving at 100 billion yuan in sales.
As the world again looked on in awe of China's prodigious purchasing power during this year's Nov. 11 Singles' Day shopping extravaganza, executives of the country's two largest e-commerce platforms found themselves in a rare public squabble over who triumphed over whom.
Alibaba, China's largest e-commerce company and the creator of the commercial holiday, was apparently annoyed after industry rival JD.com announced that its sales from Nov. 1 to 11 reached 100 billion yuan ($15 billion) on Saturday morning — an hour before Alibaba's sales for the 11th hit the same threshold.
Wang Shuai, the chairman of Alibaba's public affairs committee, was quick to point out that JD.com's number was based on 11 days, while Alibaba had only counted a single day's sales.
"JD.com is really good at math," Wang said sarcastically during a livestreamed interview. "If [JD.com founder] Richard Liu wanted to, he could add up all the numbers for the past year to count toward Singles' Day sales."
Although Alibaba initiated the Nov. 11 shopping festival in 2009, ostensibly to give single people an excuse to indulge in material pleasures, other e-commerce companies have since jumped on the bandwagon, turning Singles' Day into the world's largest spending smorgasbord.
Following the criticism from its competitor, JD.com immediately fired back, arguing that Alibaba wasn't any better because Tmall, one of the company's most popular e-commerce websites, began presales a month in advance but counted all deposits made during that time toward purchases made on the 11th, Xu Lei, JD.com's chief marketing officer, wrote on WeChat Moments, a newsfeed-like social space on the ubiquitous messaging app.
"This is not about math, it's about logic," Xu argued. "If you were able to keep vendors from doing business for more than 20 days, surely I can open the doors and do business for 11 days," he said, equating Tmall's presales with JD.com's prolonged Singles' Day sales period.
Behind the quarrel is an all-out war to conquer the world's largest and fastest-growing e-commerce market, industry analysts say. According to iResearch, a Chinese internet consulting firm, Tmall accounted for 56.6 percent of all business-to-consumer e-commerce sales in 2016, while JD.com came in second with 24.7 percent of all sales.
"Both companies are manipulating the numbers to make themselves look good — for reporters and brands, and to get consumers excited," said Shaun Rein, author of the upcoming book "The War for China's Wallet" and founder of China Market Research Group, a strategic market intelligence firm in Shanghai. Winning the annual shopping festival "is really like a trophy," he told Sixth Tone.
How the two platforms performed over Singles' Day will also significantly influence investor confidence, explained Cao Lei, director of the E-Commerce Research Center in Hangzhou, capital of eastern China's Zhejiang province. "In this case, profit is not the most important thing — sales figures are, because they reflect growth potential," Cao told Sixth Tone, adding that investors use sales generated during the shopping festival to gauge companies' expected performance for the entire year.
In total, Alibaba reported a record 168.2 billion yuan in sales by the end of Nov. 11, a 39 percent increase from the previous year. JD.com, meanwhile, raked in 127.1 billion yuan over its 11-day period, an increase of over 50 percent from 2016.
Correction: A previous version of this story misidentified Wang Shuai as the vice president of Alibaba's communications and marketing department.
Editor: David Paulk.
(Header image: A screen shows the total value of goods sold at Alibaba's Singles' Day global shopping event in Shanghai, China, Nov. 12, 2017. Aly Song/Reuters/VCG)