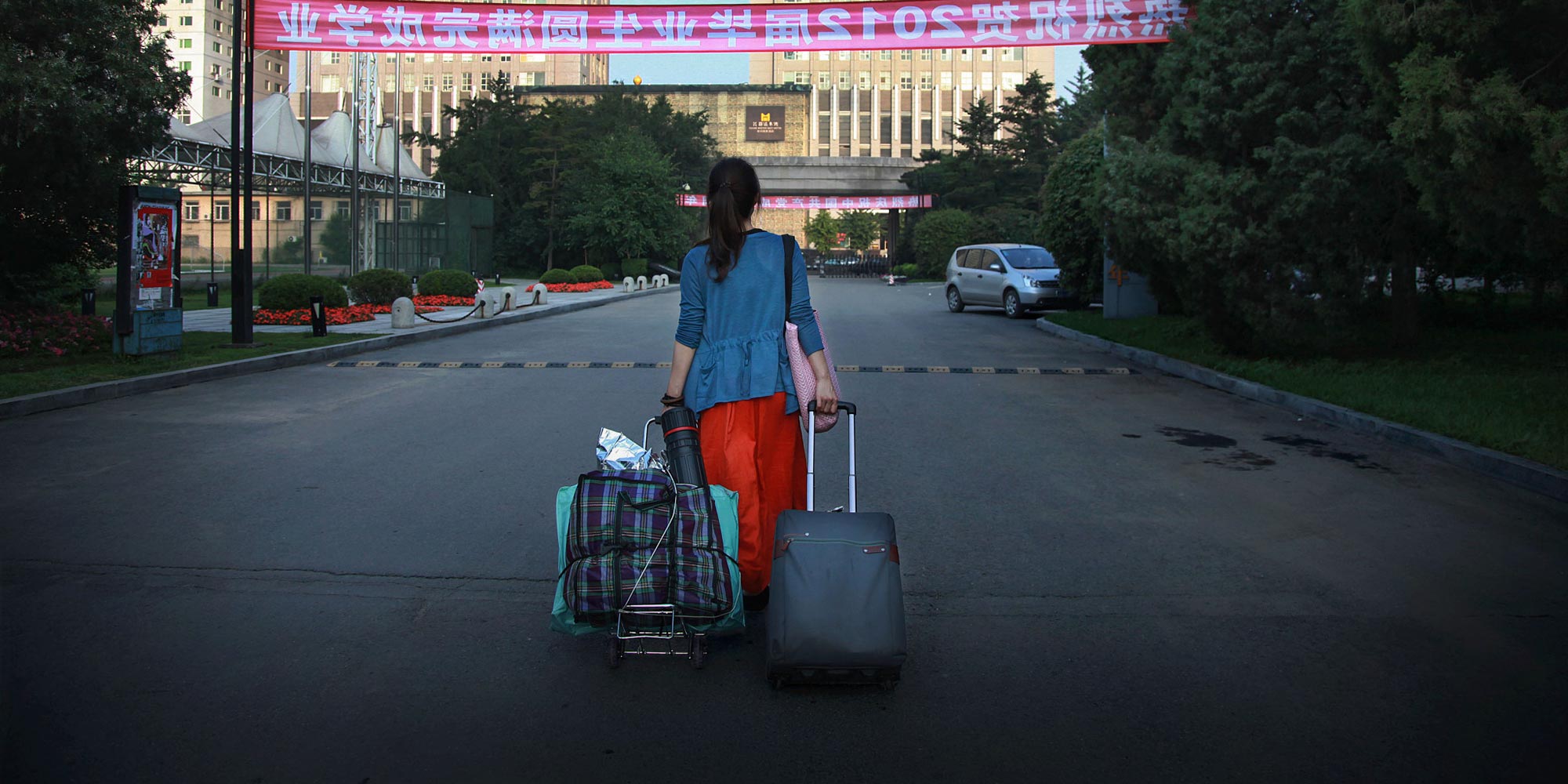 VOICES & OPINION
Why Fewer Chinese Grads Go East to Prosper
Youngsters are cold-shouldering expensive metropolises to cash in on incentives in smaller inland cities.
In China's second-tier cities, a battle is raging — a battle, that is, to attract new graduate talent. Despite being considered a step down from Beijing, Shanghai, and Guangzhou on the glamor and prestige scale, lesser-known names like Hangzhou, Nanjing, Wuhan, Hefei, Changsha, Tianjin, Xi'an, and Chengdu hope to tempt the next cohort of university graduates to settle within their limits.
Local governments have announced a range of policies to sweeten the deal, granting local household registration permits to renters, recent hires, and those with college diplomas as a means to help them settle permanently in the city. Some even offer further subsidies that can be put toward purchasing a home outright. The number of potential graduates they plan to attract could easily top 1 million.
China's higher education system is expected to churn out 8 million graduates next year. If second-tier cities' recruitment drives go to plan, the pool of university graduates available to China's even less populous cities — there are three further divisions below tier two — will shrink dramatically, to say nothing of the potential impact this would have on the countryside. But this rural-to-urban brain drain is already deeply rooted in the country's social and educational framework.
From 1992, the Chinese government gradually phased out guaranteed jobs for those who had been through university, leading to the marketization of the graduate job market. Not long after, in 1999, Chinese universities began to greatly expand their enrollment targets. In 1998, there were a total of 1.8 million college students in China; by the next year, this number had jumped by 47 percent, and by 2005 it had reached 5.3 million. Increased competition for graduate jobs is now a society-wide headache.
The grim job market gave rise to a number of stopgap measures, such as policies offering incentives to students who moved to the countryside directly after graduation to serve as village cadres. Meanwhile, in the cities, university students who started their own businesses were given preferential treatment for rental housing and taxation purposes. Post-graduation employment figures were factored into the formula for ranking universities and majors — but this, ultimately, only encouraged schools to falsify their data.
Graduate employment prospects are not just a source of anxiety for families. Concerns about graduate joblessness have spread across society more generally, with many feeling worried that a poor job market might fan the flames of social conflict.
In April 2015, however, an otherwise unremarkable article from the Guangming Daily presaged an imminent and important shift. The piece quoted figures from a research report released by Zhilian Zhaopin, a leading employment website, showing that the job competitiveness index of China's labor market fell to 26.1 in spring that year — meaning there an average of 26.1 resumes were submitted for every available job nationwide. This figure represented a significant drop from spring 2014, when there were 45.2 applicants for every job. In other words, while supply continued to exceed demand, the situation had become much less critical compared with the previous year.
More importantly, first-tier cities no longer held the attraction they once did for graduates. Second-tier cities — Chengdu, Xi'an, and Shenyang — held the highest index ratings, each of them at a shade over 40 applicants per job. Established first-tier cities appeared lower on the list: Shenzhen came in fourth place, Beijing in eighth, and Shanghai and Guangzhou in 12th and 14th, respectively.
This shift toward second-tier cities was unprecedented since the government launched its reform and opening-up period in the late 1970s. For decades, migration from central and western China toward Beijing and the southeast coast had been one of the China's defining demographic trends — until recently.
Shifts in the permanent resident population of eastern and midwestern China over the first decade of this century help to illustrate this issue. Between 2000 and 2010, the number of permanent residents in Beijing skyrocketed from 13 million to more than 19 million, while the population of Shanghai jumped from 16 million to 23 million. Coastal provinces like Zhejiang, Jiangsu, and Guangdong also experienced similar trends.
Meanwhile, the inland province of Sichuan saw 3 million of its permanent residents leave over the same 10-year span. In Anhui — one of coastal China's poorest provinces — the population fell from a peak of 62 million in 2004 to just 59 million in 2010. The same went for the central province of Henan, where 4 million permanent residents packed up and left between 2004 and 2010, shrinking the population to 93 million in 2010.
In the first five years of this decade, however, these demographic trends were turned on their heads. By 2015, Sichuan's population had grown by 2 million, Anhui's by 2 million, and Henan's by 1 million. Other provinces that had experienced slow rates of growth during the previous decade due to their status as net exporters of labor saw much more rapid population growth in the period after 2010.
Meanwhile, areas of rapid growth during the 2000s began experiencing slowdowns: Beijing's population grew by just 2 million from 2010 to 2015, while Zhejiang's, Jiangsu's, and Guangdong's populations grew by just 1, 2, and 3 million, respectively. Shanghai actually experienced negative growth rates between 2014 and 2015.
One of the key factors in China's ability to attract large quantities of foreign investment and play its part in the global transformation of industry was the country's vast reserve of cheap, high-quality labor. Since about 2010, however, we have seen the gradual disappearance of China's demographic dividend, a term that refers to the period of time when a country's working-age population is larger than its nonworking-age population. Now that China's vast reserves of cheap labor have dried up, coastal provinces are experiencing rapid wage increases. Labor-intensive industries have been forced to move to central or western China to cut costs, sparking another internal migration of labor — one that the abovementioned Guangming Daily report was first to pick up on.
However, migration brought about by a shift of low-end, labor-intensive industries to the interior does not fully explain why second-tier cities suddenly find themselves competing to recruit graduates. There are other factors at play, too.
First is the unprecedented growth of China's internet economy in recent years. The eastern city of Hangzhou is an oft-cited example of this phenomenon: a historic name with a somewhat lukewarm economy, before companies like e-commerce giant Alibaba, which is based there, sparked a period of rapid growth in the online economy. According to a 2017 report released in August by the employment website Liepin.com, during the first half of this year Hangzhou ranked first among major Chinese cities in net talent inflow, recording gains of more than 11 percent — more than double that of runner-up Shenzhen.
Second is the trend toward industrial upgrading, best exemplified by the central Chinese city of Changsha. In the past, Changsha was known primarily for its entertainment industry. These days, however, it is the site of China's largest automobile manufacturing base and home to over 130 auto and auto parts companies. The city now faces an acute shortage of machine manufacturing and automation experts.
Third, commercial upgrading has also played a role in this shift, as Chinese consumers increasingly gravitate toward higher-quality products. Figures from the National Bureau of Statistics reveal that the percentage of Chinese economic growth attributable to consumption grew from 47 percent in 2013 to 65 percent in 2016. Brands formerly targeted at mass audiences have begun to shift toward producing products designed for niche markets, and the shift toward individualism and higher-quality goods presents opportunities for newly emergent manufacturers.
The fourth factor is related to the state of housing prices and the nature of the household registration system in first-tier cities, both of which currently pose a significant barrier to young people looking to settle down. Compared to second-tier cities, first-tier cities such as Beijing, Shanghai, Guangzhou, and Shenzhen offer higher-paying jobs and better social benefits.
According to average wage figures from the summer of 2017, Beijing, Shanghai, and Shenzhen occupied the top three spots in a ranking of the nation's highest salaries by city, with average monthly wages of 9,791 yuan ($1,500), 9,337 yuan, and 8,866 yuan, respectively. Chengdu came in at number 17, followed by Wuhan at 19, and Changsha at 20.
But crucially, centrally located real estate in cities such as Beijing or Shanghai costs almost 100,000 yuan per square meter, meaning those looking to buy an apartment within an even slightly reasonable commuting range must be prepared to spend at least 4 million yuan — a ludicrous amount for most young migrants. In second-tier cities, a similar apartment costs a quarter of that price. Further complicating matters, household registration policies in first-tier cities are noticeably stricter, making it difficult for young people to register and preventing them from feeling a sense of belonging.
We are seeing an end to the era of unforgiving job markets for graduates. Next, we must address the issue of worker's rights, a constant source of societal anxiety. These developments, in turn, carry profound importance for China's economic and social imbalances caused by uneven development and unscrupulous educational institutions. Everything points toward imminent change, and one that is likely to leave a lasting impression on China's internal migration patterns.
Translator: Kilian O'Donnell; editors: Zhang Bo and Matthew Walsh.
(Header image: Jing You/VCG)