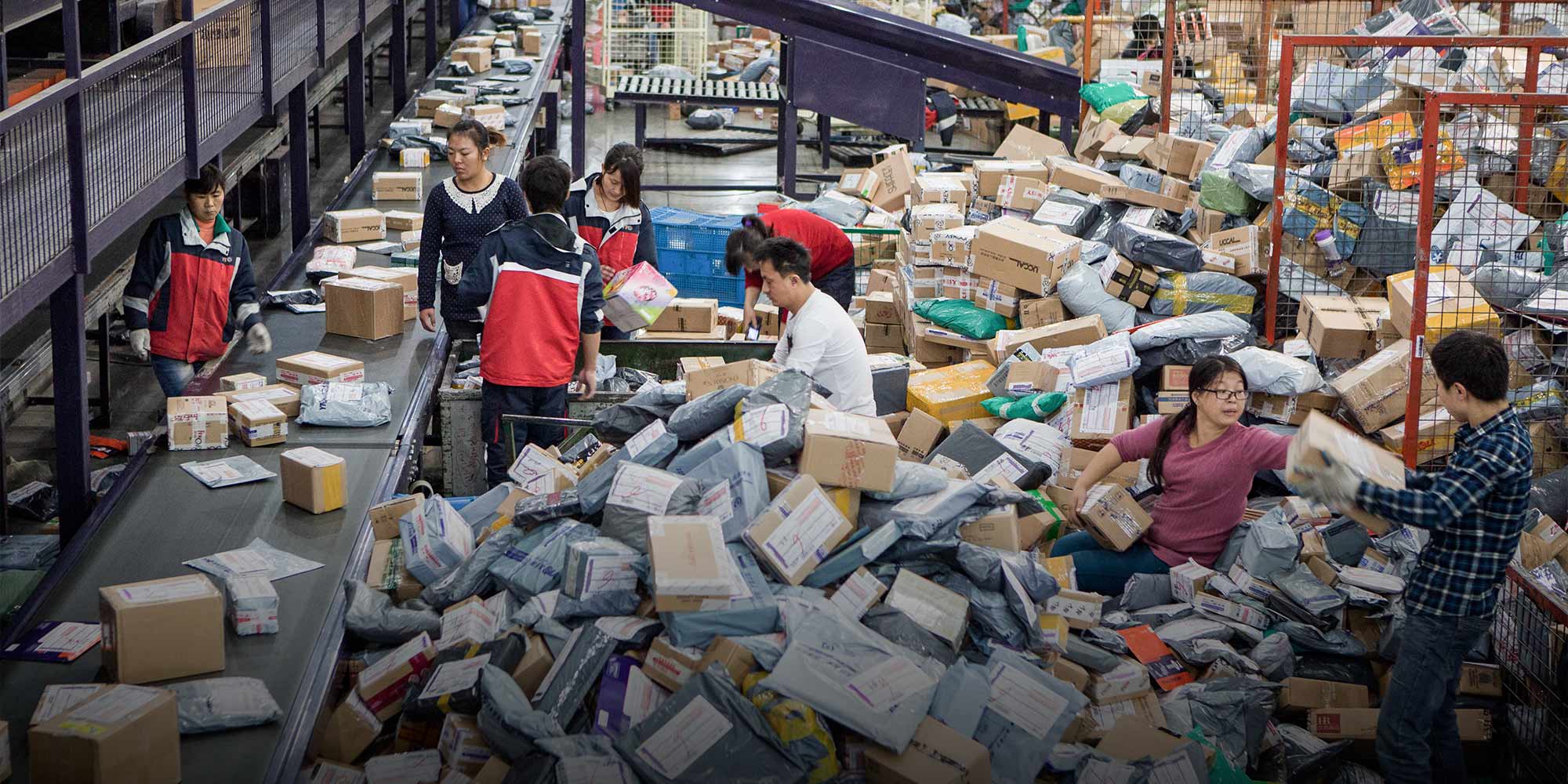 VOICES & OPINION
Let's Make This Year's Singles' Day the Last One Ever
Alibaba's orgy of consumption is disastrous for the environment and working people, so why are we so in thrall to it?
On Nov. 11, millions of Chinese will join the world's largest bargain hunt. Ensconced in their apartments, their faces rendered ghostly by the light of laptop screens, shoppers will log in to Taobao, internet giant Alibaba's e-commerce behemoth, to snap up deals. Others will tap idly at their smartphones, perhaps bagging themselves a lifetime supply of throat-burning sorghum liquor, a 150-piece lipstick set, or one of the other bonkers offerings to be found on Tmall — also owned by Alibaba — JD.com, or one of China's other sprawling shopping platforms.
In the ensuing hours and days, the country's freight network will go into overdrive. Across China's archipelago of transportation depots, truckers will load up enough parcels to give one to every person in the country. In cities, browbeaten couriers will slalom through the streets on scooters, anxious to hand over the goods before they miss punishingly tight deadlines.
Singles' Day is a shopping event that draws international eyes like no other. Yes, it has its Western counterparts — Black Friday in the U.S. and the U.K.'s post-Christmas sales are perhaps the best-covered examples — but neither holds a candle to the hysterical orgy of consumption that Singles' Day sparks in China. The festival is also great for the country's soft power, showing modern China at its reformist best: wealthy, confident, and united in its intoxicating materialism.
But none of this means that Singles' Day is harmless fun, nor that it projects laudable values. In fact, let's do humanity a favor and make this year's festival the last one ever. Why? Because Singles' Day, and every other event like it, is disastrous for the environment and for workers. It is by nature founded on a model of frenzied mass consumption that is unsustainable for global ecosystems — a crazed carousel of buying and selling that exploits some of China's lowest earners while casting materialism as a salve for a lack of psychological fulfillment.
And in that sense, Singles' Day also sums up modern China at its hypocritical worst: championing a shared green future while simultaneously glamorizing — even glorifying — a nationwide smash-and-grab for the planet's limited resources.
According to Greenpeace, on Singles' Day last year, clothing sales alone released 258,000 tons of carbon emissions into the environment. A further 52,000 tons of carbon dioxide were emitted in the delivery phase alone — equivalent to the amount absorbed by half a million trees.
That's before you factor in the 3 million tons of carbon dioxide produced by placing orders through cellphones and computers, not to mention the fact that China recycles less than 10 percent of its plastic, cardboard, and paper packaging.
Alibaba has claimed that this year's Singles' Day will be the greenest yet, as the company plans to incorporate biodegradable packaging into many of its parcels, use hybrid and electric vehicles in its Cainiao courier service, and shift toward electronic invoices. Yet these superficial reforms cannot disguise the deep-seated issues that stem from co-opting a whimsical celebration of bachelorhood to fete the rapacious effects of human consumption.
The environmentally conscious thing to do would be to condemn these practices, but instead we fetishize Singles' Day's sheer scale. Last night, Alibaba held a lavish gala at Shanghai's spaceship-like Mercedes-Benz Arena. A star-studded list of guests were in attendance, including Australian actor Nicole Kidman, British pop singer Jessie J, and Chinese film star Zhang Ziyi. American musician Pharrell Williams graced a stage that was later illuminated by a vast screen displaying the eye-watering amounts of money spent on Alibaba's platforms.
Just three minutes after midnight, Alibaba's sales figures rocketed past 10 billion yuan ($1.5 billion) as people rushed to miaosha, or "kill in a split second," shopping carts filled long in advance of the starting pistol. Sales are on course to rise well past 2016's total of 120 billion yuan by the end of the 24-hour bonanza.
Tapping away in the background, media outlets gawp at what happens when a billion Chinese splurge in perfect unison. The country's social media seethes with stories of the so-called duoshoudang, or "hand-chopping party," a tongue-in-cheek epithet for online shoppers who joke that their lack of self-control means their only salvation from bankrupting themselves lies in severing their hands from their bodies.
Single's Day is so profitable for online businesses that many encourage their employees to engage in extreme forms of labor. As late-night and weekend custom increases, working hours that would ordinarily be deemed exploitative suddenly become the norm. The entire supply chain mobilizes to allocate extra staff for nighttime and overtime shifts to cope with the spike in sales, despite evidence of the toll that overwork takes on human health.
Singles' Day crafts a seductive narrative in China. It chimes with powerful social values of togetherness, materialism, and national resurgence. Its blink-and-you'll-miss-it business model titillates that irresistible little impulse in the back of our minds that judges value, welcoming us onto its retail therapist's couch, whispering in our ears that we can, really, have it all — and without breaking the bank, either.
But it is a fallacy. Singles' Day is bad for the environment, from which it demands a bottomless pit of resources. It is bad for workers, of whom it demands unfair levels of drudgery. And it is bad for consumers, of whom it demands money in return for eviscerating the ecosystems we all rely on.
The realities of global climate degradation require us to make, in the space of a generation or two, the sort of profound change in social behavior that in the past would define an entire epoch. The values that a consumerist economy promotes — namely, the endless, ever-increasing acquisition of stuff — collapse in a world of dwindling resources and impending climate disaster. We know all this, and yet in mid-November every year, we still find ourselves looking on voyeuristically as Singles' Day feeds our insatiable appetite for more things, watching as Alibaba's big-screen cash register tots up every million spent, convincing ourselves that our actions carry no consequences, that it's fine to fiddle away on our phones while around us Rome burns.
Editor: Yang Xiaozhou.

(Header image: Employees sort packages at an express delivery depot in Shanghai, Nov. 11, 2013. Xu Xiaolin for Sixth Tone)