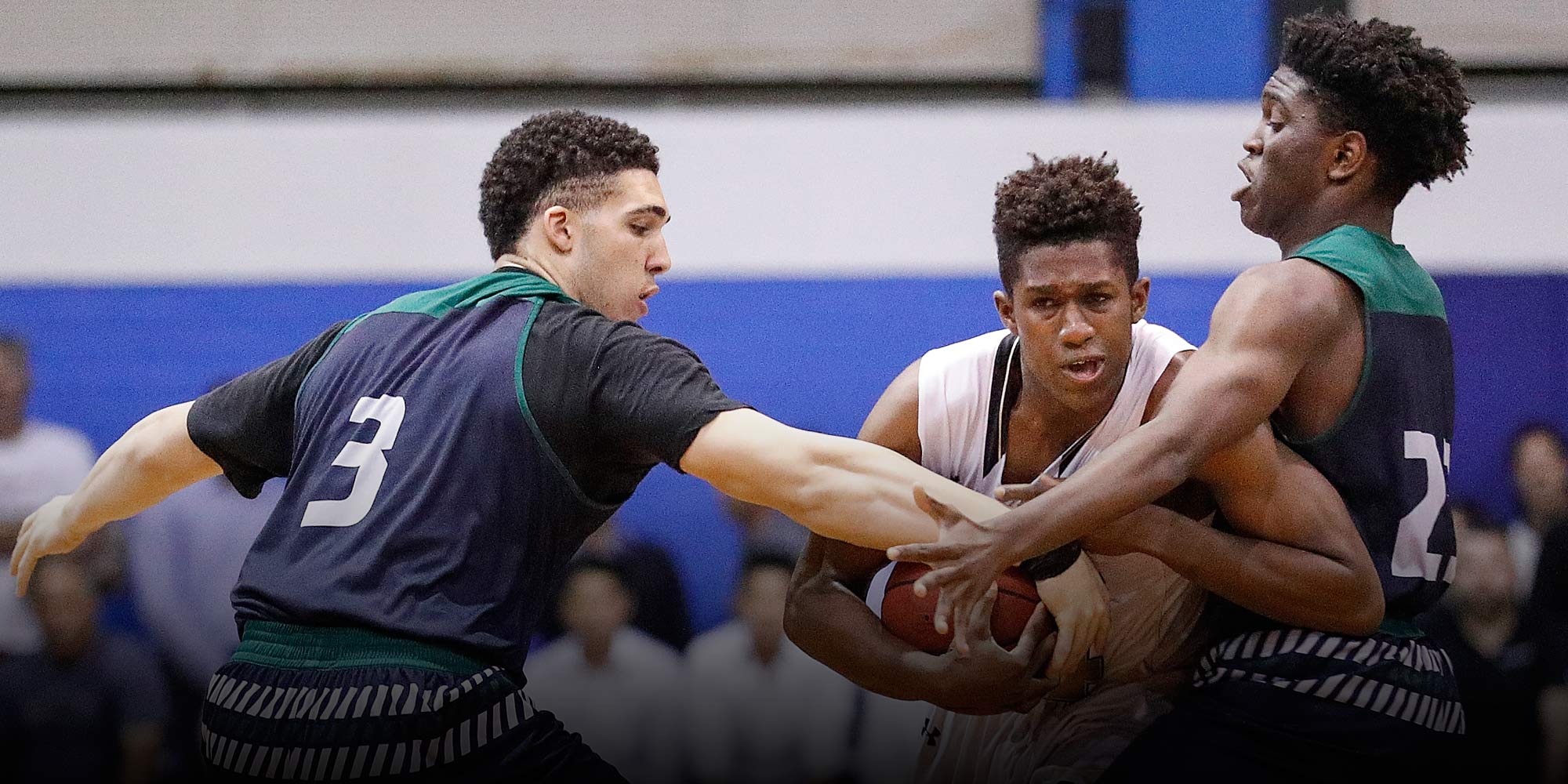 NEWS
Brother of Lakers Guard Lonzo Ball Arrested in Hangzhou
LiAngelo Ball and two UCLA teammates have been taken into custody for shoplifting.
The day before U.S. President Donald Trump's long-heralded arrival in China, three basketball players from the University of California, Los Angeles, were arrested in Zhejiang province after allegedly shoplifting from a Louis Vuitton outlet.
Freshmen LiAngelo Ball, Cody Riley, and Jalen Hill were taken into custody on Tuesday after around 20 police officers arrived at the Hyatt Hangzhou hotel and searched the team's bus, ESPN reported. Ball is the younger sibling of Los Angeles Lakers point guard Lonzo Ball, who was selected as the No. 2 overall pick in the 2017 NBA draft.
The UCLA basketball team is visiting China for its season opener against Georgia Tech, which will take place Saturday at Shanghai's Baoshan Arena. This marks the third consecutive year that a team from the Pac-12 Conference, to which UCLA belongs, will play a regular season game on Chinese soil.
The conference has been using the annual international contest to boost the appeal of college basketball abroad in the hopes that the sport may someday rival the NBA — which has benefited from homegrown talents Yi Jianlian and Hall-of-Famer Yao Ming — in terms of popularity in China.
"We are aware of a situation involving UCLA student-athletes in Hangzhou, China," UCLA said in a statement Tuesday. "The University is cooperating fully with local authorities on this matter, and we have no further comment at this time."
Pac-12 Commissioner Larry Scott, meanwhile, said the conference is "very disappointed" by any actions that would detract from a positive cross-cultural experience. "Whether in the United States or abroad, we expect our student-athletes to uphold the highest standards," he added.
In recent years, foreign countries have shown little tolerance for badly behaved North American guests. In September 2016, U.S. Olympic swimmer Ryan Lochte was handed a 10-month travel ban by host country Brazil after he and several teammates drunkenly vandalized a gas station bathroom. And in July of this year, Beijing's culture bureau told Canadian crooner Justin Bieber not to bother scheduling tour dates in China, citing "a series of harmful acts that have caused dissatisfaction among the public."
On Chinese social media, some commenters have already caught wind of the incident. "What was Two Balls thinking?" asked one user on a popular sports forum, using a popular Chinese nickname for the young player. "With all the wealth, still he steals. Doesn't he know that the People's Police has an international reputation for efficiency, especially when it comes to cases involving foreign friends?"
In the same thread, another commenter proposed a tongue-in-cheek stat line summing up LiAngelo's time in China: "0 points, 0 rebounds, 0 assists, 1 steal, 0 turnovers."
LiAngelo plans to join his brother Lonzo in the NBA next year, according to the boys' father, LaVar Ball, who has himself cultivated a certain notoriety in sports media for being brash and outspoken.
LaVar and his wife, Tina, reportedly ate breakfast with the UCLA team on Wednesday morning. Asked later in the day whether he was worried about his son, LaVar replied, according to ESPN: "He'll be fine, he'll be fine. Everybody making it a big deal. It ain't that big of a deal."
If tried and convicted, LiAngelo Ball and his teammates could face between three and 10 years in prison.
Correction:A previous version of this story said Ball and three others had been arrested, when a total of three players had been arrested.
Contributions:Wang Yiwei; editor: Qian Jinghua.
(Header image: LiAngelo Ball (left) of Chino Hills High School fights for possession of the basketball during a game at El Camino College in Torrance, California, March 14, 2017. Josh Lefkowitz/Getty Images/VCG)