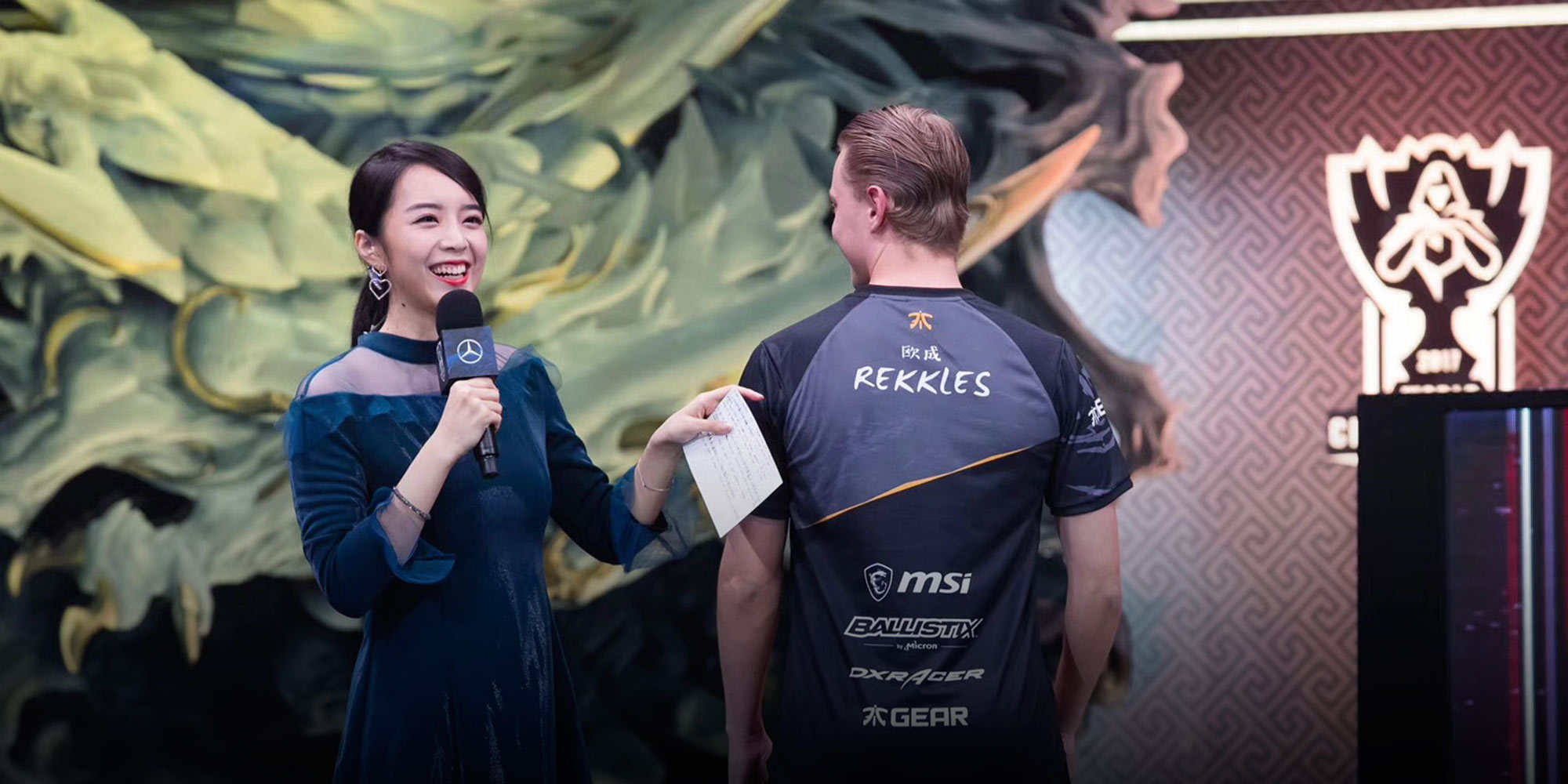 FEATURES
Behind the Screens of the Biggest 'League of Legends' Tournament
Esports host reveals the sweat and tears at this year's contest and discusses the rise of the sector in China.
SHANGHAI — With an explosive boom and a flash, the game was over, and China's final hope for tournament victory was lost.
A young man threw back his head and cried out in frustration. Two young women who had flown in from the southwestern city of Chongqing to watch their favorite team sat in sullen silence.
It was neither a soccer nor a basketball game but rather the semifinal of the "League of Legends" World Championship, or simply "Worlds" — the seventh annual global esports tournament for the popular video game by Tencent-owned developer Riot Games. As fans made their exit, Duan Yushuang — also known as Candice — took a final glance at her questions before interviewing "Ambition," a member of victorious South Korean team Samsung Galaxy.
Esports is a rapidly expanding sector — especially in China, which saw 26.4 percent growth in 2016, according to data from consulting firm PricewaterhouseCoopers. The nation had 175 million esports viewers and players last year. As a competition host, Duan interviews players before an audience of thousands of spectators and millions of online fans. But she's not always cool and collected. Following this year's first Worlds semifinal, she became emotional when Huang "Firefox" Ting-Hsiang, coach of Chinese team RNG, resigned under widespread criticism after his team lost.
"I cried," Duan said. "That coach is the kind of person who works himself to the bone, always thinking of strategies and how to counter opponents. He also gives the player psychological support and counseling, just like a father."
A self-declared straight-A student during her school years, Duan didn't delve into the gaming world until she studied English broadcasting and hosting at Beijing's Communication University of China. It was there that she saw her roommate quietly playing "League of Legends" late into the night. Before she knew it, she, too, was spending long hours warring with friends in internet cafés.
After graduating, she worked as a radio DJ but found that her addiction to "League of Legends" was interfering with her job. It was at this point that Duan began seeking a career in esports. The golden opportunity came in April last year, when she saw a job posting for a bilingual host at Riot Games. She applied and got the position.
Since joining Riot Games, Duan has been busy interviewing players, working behind the scenes at events, and helping to create entertainment videos for the "League of Legends" fan base. She is now a popular esports host with over 730,000 followers on microblogging platform Weibo and has even caught the eye of Western esports media.
She recently hosted the finals of the Worlds tournament, which started in September and saw 24 teams from across the globe battle for the title. For the first time, China hosted the competition. Fans raged when they found scalpers had taken the lion's share of the tickets, with some going for 27 times their original value.
The final round of the monthlong competition was a best-of-five showdown between South Korean teams Samsung Galaxy and SK Telecom T1 in Beijing's iconic Bird's Nest stadium last Saturday. After a half-hour opening ceremony replete with a live performance from Taiwanese pop singer Jay Chou and a colossal dragon rendered in augmented reality, Samsung Galaxyfloored their opponent with three straight wins to claim the title and a $1 million prize.
Talking to Sixth Tone in a Shanghai café ahead of last Saturday's final, Duan spoke passionately about the tournament, why she loves "League of Legends," and the rise of esports in China. The interview has been edited for brevity and clarity.
Sixth Tone: What are your impressions of this year's "League of Legends" World Championship?
Duan Yushuang: This is the first time Worlds has been held in China, so we've had a home advantage. Everyone cheered our teams on. But at the same time, the audience also showed respect for teams from other regions. I was really proud that everyone was civilized and behaved like people of a great nation.
LPL [China's "League of Legends" professional division] teams have had better results this year than in the past three years, with two teams in the top four. Last year, the top four had three South Korean teams and one European team — we didn't make it. Our teams were under a lot of pressure this year; it's just a shame because it was so close.
Sixth Tone: What's it like behind the scenes of the tournament? Do the teams interact much?
Duan Yushuang: All the teams stay in one hotel, so sometimes you'll see members of each team at the gym. If they know each other, they might say hi, but other than that, their training is separate.
Backstage at the competition venue, there are many individual training rooms. Esports is like the NBA: You have your own strategies, and you can't let others discover them. So [the players] won't bother one another or talk too much backstage. They're all very nervous during the competition and not in the mood for chitchat.
After the competition, they're all good friends. When a team is leaving the hotel, they give [other teams] gifts and exchange uniforms and memorabilia. Actually, it's similar to the NBA and other sports leagues.
Sixth Tone: What's your best memory from this year's competition so far?
Duan Yushuang: There was one that really stayed with me. G2 Esports is a European team who are champions in Europe. Their players are all very young. Before their last game, I interviewed "PerkZ" [G2 Esports player Luka Perković], and he told me privately that next year, they would separate and join different teams. Before the match started, all of us felt sorry for him because he was crying like mad.
At the end of the game, when "Zven" [G2 Esports player Jesper Svenningsen] came up to the stage to be interviewed, I saw that his eyes were red with tears. I asked him if he wanted someone else to do the interview, but he said he could do it.
We headed backstage when we were done, but he kept looking back as he walked, wanting to take one last look at the stadium — unwilling to part with that moment.
I felt really sad for them, so I started crying; then he started to comfort me and told me not to cry. I think he was probably thinking, "I just lost the game; what on earth is she crying for?" He then stopped crying in order to cheer me up!
Sixth Tone: What is it about "League of Legends" that you enjoy so much?
Duan Yushuang: When I first played the game, I didn't actually think it was very fun. It's not that easy to pick up, unlike other, simpler games.
But later, I enjoyed playing because it's a team game, five versus five. When you play with friends, it's a bonding experience. Now, I continue to play every day because I like to be with my friends. There's always a feeling that, no matter when, there will be people there to play with you.
Also, a lot of my old classmates are already working and no longer have time to play games every day like we did at university, but when this kind of international competition is held, our chat group that's been silent for ages will suddenly come to life. Everyone will be chatting about this game. It's very moving.
Sixth Tone: Why do you think esports has become so popular?
Duan Yushuang: Right now, esports is on its way up, and the number of viewers is increasing. Even many people who don't play are watching the games. This makes it similar to traditional sports: A lot of people probably don't play basketball, but they still watch NBA games. You can still see who's winning and who's losing, and learn the players' backgrounds.
I feel this might be the charm of esports: Just like in traditional sports, you have victory, defeat, joy, and disappointment, and everyone's mood rises and falls with the game.
A lot of what's happening is really encouraging. A lot of my fans' mothers are over 40 but still have their favorite professional gamers, whom they treat like celebrities. They'll even encourage their children to go to competitions to get autographs. It's unbelievable!
Sixth Tone: Why do you think China has so many female gamers compared with other places, and do they encounter discrimination in the male-dominated field?
Duan Yushuang: I've thought about this. I think it's not just China — it's the whole of Asia. We Asians like staying in our homes. When we were growing up, there weren't many other things to do. Like in the U.K. and the U.S., they have football, baseball, soccer, basketball. When we were young, apart from playing games and studying, there wasn't much else, unless you were at a sports school.
I think the situation is very different for women in traditional sports, where they are perhaps regarded as not good enough, or there might be some prejudice. But in esports, it feels like girls are more welcome. We're not discriminated against: If you do well, then you'll be respected.
Sixth Tone: What challenges does the esports industry currently face?
Duan Yushuang: I think it's similar to when traditional sports were starting to develop, and there was no model for them to follow going forward. Similarly, we're in the process of creating something new, using [traditional sports] as a reference. But unlike traditional sports, where games like basketball have a steady fan base, it's hard to maintain the popularity of a game. This is our seventh year holding the Worlds tournament, and there aren't as many people playing "League of Legends" as before.
Also, in China, we're looking for a profit model. This year, a lot of clubs' income was not as high as anticipated, so they have to find further sources of income to support their development. So we're going to try a home-and-away model to increase the number of offline spectators: Right now, everyone goes to Shanghai to watch games, but after we change to the new model, tournaments will be held in four cities, which will allow more people to go and watch in a city close to them.
Editor: Doris Wang.
(Header image: Duan Yushuang points out the Chinese nickname on Swedish esports player Martin 'Rekkles' Larsson's shirt during an interview in Guangzhou, Guangdong province, October 2017. Courtesy of Duan Yushuang)