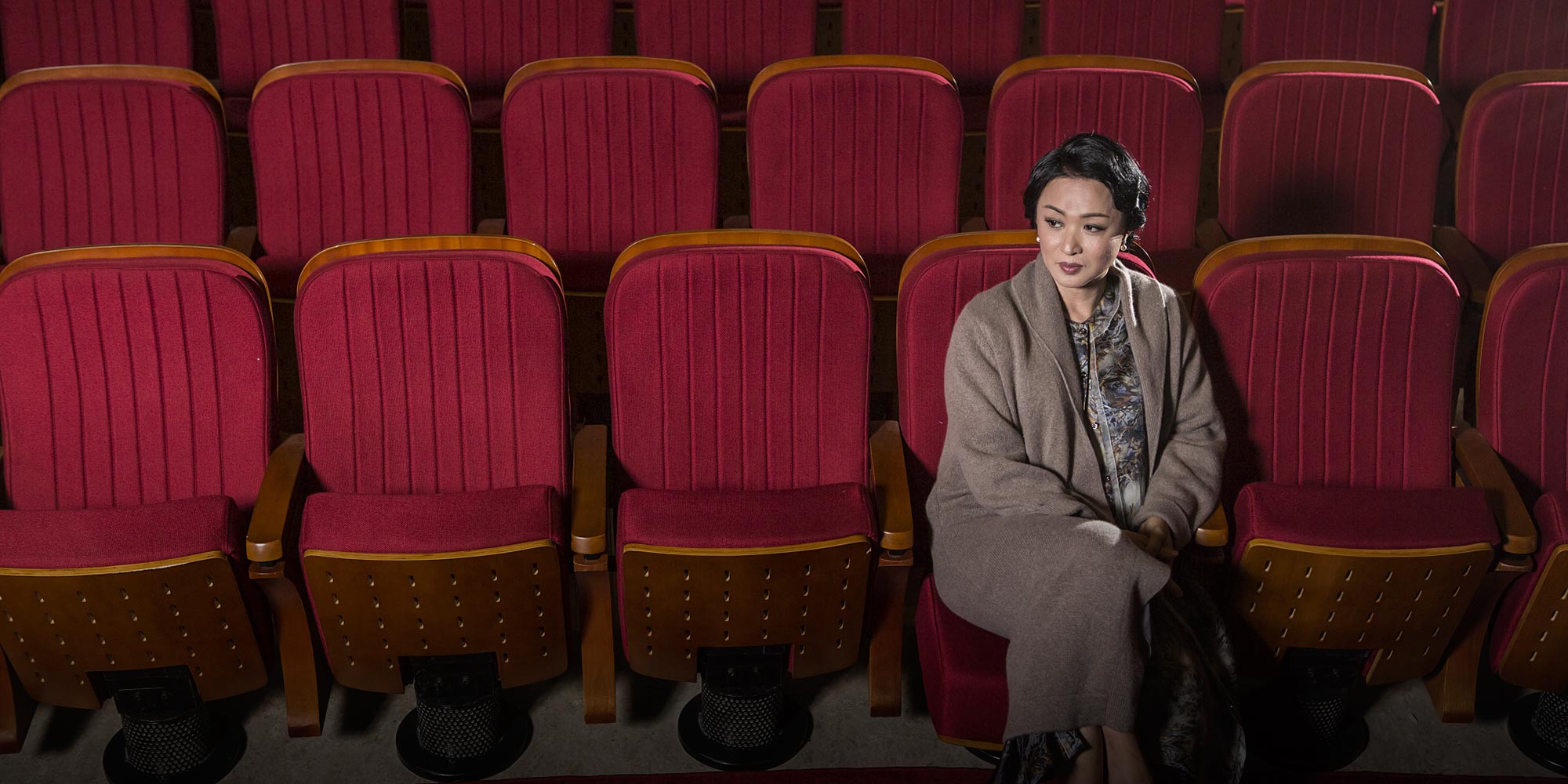 VOICES & OPINION
How China's Trans Icon Just Fuels More Patriarchy
The BBC recently listed TV host Jin Xing as one of the world's most inspirational women, despite her troublingly conservative views.
On Nov. 1, the BBC published its "100 Women 2017" list, a record of the most inspirational and innovative women today. Perplexingly, the Chinese dancer and talk show host Jin Xing received a mention — a strange choice not because she is transgender, but because she has a track record of supporting male chauvinism.
The BBC says that for a woman to live up to her inclusion on the list, she must tackle one or more of four major problems facing women today: the glass ceiling, female illiteracy, harassment in public places, and sexism in athletics. These criteria imply that each of the 100 people on the list is an eminent promoter of women's rights — in other words, they all support gender equality.
Jin's profile claims that she has smashed through the glass ceiling and describes her as "China's answer to Oprah Winfrey" — a comparison that, on closer inspection, is patently absurd.
It's true that Jin is popular in China for her talk shows. However, whereas Winfrey is rightly lauded for encouraging and inspiring American women, Jin tells her female Chinese fans to stick to traditional, old-fashioned, and patriarchal forms of femininity.
To put it bluntly, Jin's professional career as a TV host is based on male chauvinism. She has, in fact, made a success of herself and broken through the glass ceiling precisely because of her anti-feminist stance. She shows no desire to pull any more women up after her, and that is why I think the BBC's decision is so questionable.
Once upon a time, I admired Jin. A courageous, determined, and deeply intelligent woman, she fought tenaciously to receive government approval to undergo sex reassignment surgery in 1996. As a result of the surgical procedures, she almost lost one of her legs and was treated with electroacupuncture therapy, causing her pain that her doctor allegedly described as the equivalent of "having a miscarriage every day."
Jin founded China's first privately owned contemporary dance troupe, the Jin Xing Dance Theatre, in 1999 and has since appeared as a judge on various talent shows, where her acerbic critiques of performers — not to mention fellow judges — have elicited much controversy while also contributing to her popularity. Since 2015, she has served as the host of a weekly variety show called "The Jin Xing Show," with an estimated audience of 100 million people.
As China's highest-profile transgender person, Jin has become the somewhat-reluctant face of trans rights in the country. I remember how, in 2011, she courageously went toe-to-toe with the Zhejiang provincial authorities in eastern China, claiming that it had "acted irresponsibly and abused its power," and that it had demanded her removal from the TV talent show "I Am the One" on the grounds that she was transgender.
Many viewers, including myself, sympathize with Jin's story of struggle. However, since "The Jin Xing Show" hit screens, I have felt that something isn't quite right.
In one episode broadcast in 2015, our eponymous host commented on the phenomenon of so-called leftover women — single women in their late 20s or early 30s thought to be past the optimum marriage age. "The media always talk about leftover women as though they're something terrible," said Jin. "And they're not wrong."
She went on to argue that "the older a woman gets, the harder she is to marry off," the reason being that she is "no longer as gullible." In her eyes, men only had so many tricks up their sleeves: They could trick a 10-year-old girl with candy, seduce a 20-year-old with flowers, and attract a 30-year-old with lavish attention, but by the time a woman is 40, the game is up. The main reason why women have trouble getting married, Jin said, is that they complain too much.
Jin's words were laden with gender bias. As a married woman herself — one who, incidentally, adopted her children in her early 30s and did not marry until nearly 40 years old — she tells older single women to yield to marriage and their male suitors.
In an exclusive interview with the Southern Metropolis Weekly in June 2015, Jin openly admitted that she believed in the idea that men are superior to women. "There's a certain truth to the idea … and there's a reason for this viewpoint's existence in China," she was quoted as saying. "This viewpoint has existed for so many years. It has its own logic and values and has inherently influenced who I am, so why should I reject it? … One of the values I uphold is that women should not be too outspoken.
"I'm very traditional," she continued. "Whether or not people approve is beside the point. If a woman wants to make a good life for herself, she must be observant and reasonable in everything she does. … If you're a woman, you must not try to compete with men."
I used to think that Jin was proud of making a living from her talents. I certainly never expected that, in the same interview, she would agree with the traditional proverb that "a woman lacking talent is virtuous." As a pioneering contemporary dancer who made a conscious decision to undergo sex reassignment, I mistook Jin for an iconoclast. Strange, then, that a woman so outspoken, so respected for her bravery in publicly articulating her struggles with gender dysphoria and identity, would believe deep down that women should play second fiddle to men.
And this is the problem with Jin: The public tend to see her as a liberal-minded advocate for social justice, but in reality, she espouses a male chauvinist ideology that systematically discriminates against women. This neither reflects her experiences as an empowered, career-minded transgender woman, nor fulfills the criteria of the BBC's list.
In truth, Jin has always been something of a reluctant advocate for gender equality. With her sharp tongue, she may seem like she's breaking all the rules, but the message at the core of her barbed remarks couldn't be more conventional: Woman should be subservient to their husbands, children should obey their parents, and independent thinking should be discouraged. She emphasizes discipline over autonomy and frowns upon difference. As a transgender woman, she has often been discriminated against by social conservatives. And yet, paradoxically, she is now becoming a spokesperson for the very brand of patriarchal, transphobic bigotry that she had to defeat on her way to the top.
I applaud Jin's bravery as well as her accomplishments as a dancer. In China, her very existence has forced a conservative society to talk openly about gender issues. Yet my once deep-seated respect for her as an advocate for social justice has been shaved away, layer by layer, in the face of her caustic comments that perpetuate discrimination. The BBC's failure to understand this is just another slap in the face.
Translator: Lewis Wright; editors: Lu Hua and Matthew Walsh.
(Header image: Jin Xing poses for a photo at an opera house in Shanghai, May 18, 2016. VCG)