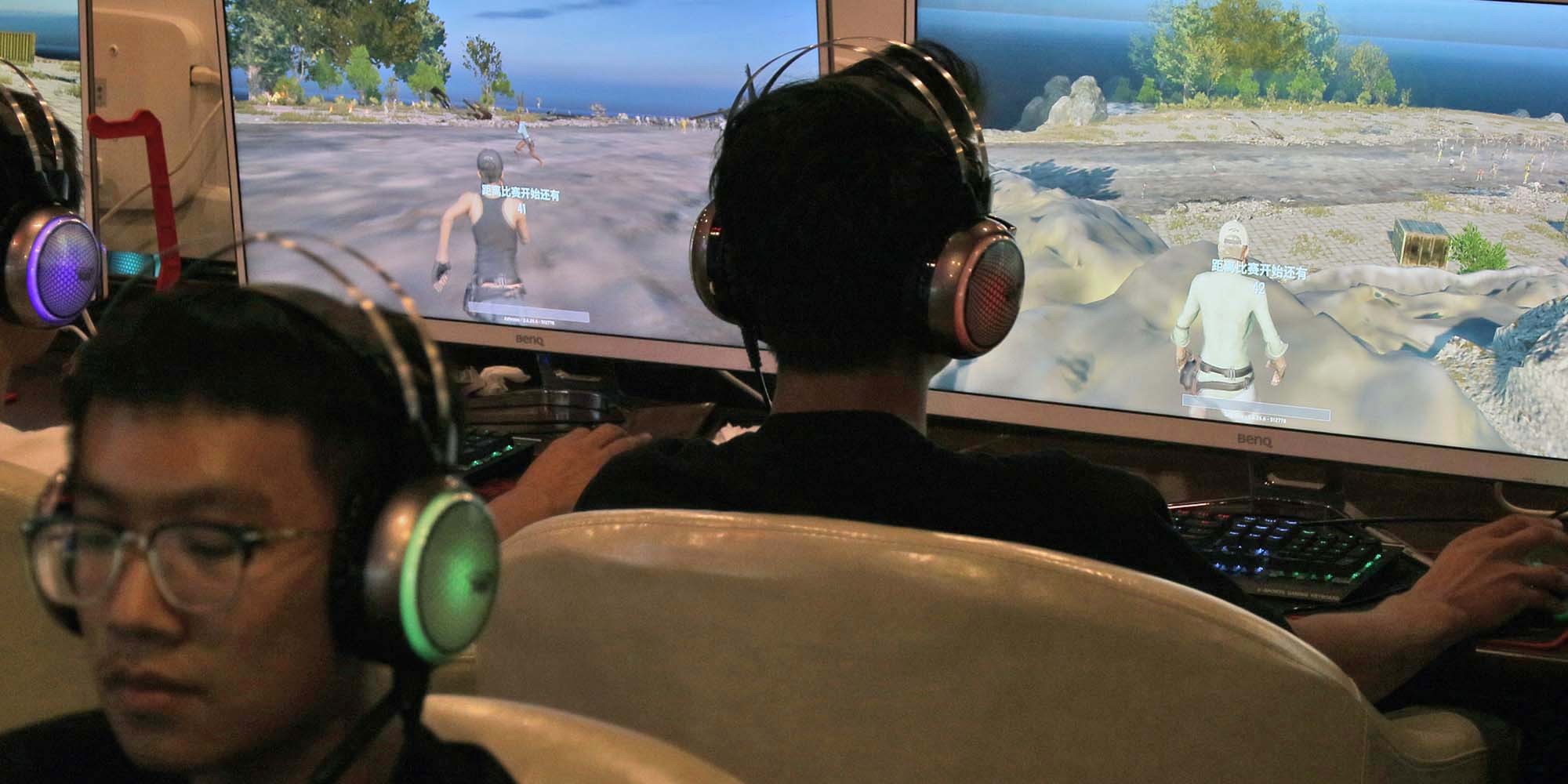 NEWS
Tencent Develops Mobile Version of Hit Survival Game
Chinese company's new fighting free-for-all inspired by online sensation 'PlayerUnknown Battlegrounds.'
A variation on one of the world's most popular video games may be on its way to the world's largest mobile market — and 3.3 million users have already signed up to be first in line.
Internet giant Tencent announced Wednesday that it has developed a smartphone equivalent to "PlayerUnknown Battlegrounds" (PUBG), and eager gamers hope it will satisfy both them and China's entertainment regulators.
The premise of PUBG, from Korean developer Bluehole Studio, is simple: 100 players are parachuted onto an island, where they battle each other to the death with anything they can get their hands on: machine guns, vehicles, and even frying pans.
On Tuesday, the game sold its 20 millionth copy on Steam, an online gaming platform. Before year's end, Microsoft plans to launch a version for Xbox, the company's own gaming console.
PUBG has already found an eager audience in China among livestreamers and casual gamers alike. Online, the country's gamers affectionately refer to PUBG as chiji, or "eat chicken," because of the message that appears when one player emerges victorious: "Winner, winner, chicken dinner." By the end of October, the game had nearly 6 million players in China, according to data-tracking website SteamSpy.
Now Tencent, the company behind the wildly successful mobile online battle arena game "Honour of Kings," is hoping to cash in on the growing popularity of the so-called survival genre with its own version of PUBG. A handful of mobile PUBG clones of varying quality already exist in China: In October, for example, Chinese smartphone manufacturer Xiaomi launched its own variation, which already has over 1 million active players and reached the No. 1 spot for free games in China's iOS app store. And earlier this month, a PUBG clone from Chinese tech company NetEase dethroned "Honour of Kings" as the top-grossing title for iOS devices — an honor it held for over a year. Fans are especially excited about Tencent's remake, however, because of the company's reputation for producing high-quality games.
The name of Tencent's spinoff translates to "Glorious Mission: Mission Action." On the game's launch website, screenshots show avatars skydiving into battle, army-crawling through tall grass, and racing around in a dune buggy. Across the middle of the homepage, a partly full status bar shows how many players have already "reserved" a spot in the game using their accounts on the WeChat or QQ messaging apps — both of which are Tencent-owned. The first 10 million players to register will receive in-game money and an exclusive virtual parachute.
But staying in gaming regulators' good graces may prove a challenge for Tencent and any other developers hoping to cash in on PUBG's success. In October, according to Quartz, the China Audio-Video Copyright Association (CAVCA) criticized PUBG after consultations with regulators, saying its gore and violent premise contravened the country's socialist values. In obeisance to the regulators, avatars' blood is now rendered in green in the game's Chinese-language edition. CAVCA also told video game companies and streaming websites not to develop or promote such games. In the run-up to the release of Tencent's "Glorious Mission," some have speculated about whether the game will pass muster.
"Honour of Kings," Tencent's most popular game, has also been criticized by Chinese state media for mispresenting historical figures and failing to curb gaming addiction in young players: Following a scathing commentary in Party newspaper People's Daily in July, Tencent's market value fell by $17.5 billion. To right the ship and assuage concerns, the developers imposed an hour-a-day limit for players under the age of 12.
"Glorious Mission" may well elevate the survival genre to even greater heights. Tencent is already the world's largest online gaming company by revenue, with access to hundreds of millions of potential customers through WeChat and QQ. "Honour of Kings" and its 200 million players will earn the company an estimated $3 billion this year, and Tencent has high hopes that its PUBG clone will eclipse even this lofty figure — if it sees the light of day.
Editor: David Paulk.
(Header image: Gamers compete during a 'PlayerUnknown Battlegrounds' tournament in Yantai, Shandong province, Sept. 23, 2017. Tang Ke/VCG)