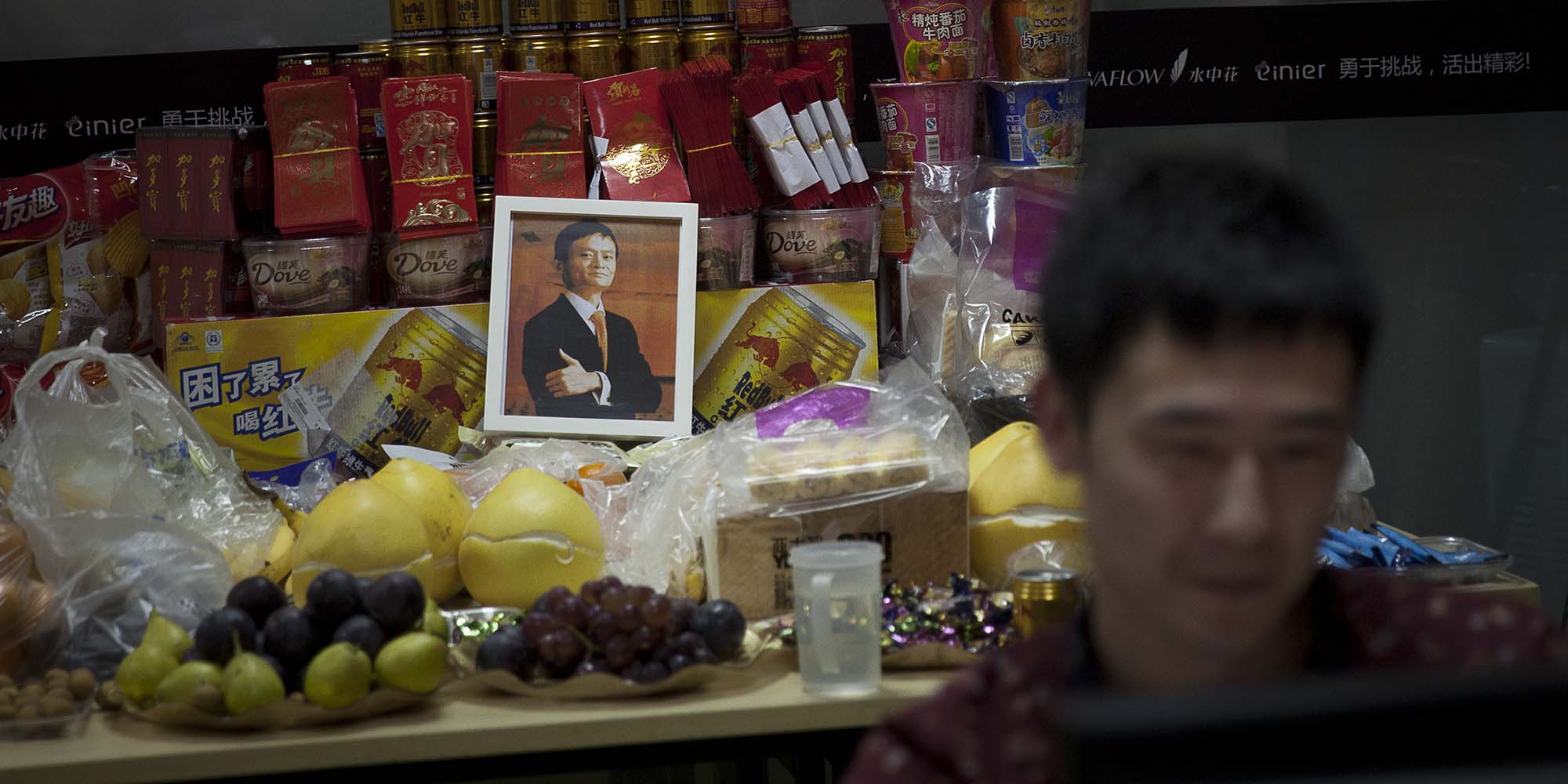 NEWS
6 Shopping Trends to Watch for This Singles' Day
China's day of indulgence grows weirder by the year.
Singles' Day on Nov. 11 was once a tongue-in-cheek celebration of the uncoupled, but ever since 2009, when e-commerce giant Alibaba turned it into a shopping festival, the day has become married to the money.
Each successive year sees record-breaking sales, with the total value of the day's transactions on Alibaba's businesses alone reaching 121 billion yuan ($18 billion) in 2016.
Snapping up bargains has become the national pastime on Singles' Day, but as the carnival of commerce increasingly gains acceptance as a bona fide festival, it has also grown more complex. This year, shoppers face new rules, trends, and offers that can take some time to understand.
"In past years I didn't have the money for Singles' Day — this year I don't have the brains," said Papi Jiang, one of the country's most beloved vloggers.
Sixth Tone outlines some highlights for this year's festival.
1. A Lifetime Supply of Liquor
For 11,111 yuan, you can get 12 bottles of baijiu — a potent Chinese grain spirit — every month for the rest of your life. If you're unlucky enough to die within five years of your purchase, the service can be passed on to an heir, manufacturer Jiangxiaobai reassures customers.
Jiangxiaobai has become popular among younger drinkers for making a baijiu that has a lower alcohol content than traditional recipes. When it launched the lifetime deal on Singles' Day last year, 11 customers took up the offer, Jiangxiaobai's online customer service representative told Sixth Tone — they refused, however, to confirm whether all of the buyers remained alive, citing customer confidentiality.
This year, more than 1,700 shoppers have registered their interest, but only 99 offers of the lifetime supply are available.
2. Selling Virtual Shopping Cart Space
Shopaholics have been foiled in the past by the item limit on their online shopping carts, but there's always a solution: Some online innovators have started selling virtual vacancies to shoppers whose fervor exceeds their cart capacity, Beijing Youth Daily reported on Tuesday. Each cart space can fetch about 5 yuan on secondhand transaction platforms.
Most e-commerce platforms limit shopping cart space for ease of operations and to encourage buyers to complete their transactions swiftly, and as the virtual carts require real-name registration, individuals can only register a single account. But naturally, online retailers are very happy to help you spend more: Taobao, one of Alibaba's e-commerce platforms, increased its cart limit from 99 to 120 items — the current limit — on Singles' Day 2016.
3. Discounts You Need a Doctorate to Understand
If "swelling deposit" sounds more like an unfortunate medical condition to you than a shopping offer, you're not alone. Zealous bargain-hunters must learn a host of lingo this year — "League of Double Eleven," "Light My Torch," "Catch the Cat" — and be quick to snatch up all the available coupons.
A "swelling deposit" means that if you pay a deposit to a store in advance, you get a higher-value coupon when Singles' Day rolls around. For example, a 20-yuan deposit can swell to 30 yuan, or even as high as 10 times its original value.
"League of Double Eleven" means that a team of shoppers can win money if they earn a set number of loyalty points as a group. "Light My Torch" earns shoppers bonuses if they share offers on social media, while "Catch the Cat" involves playing a minigame with the feline mascot of Tmall, another Alibaba e-commerce platform whose Chinese name translates as "sky cat."
4. Loans to Fund Your Online Shopping Addiction
Both Alibaba and JD.com — the two biggest e-commerce companies in China — offer loans to their users so that they can spend more freely. Named "Huabei" and "Baitiao," these online financing services operate like digital credit cards.
In the lead-up to Singles' Day, Alibaba announced that for the month of November, it will temporarily increase credit limits for 80 percent of users by an average of 2,200 yuan. The Huabei service has around 1 million users.
5. Everything Including the House and Kitchen Sink
This year's Singles' Day is seeing more e-commerce giants elbow their way into the real estate sector.
JD.com's real estate section went online in October, and according to financial news outlet Caixin, the company will promote property offers across more than 20 cities on Singles' Day. Alibaba affiliate Ant Financial also launched rental services on its mobile payment app, Alipay, on Oct. 10.
6. A Real Chinese Festival Needs Galas
No self-respecting Chinese festival would be caught dead without a lavish, star-studded gala event.
Like CCTV's Chinese New Year Gala — which almost the whole country watches, if begrudgingly — Alibaba's Singles' Day party is an extravagant affair, featuring the likes of basketball legend Kobe Bryant, celebrity power couple David and Victoria Beckham, and a roll call of Chinese celebrities. This year is no exception, and the event in Shanghai will be broadcast on three TV stations, as well as Alibaba-backed online platform Youku, while last year's aired on just one provincial station.
Electronics retail giant Suning will also put on a soccer match this year in Nanjing, the capital of eastern Jiangsu province, between a local team and Inter Forever, a squad composed of legendary former pros from Italian powerhouse Inter Milan.
Editor: Qian Jinghua.
(Header image:Alibaba founder Jack Ma's portrait at an online shop's office during Singles' Day in Hangzhou, Zhejiang province, Nov. 11, 2014. Xu Xiaolin for Sixth Tone)