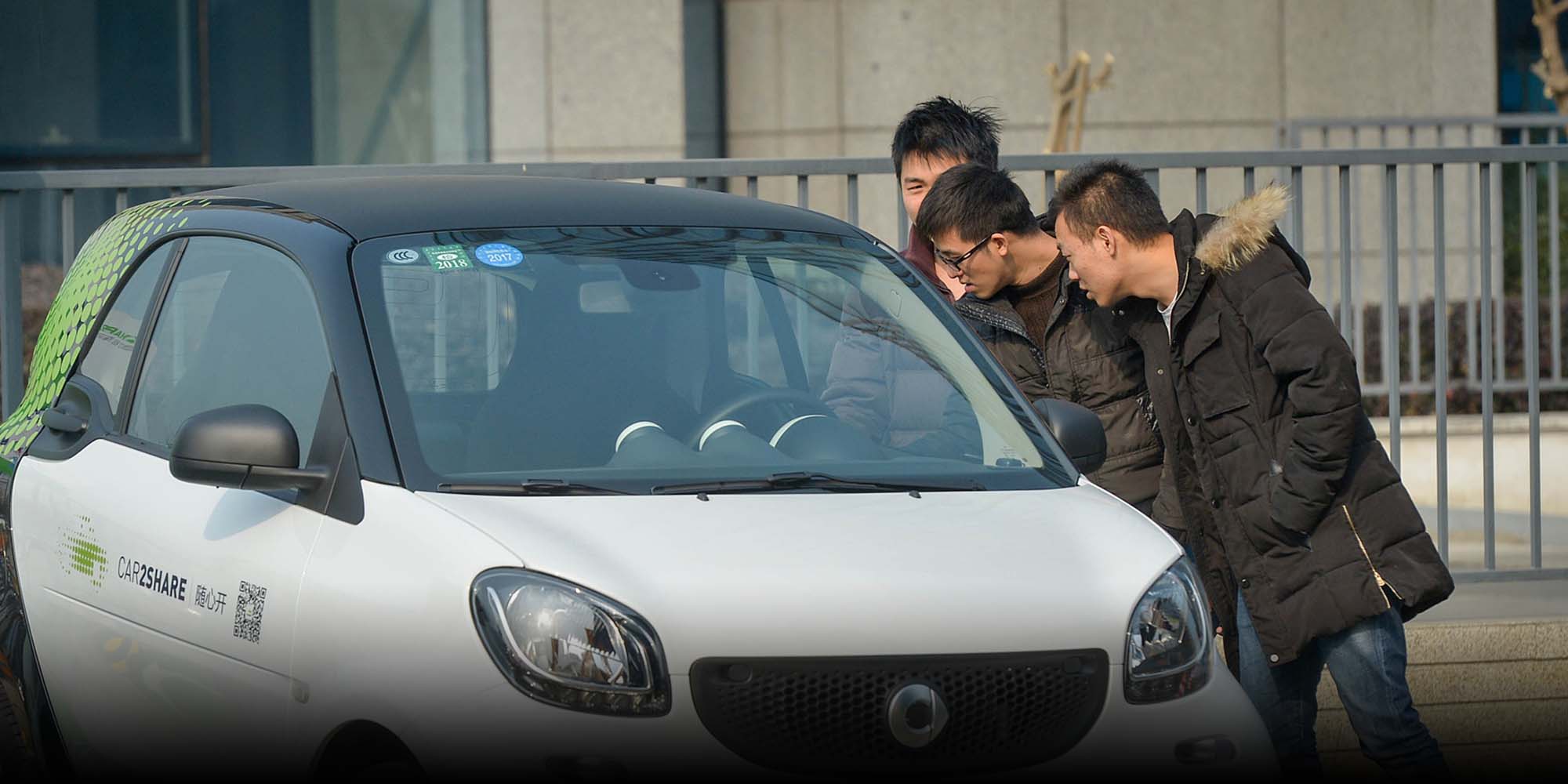 NEWS
Mobike Hops Aboard the Car-Sharing Bandwagon
Some industry analysts worry new partnerships won't be enough to deliver profitability.
Mobike, one of the trailblazers of the sharing economy in China, is dipping its toes into the up-and-coming market for shared electric cars by teaming up with both private and government-affiliated partners.
Sixth Tone's sister publication The Paper reported Friday that Shanghai-headquartered Mobike has signed a series of contracts with companies backed by the local government in Guian New Area, in the southwestern province of Guizhou, to manufacture electric cars and mopeds customized for Mobike. One of the company's partners includes Sintech, a vehicle manufacturer based in Guian.
In recent months, Mobike has been actively eyeing the potential offered by motorized vehicles, either through ride-hailing or ride-sharing. In September, the company partnered with another app, Shouqi Yueche, to allow customers to hail cars from within its own platform. In October, Mobike struck a deal with Dida Pinche, a car-hailing service, allowing the two companies to pool customers by creating in-app links to each other. Dida was established in 2014 and now has over 70 million users nationwide.
In recent years, the culture of sharing a wide variety of products and services has taken off in China. In addition to bike-sharing, pioneered by Mobike and its rival, Ofo, consumers have also been quick to embrace other manifestations of the sharing economy, including umbrellas, portable chargers, napping pods, and office space. There was even an attempt in September to establish a shared sex doll market.
The nascent car-sharing market in China is highly fragmented, and some analysts question Mobike entering an already-crowded sector with uncertain long-term prospects. According to a report published in June by consulting firm PricewaterhouseCoopers (PWC), there are currently more than 300 registered shared-car companies in the country. PWC attributes the increasing popularity of car-sharing to factors such as parking shortages and license plate hurdles, especially in larger cities.
"If you look at the shared-bike business in China, no one is profitable," said Alysha Webb, a managing partner at Los Angeles-based consultancy Cross Pacific Capital Partners and formerly a China-based auto industry commentator. Webb added that she didn't expect the company's participation in car-sharing to improve Mobike's chances of going into the black.
Mobike's reputation in bike-sharing, Webb continued, could benefit a startup like Dida or Mobike's own car-sharing service to some extent, but whether this would have any lasting effect was uncertain. "I don't think this [new development] will make any difference, because there are so many [car-sharing] brands out there doing the same thing," she concluded.
Mobike confirmed to Sixth Tone via text message that it is in talks with various companies regarding car-sharing and ride-hailing. Currently, leaders in the domestic car-sharing market include EvCard, Pand Auto, and Hangzhou city-backed Wei Jiaotong, all of which have over 5,000 cars in their fleets.
Some smaller players, meanwhile, are fighting for their survival. Last month, Beijing-based shared-car company Ezzy became the first in the industry to go bankrupt. The company's collapse just 18 months after its March 2016 launch left some customers unable to withdraw their 2,000 yuan ($300) deposits. Yet investors are still keen: Shenzhen-based Ponycar received 150 million yuan in investments in June, and on Thursday, Beijing-based TOGO wrapped up a financing round worth $22 million.
To date, more than 30 cities in China have rolled out favorable policies to promote the country's burgeoning industry for shared electric vehicles.
Contributions: David Paulk; editor: Colum Murphy.
(Header image: Three men inspect a shared car in Chengdu, Sichuan province, Dec. 13, 2016. Tan Xi/VCG)