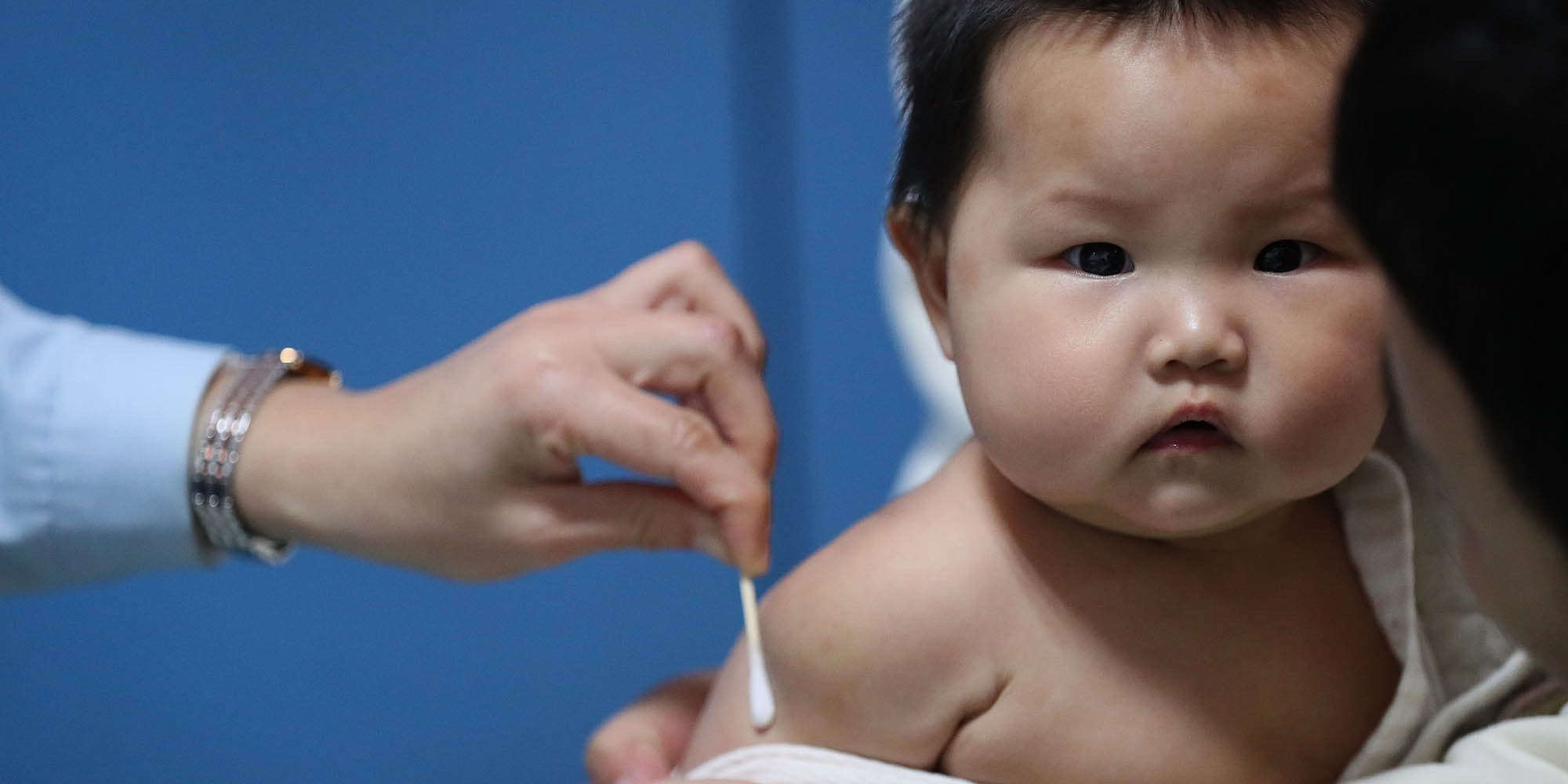 NEWS
China's FDA Says 650,000 Vaccines Failed National Standards
Vaccines for diphtheria, pertussis, and tetanus were found to be less effective, though not harmful.
More than 650,000 vaccines for diphtheria, pertussis, and tetanus (DPT) have been found to be of substandard quality, China's food and drug administration announced Friday.
The DPT vaccine is actually a combination of vaccines against the three infectious diseases. The country's health authority recommends that infants get a total of four shots at four, five, six, and nineteen months after birth.
According to Friday's announcement from the China Food and Drug Administration (CFDA), batches of DPT vaccines from two companies did not meet the national standard. A total of 653,120 substandard vaccines were sold to disease control and prevention centers in the eastern province of Shandong, the northern province of Hebei, and the southwestern municipality of Chongqing.
A CFDA spokesperson stated that the vaccines did not meet the national standard for effectiveness, meaning they might not work. The National Institutes for Food and Drug Control, however, tested the safety of the vaccines and determined that they are not toxic or otherwise harmful to humans.
Following its test results, the CFDA has called for these two batches of vaccines to no longer be used. In addition, a team of investigators has been assembled to look into the case. The CFDA will examine all nonexpired DPT vaccines produced by the two companies in question and give its results within eight weeks. The CFDA has further requested that the companies root out — and publicly announce — the reasons for the vaccines' low effectiveness.
In the meantime, parents can go online to check whether their children were inoculated with the substandard vaccines, and, if so, arrange for them to get new injections.
China began using DPT vaccines in the 1960s, and they were officially included in the country's immunization plan in 1978. Over the past three decades, the combined rate of infection for diphtheria, pertussis, and tetanus has fallen from 200 cases out of every 100,000 people to just 0.5 cases.
This is not the first time the quality and safety of vaccines have caused public concerns. In October 2016, China's public prosecutor announced that it had identified over 300 suspects in an illegal vaccine distribution ring operating out of Shandong province. The group sold some 25 types of vaccines, including those for hepatitis B, rabies, and influenza, to 24 provinces over the span of five years, at a total value of 570 million yuan ($86 million). The incident raised concerns on the general safety of vaccines in China and provoked public apprehension  that such large criminal networks could infiltrate the public health sector.
The CFDA spokesperson reassured the public about the relative safety of vaccines in their Friday announcement: Of the 944 batches of vaccines the administration has examined since 2008, 99.6 percent met national standards for both safety and effectiveness.
However, many netizens on social media appear less convinced. "[Our children] are forced to take the vaccines, but these vaccines are not legitimate," wrote one user on microblog platform Weibo. "That is a real torture to mothers: Every time our child is injected with a vaccine, we can only be resigned to their fate."
Editor: David Paulk.
(Header image: An infant waits to get a vaccination at a hospital in Yuncheng, Shanxi province, Oct. 17, 2017. Bao Dongsheng/VCG)