FUJIAN, East China — Short, tan, and portly, Wang Defa, a 59-year-old Fuzhou native, looks like any other urbanite nearing the mandatory retirement age. In less than one minute, however, he can take off his shoes, jump into an old-fashioned orange firefighter's uniform, and don a green helmet and a pair of rubber boots. It isn't a costume: For 14 years, Wang has led a century-old volunteer fire brigade in the city, the provincial capital of Fujian.
"I'm not young," Wang told Sixth Tone. "But the other volunteers and I have firefighting experience passed down through five generations."
Named after the community in which it's based, the 35-strong Aofeng Volunteer Fire Brigade has managed to survive for more than 100 years with little government support. It is one of the oldest and best-equipped private fire brigades in the country, as most have shut down or been absorbed into government forces.
But though the Aofeng volunteers are deeply committed to protecting their neighbors' safety and preserving their heritage, they are at risk of becoming obsolete as state-funded firefighters handle more missions each year, and few young people are interested in taking up the mantle. According to captain Wang, the team's average age is now 55. Some members volunteer part time in addition to working day jobs, while others who have retired or are jobless dedicate themselves fully to the force.
Fuzhou was once called "the paper city" because most of its residential buildings were wooden and prone to catching fire. But by the turn of the millennium, concrete blocks with modern fire safety features had replaced most timber constructions, reducing fire hazards and substantially decreasing the workload of the private fire brigade. Since 2003, when Wang became captain, the volunteer firefighters have undertaken just over 30 missions — an average of only two or three a year, though they train at least once a month.
Nevertheless, local resident Zheng Jinhua, 52, values their presence. "The [volunteer] fire brigade has contributed a lot to the safety of our community," she said. "They are much closer to us than the government's brigade."
Although government-funded counterparts are better-equipped, they are based farther away, and their resources are often stretched thin among the large districts they are assigned to serve. "By the time they arrive, almost everything will be burned to ashes," said Zheng Jingrui, the deputy captain of the volunteer brigade and no relation to Zheng Jinhua.
But when it comes to high-rises, the Aofeng volunteers must rely on the government firefighters' trucks to reach the upper levels. "We don't have the equipment to help us reach that high," explained the 61-year-old deputy captain. The volunteer team does often supply government fire brigades with water from the tanks of their fire trucks when fire hydrants malfunction.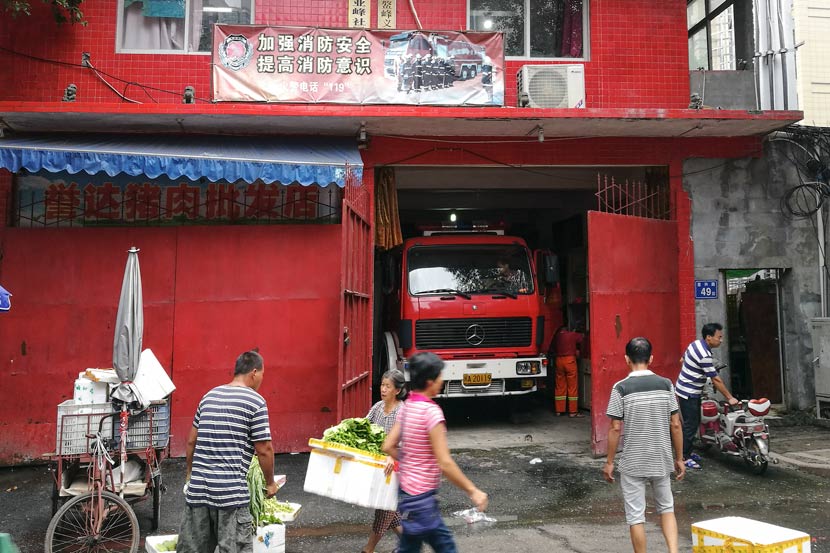 Locals walk past the Aofeng Volunteer Fire Brigade's fire station in Fuzhou, Fujian province, Sept. 12, 2017. Yan Jie/Sixth Tone
On some occasions, the Aofeng volunteers collaborate with the state firefighters. Zheng Jingrui — a tall, thin retired printer who joined the volunteer brigade when he was 20 — recalls teaching safer firefighting tactics to rookies from a government fire brigade during one joint mission. "I told them to stay under a door frame [when] spraying water and to keep away from the burning wooden roof," he said. "It would be very dangerous if the roof collapsed." Government firefighters often lack field experience, as many of them are decommissioned every two years.
Despite the volunteer brigade's experience and reputation in the community, they have difficulty finding new recruits. Many of the firefighters have tried to persuade their own children and other young people in the neighborhood to join, but to no avail. "We must have new recruits coming in, or the team will decline," brigade captain Wang said.
Yet according to Zheng Hang — one of only three team members under 40 and no relation to the other Zhengs — many young people don't see the point of the volunteer brigade. They believe firefighting is the government's responsibility. "I joined under the influence of my father, who was once a member," said the 29-year-old builder, who signed on to the team in June. "As most of us are only children, it's a difficult decision for us to take such a high-risk job."
In addition to the lack of new blood, the brigade also faces financial troubles. As a civic organization without regular financial support from the government, it usually depends on donations and the goodwill of the community.
For a six-year spell, the brigade was homeless: In 1997, the local government in Fuzhou's Taijiang District requested that they evacuate their old firehouse to make way for a boulevard. In return, the Party secretary at the time promised to move them to a nearby venue large enough to accommodate a fire truck, equipment, an office, and some extra rooms, according to Wang. But the Party secretary was promoted to a new post soon after the move, and his promise went unfulfilled by his successor.
"It's hard for the government to keep its word," Wang said. It took until 2003 for the brigade to receive the site they were promised, and it turned out to be an empty block that was used as a dumping ground. With no other choice but to build their own fire station, the tight-knit group managed to raise 100,000 yuan ($15,000) to construct a two-story, 200-square-meter building. Former firefighter Jiang Shikai, whose company sells firefighting equipment, gifted 30,000 yuan and a fire truck to the new station, in addition to annual donations that ended when Jiang retired in 2007.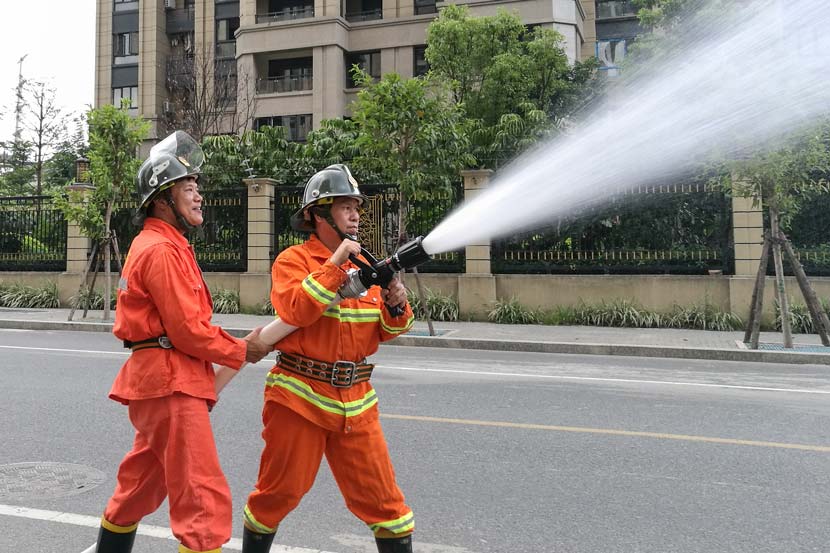 Wang Defa (right) aims a water hose during a firefighting drill in Fuzhou, Fujian province, Sept. 12, 2017. Yan Jie/Sixth Tone
The brigade also received equipment donations from the local government and was awarded 20,000 yuan for their contributions to community firefighting in 2013 and 2017 by a municipal foundation for heroic acts. However, the volunteer brigade is still short of funds. In 2016, firefighting missions and maintenance cost them 10,000 yuan, according to Zheng Jingrui.
With mounting challenges and waning community interest, the deputy captain believes the volunteer brigade's fate lies in the hands of today's youth. "I hope the younger generations can recognize that volunteer firefighting is necessary," Zheng Jingrui said. "Or else, our 100-year heritage will end with our generation."
Editors: Qian Jinghua and Doris Wang.
(Header image: Wang Defa (second from left), poses for a photo with fellow members of the Aofeng Volunteer Fire Brigade in Fuzhou, Fujian province, Sept. 12, 2017. Yan Jie/Sixth Tone)