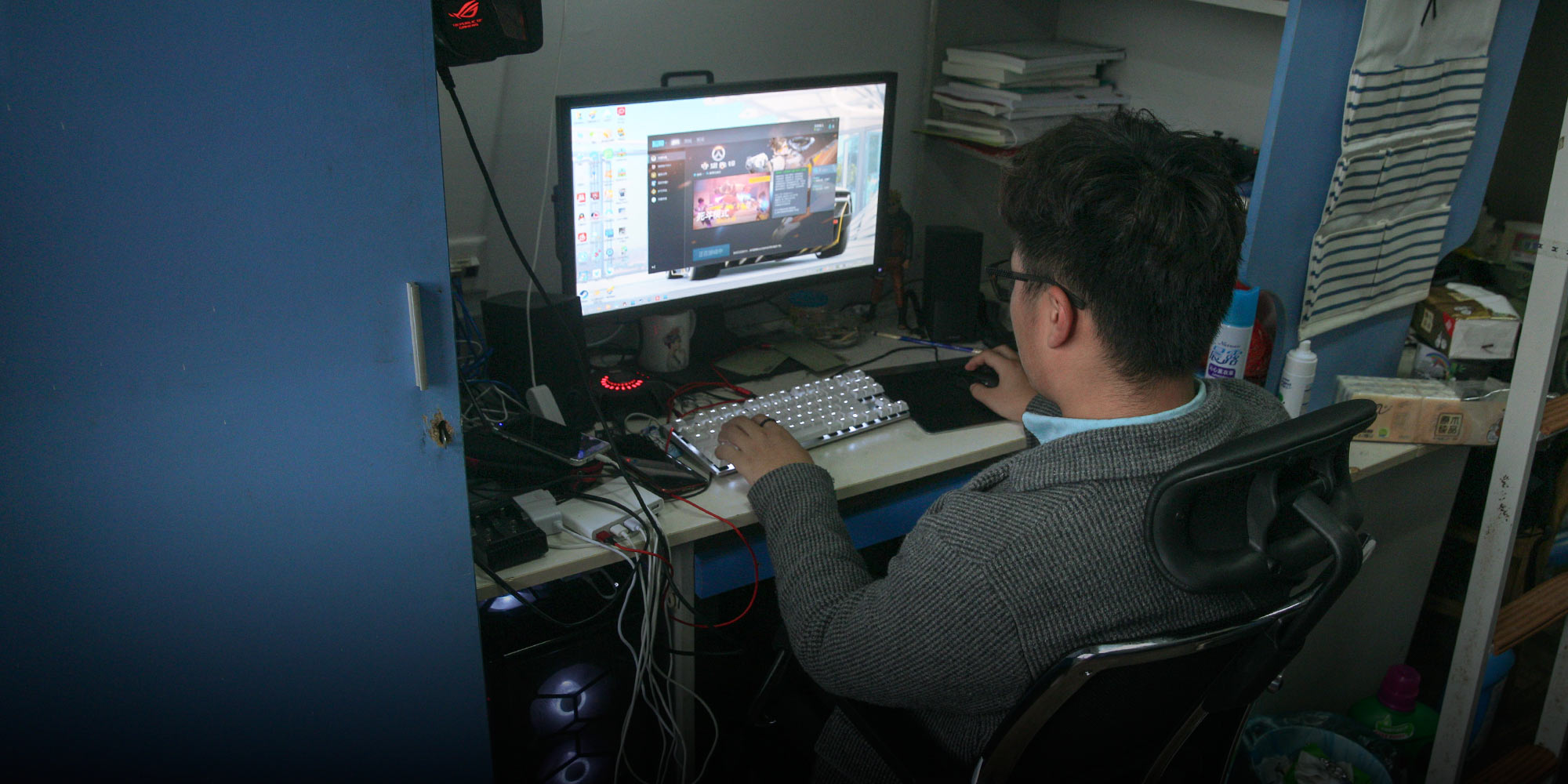 FEATURES
China's Gamers Get Schooled
New esports university degree opens up career paths for players and fans.
JIANGSU, East China — Feng Zihao never dreamed that his longtime passion, esports, would become his field of study in college. Competitive video game tournaments enjoy a huge following in China, and now, 18-year-old Feng is among 60 students enrolled in the country's first-ever college program specializing in esports.
Last year was a landmark year in the world of esports. In September, "esports and management" was added to the Ministry of Education's list of permitted college majors. Three months later, the Communication University of China, Nanguang College, in Nanjing announced the launch of its own esports-related degree: Art and Technology (Esports Analysis), a four-year undergraduate program teaching event organizing, data analysis, gaming psychology, video content production, and esports team coaching. According to the school, graduates can expect to carve out careers in China's booming esports industry as tournament organizers, online show producers, commentators, strategy analysts, and club managers.
Since the authorization of esports and management degrees, many other colleges have taken it as a green light to start incorporating esports content into their existing programs. Shanghai Theatre Academy, one of China's most prestigious dramatic arts colleges, announced at a July press conference that it would begin offering courses in esports stage design and commentating. Even the Shandong Lanxiang Vocational School in eastern China, which gained viral fame for its over-the-top promotional clips and purportedly trains hackers, recently established an esports college and is starting its own esports and management course.
However, Chinese universities aren't the only ones welcoming esports. Staffordshire University in the U.K. will offer an undergraduate esports program starting in September 2018, while a number of U.S. colleges now provide esports scholarships for talented gamers.
China is the world's largest video game market and home to over 600 million gamers. Of these, over 175 million engage in its $3 billion-a-year esports industry as players or spectators. Tian Yunpeng, founder of Hengyi Wenhua, a company that promotes esports education, told Sixth Tone that China's rapidly growing esports industry has given rise to 36 different professions and has 10,000 companies associated with it. The Chinese esports industry has a talent deficit amounting to 260,000 jobs, he says, quoting information from Gamma Data, a video game industry research institute.
With the expansion of esports, star players and commentators are being hailed as celebrities, and some esports clubs have become household names among Chinese gamers. Through branding partnerships and prizes from international competitions, teams can rake in millions of dollars every year.
Tournaments for popular video games — such as online battle arena game "League of Legends" and multiplayer soccer game "FIFA Online 3" — can draw enormous crowds, both online and offline. The final round of "League of Legends" global tournament Worlds 2017 is being held Saturday in Beijing's iconic Bird's Nest stadium, with millions watching. Meanwhile, tech giant Tencent's wildly popular mobile game "Honour of Kings," which has over 200 million registered players, also sports its own professional league.
Feng's passion for esports began in his early teens, when he came across a video of professional gamers playing "CrossFire," a popular South Korean-made tactical shooting game, while surfing the web. "Watching those world-class players — it was just a video, but it really got my adrenaline pumping," he says. From then on, he was hooked. With no intention of becoming a professional gamer, given his busy school schedule, Feng simply enjoyed watching esports with friends and following the rapid development of the novel industry.
When he heard about Nanguang College's new program, he was determined to enroll. Feng's parents, though initially resistant, agreed to let him apply after doing some research. "They knew that esports was a new and developing industry, and that its market was steadily growing. Because they both work in business, they view this industry favorably," Feng says with a grin.
After competing against 4,000 other applicants, Feng is now in his first month of his esports analysis degree program, which begins with foundational classes like English and Marxist philosophy that are standard at Chinese universities. When he's not attending classes, Feng relaxes by gaming with classmates on his self-built desktop computer brought from home. Esports courses will start in the spring.
Tian — whose company is publishing a series of textbooks on esports theory, history, and industry analysis that Feng and his classmates will soon use — saw the need for university esports education back in 2015. Having organized competitions for seven years, he could see that the industry was expanding rapidly, with over 100 million consumers engaged in esports that year. But he found it difficult to recruit talent with relevant skills and knowledge, such as a comprehensive grasp of the industry's commercial and entertainment aspects, as well as strong event management abilities.
In response to this perceived gap, Tian founded Hengyi Wenhua to train nonplayer professionals for China's esports industry — including event organizers, hosts and commentators, team coaches, and analysts. But designing a course with zero established precedent has been no easy task. "In China — and even in the rest of the world — there wasn't a course structure or a complete set of educational materials for this subject," Tian says. "Who should teach it? What should they teach?"
Tian's company isn't the only organization creating course material and textbooks for the new crop of esports programs. In August, Sichuan University Press published "An Introduction to Esports Commentary," China's first higher education esports textbook, particularly for use in broadcasting and hosting majors.
Zhang Yuepan, chief editor of the textbook and deputy director of the art and directing department at southwestern China's Sichuan University, thinks highly of the potential benefits of esports. "When it develops to other wider domains, such as the 'League of Legends' global finals, it can promote patriotism and a national consciousness among youth," he says.
Not everyone is as enamored with the concept of esports education, however. When news of the new degree broke online last December, it ignited a storm of discussion, with many ridiculing the major and accusing Nanguang College of seeking profit and publicity. Under a related post on microblogging site Weibo, one commenter wrote: "Apart from making money and destroying students' futures, what is the purpose of this degree? Pay attention, students: Don't become guinea pigs."
Such criticisms, says Tian, are largely based on the widespread misconception that the new degree aims to train professional gamers. Parents are unaware of the job opportunities in the esports industry and are concerned that their children will become addicted to video games.
If anything, Tian believes that by opening up new career paths, the degree offers hope for gaming fanatics who lack the rare talent required to play professionally. Tian recalls one mother calling him in tears at 6 a.m., asking him to help her son, whose video game obsession threatened to ruin his grades. The boy had even run away from home for six days after his parents smashed his computer. Tian met with the student and opened his eyes to the possibility of one day working as a manager or coach in the esports industry by earning a degree in esports — that is, provided he achieved the grades necessary to get into the program.
Prejudices against esports and esports education will take time to change, says Tian, though the establishment of the esports university degree is a step in the right direction. "It's an effective way to transform the views of students, parents, the media, and society from seeing esports as 'just playing games' to regarding it as an industry with many positions that need to be filled by professional esports talents," says Tian.
Feng, too, is working on shaping perceptions. "Lots of people thought this degree was a bad idea, but slowly, when they came to understand it, they changed their minds and viewed it in the right light," he says. "We don't think we're wasting our youth or anything like that. This feels very substantial and full of potential."
Feng is aware of the risks involved in pursuing a new and untested college degree, but he is also optimistic about his cohort's future prospects. "Because we're the first students in this program, after we graduate, we know we'll be sought after by every kind of gaming company," he says. "We all want to first gain a couple years of work experience at companies; then, we can pursue whatever dreams we have in this industry."
Editor: Doris Wang.
(Header image: Feng Zihao plays computer games in his dormitory at the Communication University of China, Nanguang College, in Nanjing, Jiangsu province, Oct. 19, 2017. Shi Yangkun/Sixth Tone)