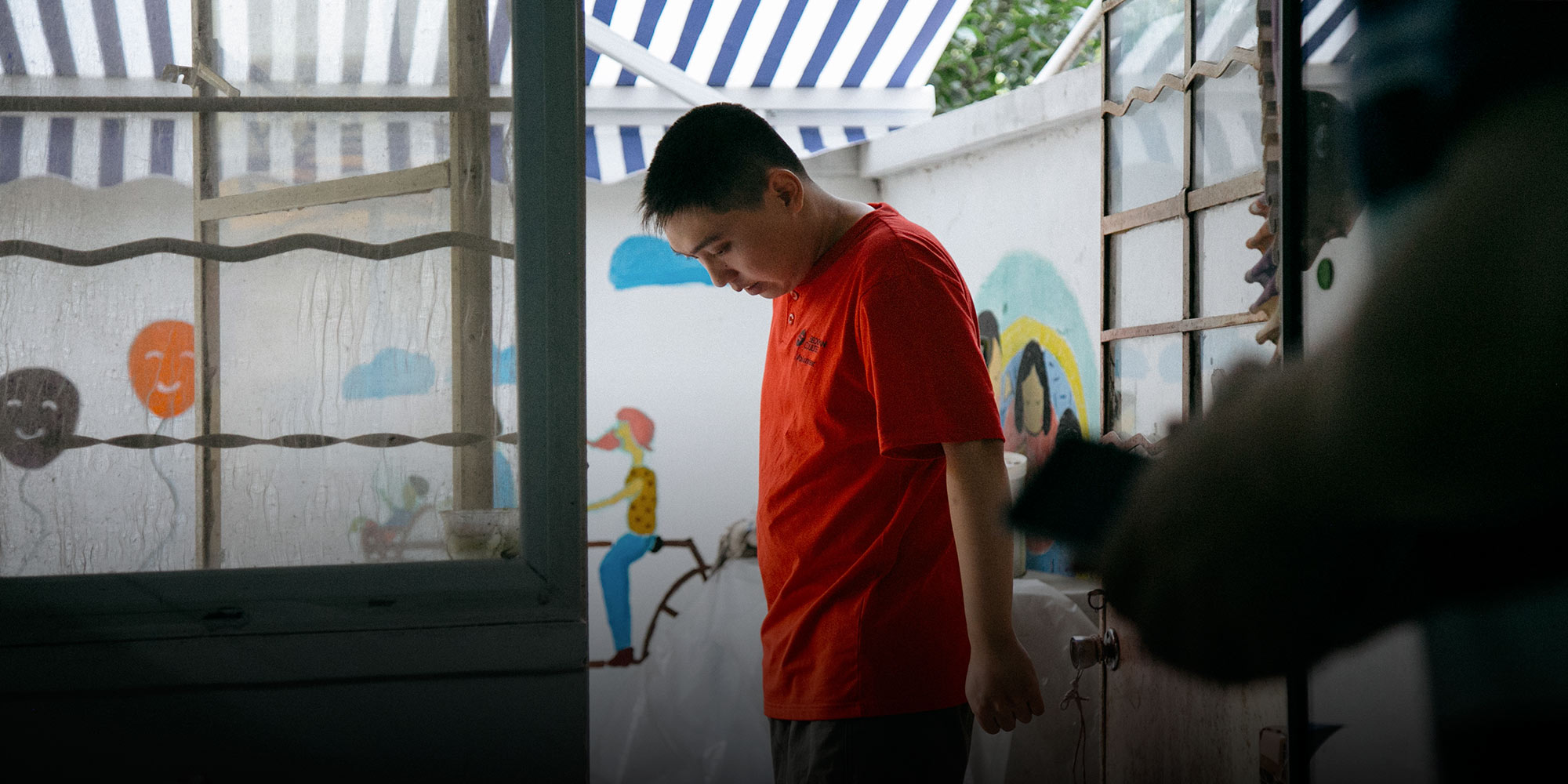 FEATURES
No Country for Disabled Men
With aging parents and insufficient care centers, people with mental disorders in China face uncertain futures.
SHANGHAI — Zhang Canhong began speaking to her son about sickness and death when he was 20 years old. It was an effort to prepare him for a future without his parents, but the conversations only made Zhou Jiawei — who has autism — anxious. "Mom, are you going to die?" "Mom, when will you die?" he asked repeatedly, until Zhang made up an answer to placate him: "I will die at the age of 96."
But Zhang, now 61, fears that she could depart this world much sooner. What scares her most is not death itself, but what will happen to her son in her absence.
It took Zhang years to teach her son basic tasks — washing his face, for instance, or answering the house phone — by breaking each skill down into small steps and repeating them over and over. Now, at age 27, Zhou can pick up the phone, inform the caller that his mother is out of the house, and relay her cellphone number. But he gets anxious, even hysterical, when faced with the unfamiliar, such as a visitor to their home. Tiny changes to the family's routine take careful preparation. "Our everyday life is like rehearsing a show," Zhang said.
Around 12 million people in China live with mental disorders and intellectual disabilities — ranging from autism spectrum disorder to Down syndrome and psychotic disorders. Many of them have trouble communicating with others and controlling their emotions, and often rely on their parents for care into adulthood. But as their parents age, the question of future care becomes increasingly pressing.
People with mental disorders and intellectual disabilities generally take longer to adapt to new environments, and facilitating the process requires knowledge of their disorders, familiarity with their life habits, and great patience. Many parents worry that without professional care services, their children won't be able to adapt at all. Yet they also fear that caregivers will lose patience and mistreat their children.
China already faces a shortage of special education institutions for children with disabilities, and care centers for adults are even harder to come by. "One of the main reasons is the lack of government funding," said Guo Xiaomu, CEO of the Xintu Center for Community Health Promotion, a Shanghai-based NGO that serves people with disabilities. "A major part of the government funding for the mentally disabled goes toward education for under-17-year-olds. Care services for mentally disabled adults are not a priority."
But for elderly parents, finding a place where their children can live after they are gone is an urgent issue. In 1993, when her son was young, Zhang started a support group for parents of children with intellectual and developmental disabilities. Zhang used to work as a department director at a toy factory, but — like many fellow parents — she gave up her job to dedicate her time to her son. Over the years, the support group grew into a small facility similar to a day care center. Many "children" who visit the center, called the Home of Rainbow, are now above age 25.
Although care facilities for people with disabilities exist in major cities like Shanghai, many lack the capacity to meet the needs of those with more severe disabilities, like Zhou. Even in Shanghai, there are currently no public care centers designed especially for adults with intellectual disabilities and mental disorders, Wu Jinghua, director of the rehabilitation department at the Shanghai Disabled Persons' Federation, told Sixth Tone.
There are, however, a small number of private facilities that serve this population. One is the Yuemiao Care Center, which occupies a former kindergarten in a residential neighborhood in northern Shanghai. Due to overwhelming demand, the care center has even turned balconies into bedrooms. More than 100 children and adults live here, with each caregiver typically responsible for 10 residents. During Sixth Tone's visit, the conditions were shocking: Some residents spent the entire day sitting in a chair or lying in bed. Residents prone to harmful compulsive behaviors like scratching themselves, or those who have injured others, were often tied to windows and railings by staff, who said they have no other choice.
The center charges 3,300 yuan ($500) a month for each resident — a sum that is already prohibitively expensive for most Chinese families, but simultaneously too low to hire specially trained educators or social workers, or to greatly improve the living environment. Most of the caregivers working at the institution are middle-aged women who used to work as nannies.
Although professional care for adults with disabilities is in an alarming state in most countries, there are more options available in Europe and North America, including group homes, specialized residential homes, and other facilities that provide 24-hour care. In the U.S., close to one-fifth of the 682,000 social workers focus on mental health and substance abuse. Last year, for the first time ever, Beijing employed mental health workers trained and certified by the country's top mental health hospital — a total of just 13 specialists.
Zhang told Sixth Tone that Yuemiao Care Center is one of the best options for those with mental disorders and intellectual disabilities in Shanghai. At least the center holds special events and activities for residents and other adults with disabilities in the community, she said. Yet Zhang doesn't consider it an option for her son.
"If we send him to these care centers alone, he might have a nervous breakdown before he can find a way to communicate with strangers there," Zhang said. Residents who suffer from a breakdown have often been relocated to psychiatric hospitals, where they may remain indefinitely.
Zhang is determined to stay healthy so she can continue to care for her son. "I tell myself I can't get sick. I have to stay tough," she said.
Yet aging is unavoidable. Zeng Tiannü frequently visits Zhang's center with her son, 39-year-old Liu Xiao, who has an intellectual disability. Zeng used to take her son for walks in the park but has stopped over the past few years, as her legs began to swell on longer excursions.
At the center, Liu is the quiet one. When he arrives, he takes out a book and starts coloring. He rarely reacts to his environment, and when he finishes his artwork, he sits at the table staring down in silence. He cannot bathe himself and sometimes swallows the toothpaste when brushing his teeth. For most of the day, he sits on his bed, his head down; if no one reminds him, he forgets to eat.
Six years ago, Zeng's husband was diagnosed with cancer. Spending mornings at the hospital and rushing back home in the afternoon to take care of her son, she slept less than four hours a day and lost more than 15 kilograms in just a few months. Ever since, death has felt more real to her, and she's haunted by anxiety over her son's care.
"What to do about Liu Xiao's future has become a frequent topic at home," Zeng said. "He doesn't talk to people, not even when he is hungry, thirsty, or even bullied and hurt by others," she said. After her and her husband's deaths, the government will likely find a facility willing to take Liu in. "What will his life be like when he is sent to an institution?" Zeng wonders anxiously.
Wu of the Shanghai Disabled Persons' Federation believes the government needs to establish better care resources for adults with disabilities. "[The federation] must work with several government departments — including the civil affairs and health departments — to come up with a comprehensive policy," Wu said. But according to Hua Hongqin, a sociology professor at Shanghai University, major policy changes aren't on the government's agenda.
Parents of children with disabilities often struggle to cope with the enormous pressure. Many have suffered from depression or gotten divorced. A few have given up planning for their child's future. "Some parents told me they just live every day as best they can," Zhang said. "When the day comes, they say they will commit suicide with their children, because that is better than leaving them."
In May, an 83-year-old woman in the southern city of Guangzhou drugged her 43-year-old son — who had an intellectual disability — before strangling him to death. She then surrendered to police, saying that her health was deteriorating, and she had feared for her son's future. "I am afraid that I will die before him," news reports quoted her as saying during court proceedings. "I owe him for giving birth to him with this disability, making him suffer so much. I would rather commit the crime and put an end to the pain in his life, because in this case, it was better for him to die than to live."
At Zhang's center, news of the case was met with an emotional response. Parents said they understood the elderly woman and her actions, and that she must have done it out of love and despair.
Zeng said having a son with a disability has caused her much heartache, and sometimes, she complains about her fate. "But I cannot bear to think of the day when he will be left uncared for," she said. "I will stay by his side as long as I am alive. My heart will only be at peace when I know what kind of care he will receive after I die."
Zhang agrees. "My greatest hope is that I can outlive Jiawei by one day," she said, "so that I can take care of him until he dies."
Editor: Denise Hruby.
(Header image: Zhou Jiawei stands in the yard at the Home of Rainbow in Shanghai, Sept. 28, 2017. Wu Huiyuan/Sixth Tone)