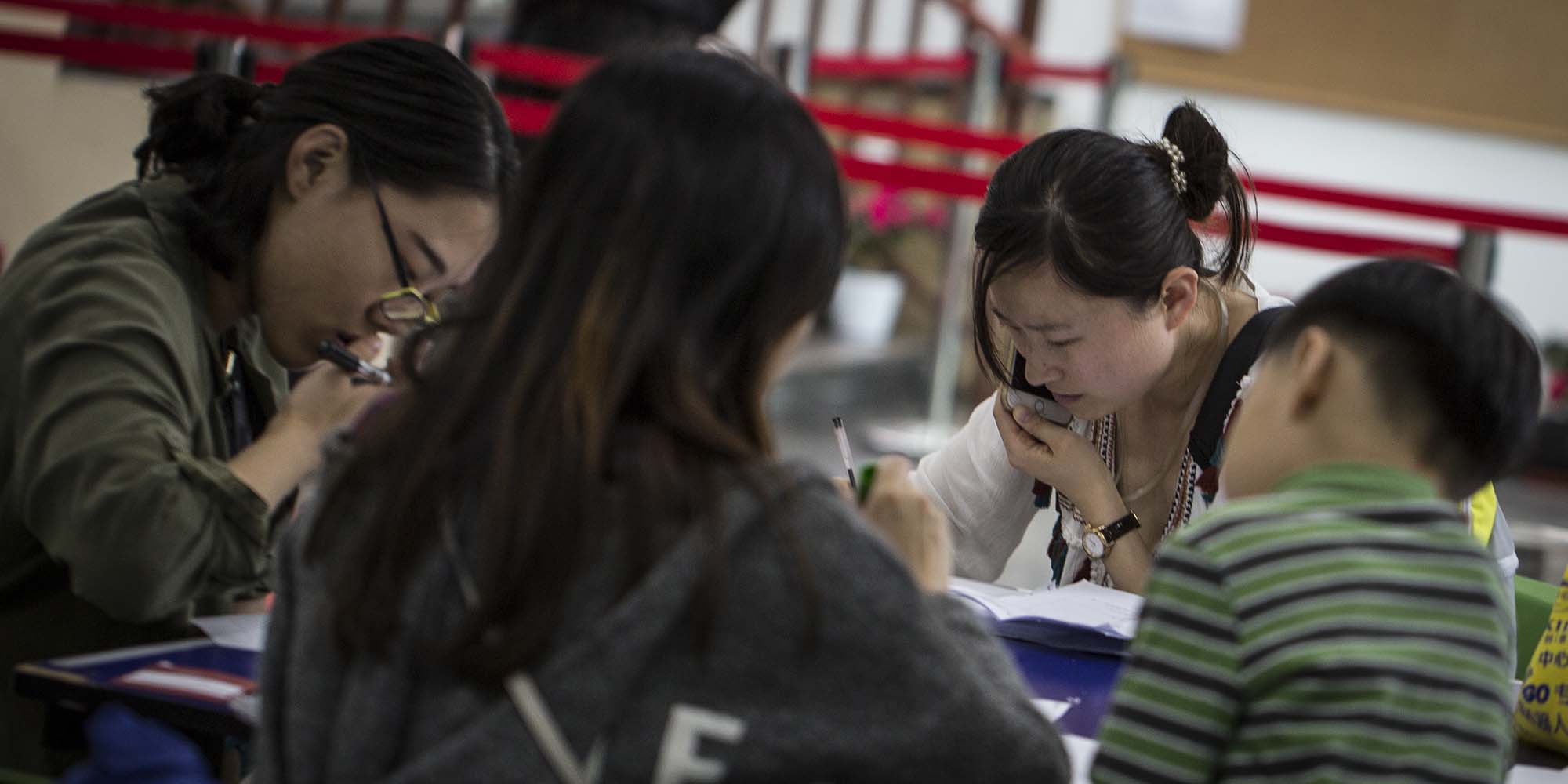 NEWS
Parents Vie for PTA Spots in China's Most Contentious Elections
Net users lament that cutthroat competition among children appears to have passed on to their parents.
Screenshots of parents' flowery written speeches about why they should be elected to the Parent Teacher Association made the rounds on Chinese social media on Friday, triggering both incredulous comments from and anxiety in parents-to-be.
"Becoming a PTA member means you'll have more chances to keep in touch with teachers, and this might benefit your child's performance somehow," Xu, a head teacher at a public school in Shanghai, told Sixth Tone on Friday.
In the speeches, the parents boast of their expensive educations at prestigious universities, of their good jobs, and of their qualifications as ideal role models for children. "I graduated from Central Michigan University, and now I work at a private equity firm," wrote one mother, adding that her husband, a Ph.D., works at the People's Bank of China. She enumerated several reasons why she believed herself to be a strong candidate.
"I have three years of experience as the head of the parents' committee at my child's kindergarten; my work schedule is flexible, so I can be present whenever I'm needed; and I'm a fan of photography, so I can take pictures during class activities," the mother wrote. "And my child was the host of her kindergarten's graduation ceremony, so I have experience in training children to host."
The speeches appear to have been sent as messages in a group chat for a first-grade class at a private primary school in Shanghai. Although Sixth Tone could not verify the origin of the screenshots, many Weibo users chimed in with similar stories of their own.
Along with the first ambitious candidate, another two parents joined in the contest. "I was president of the graduate students' union when I was pursuing my Ph.D.," wrote one father, added that he and his wife were teachers at a university that specialized in finance and accounting.
A second mother, who said she was the director of human resources at a "well-known foreign enterprise," took a slightly more modest tone, while still subtly alluding to the advantages her family's closer involvement with the school might confer. "I'm far less capable than these other multitalented parents — I'm only interested in painting and writing," she wrote. "And it's so nice to see so many Tongji University alumni [in this group]."
Earlier this week, users on microblog platform Weibo shared similar accounts, purportedly from a primary school in Hangzhou, capital of neighboring Zhejiang province. A brochure had printed a long list of PTA candidates, most of whom claimed to have graduated from prestigious universities and to work in lucrative jobs.
Other net users, meanwhile, have reacted to these posts with astonishment and mild amusement. One article compared the apparent intensity of primary school PTA elections to that of the U.S. president election. Some net users lamented that the posts underscored the fact that fierce competition among children now extended to their parents, too.
Though China's education system has in recent years advocated a so-called happy education policy to relieve the heavy workload facing students, some parents and schools still put more stock in rankings and enrollment rates.
In May, Shanghai's education bureau ordered two private primary schools to apologize for asking parents of prospective students to take intelligence tests, and for interviewing them about their own parents' professions and educational backgrounds.
A woman surnamed Wu, the mother of a 7-year-old, told Sixth Tone that because teachers at international schools are not allowed to receive gifts from parents, this made it harder to establish close relations. "A PTA member will get to collaborate with the class head and the other teachers frequently," she explained, "and this can allow you to get closer to them."
Though Wu believes the screenshots circulated online are borderline pathological, she said that PTAs at international schools provide a communication channel for parents to make their voices heard and share their opinions. "The system is quite good," she added.
However, many childless people and new parents with very young children weighed in to say that the screenshots made them feel anxious and discouraged. "Maybe I should apologize to my future son or daughter," wrote one user. "It's really hard for me to compete with other fathers."
Editor: David Paulk.
(Header image: Parents fill out application forms for their children at Shanghai Pinghe Bilingual School, May 7, 2016. Yang Shenlai/Sixth Tone)