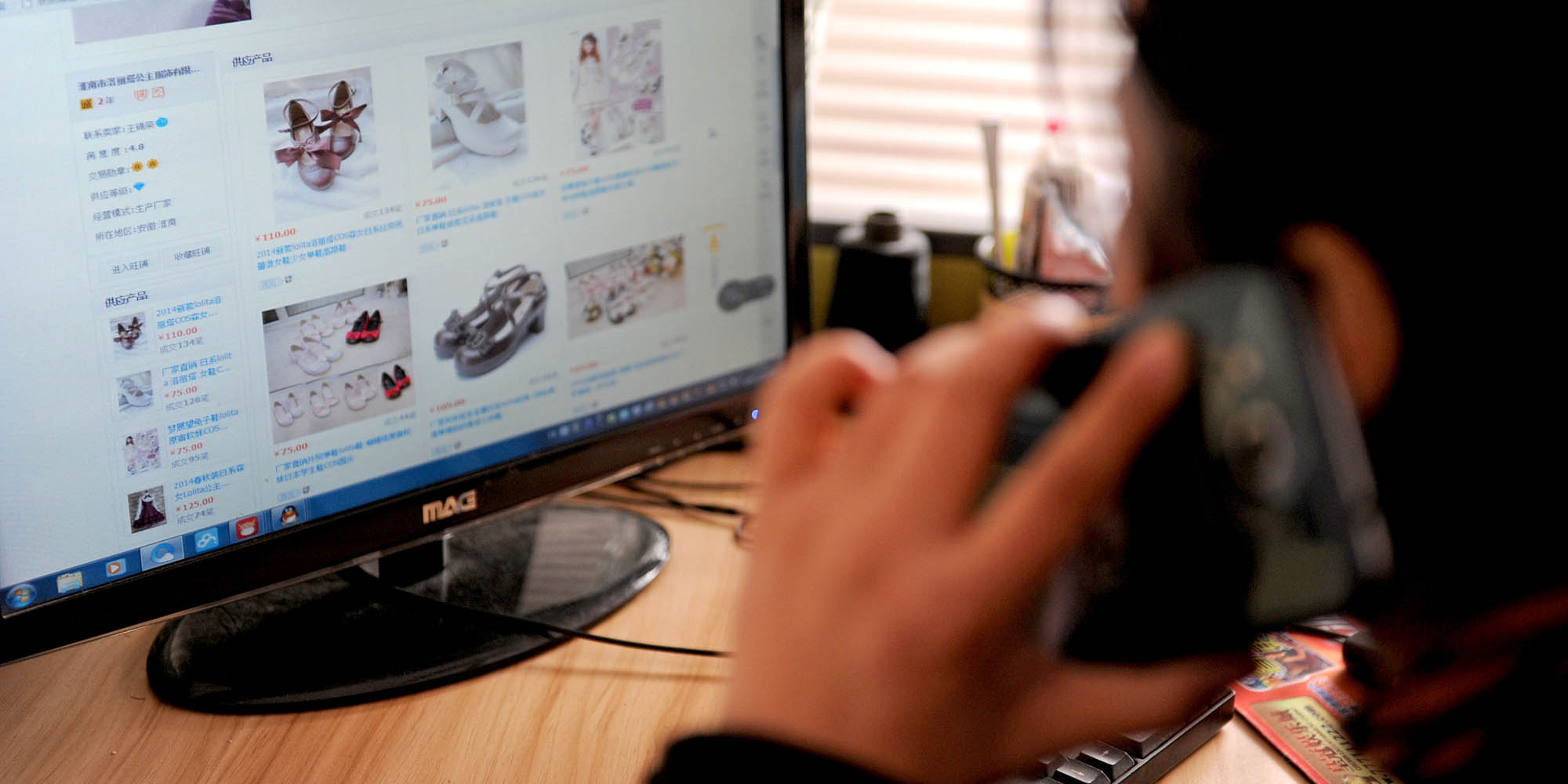 NEWS
China Takes First Step Toward Regulating E-Commerce
New draft law would require online vendors to pay tax and register with the government.
Making a quick buck online could become a thing of the past for China's online sellers, who may have to the register with authorities and pay tax if a draft law being considered by the country's top lawmakers is passed.
The law — which is China's first attempt at regulating its booming e-commerce sector — was put to the country's top legislature, the Standing Committee of the National People's Congress, for the second time on Tuesday morning, reported The Paper, Sixth Tone's sister publication.
According to the report, the regulation would require most vendors to get approval before selling on Alibaba-owned Taobao, China's largest online shopping site, or social media platforms like Weibo and WeChat. Vendors selling handicrafts, agricultural products, or skills such as language tutoring, however, would not have to register.
E-commerce is big business in China: Online sales have grown at an average of 35 percent per year for the past five years, and Chinese consumers spend more online than their counterparts anywhere else in the world, according to professional services firm PricewaterhouseCoopers. Last year, e-commerce sales reached 5.16 trillion yuan (then $752 billion) — about 15 percent of all retail sales, according to China's National Bureau of Statistics.
Legislators began working on the proposed regulation in 2013 and first put it to the committee last year, before soliciting feedback from the public. The goal is to facilitate e-commerce growth, maintain market order, and protect shoppers from fakes and scammers.
Backers of the law say it would bring online shopping regulations in line with offline rules that require vendors to register their businesses and pay tax, but legislators opposed to the law argue that there should be more exemptions, as the rules in their current state would hamper e-commerce growth, according to The Paper.
It is not known when the new law might be passed or when it would come into effect.
Chen Ran, a Shanghai-based vendor who sells handmade jewelry on Taobao and Weidian, WeChat's online store, said that in the past, she only needed her real name, Chinese ID number, and a 1,500 yuan deposit to register as a seller. "I have no idea what impact this law will have on me," she told Sixth Tone, adding that if she were forced to pay tax, she might decide to increase her prices.
Li Huaiqiu, a self-professed online shopaholic from Guangzhou, thought the purpose of the new rule was to clamp down on tax-evading vendors — which would not affect buyers. "I expect the law would help to better identify vendors who sell fake products and facilitate the complaints system [on the platforms]," she told Sixth Tone.
Although it's the first time the Chinese government has tried to pass legislation to regulate the industry, authorities have been keeping a close eye on online vendors. In August, Chinese authorities asked Taobao and other e-commerce platforms to carry out "self-examination and correction" to remove vendors selling illegal virtual private networks, or VPNs — a type of software that enables people to skirt China's internet restrictions.
Authorities have also been closely monitoring cross-border e-commerce: Since 2015, it has rolled out new supervision rules in 12 pilot zones around the country.
Correction: A previous version of this article misspelled WeChat's online store, Weidian, as "Weidan."
Additional reporting: Zhang Liping; editor: Kevin Schoenmakers. 
(Header image: An online shoe vendor takes a phone call in Huainan, Anhui province, Nov. 10, 2015. Chen Bin/VCG)