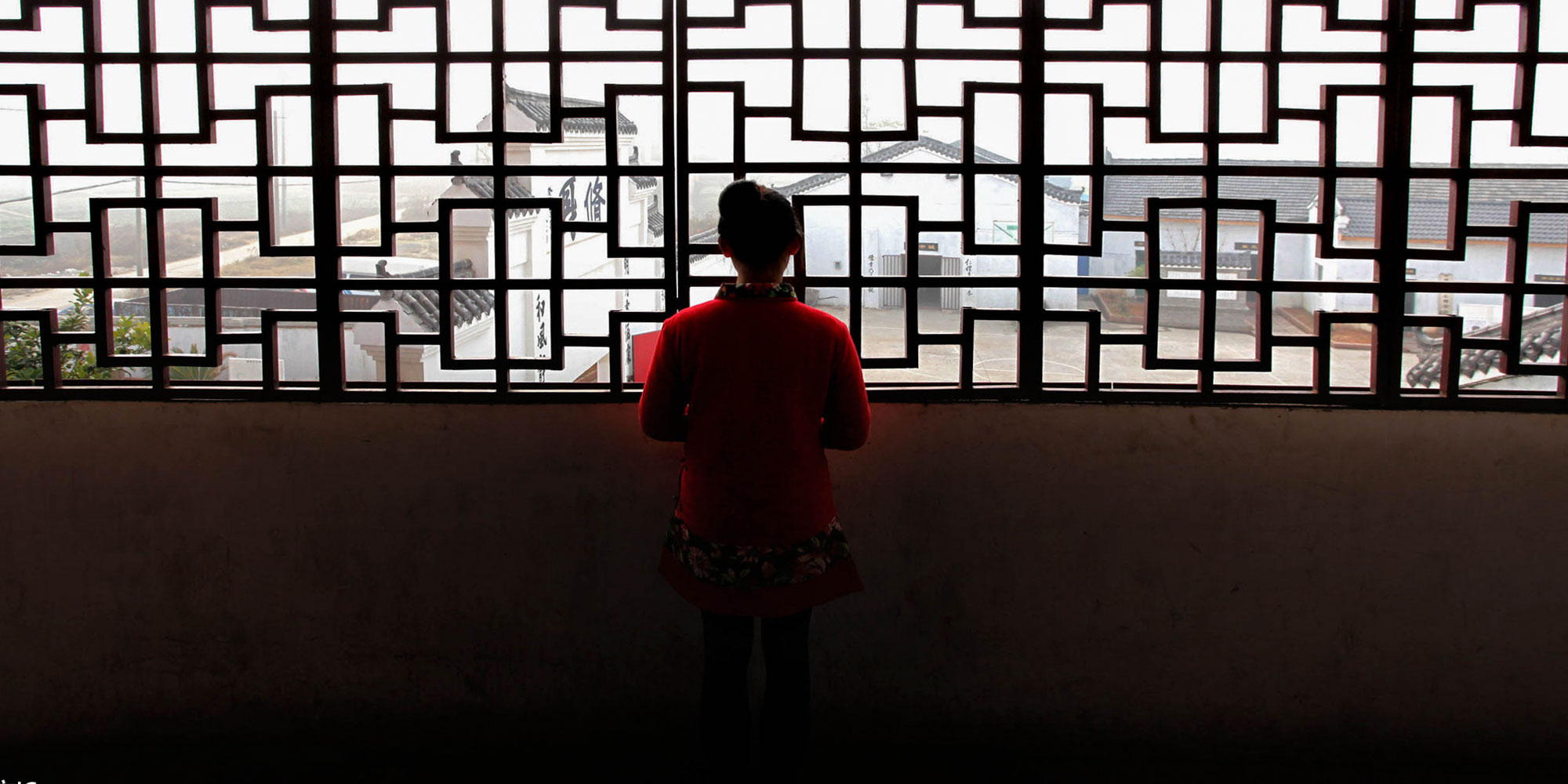 NEWS
Former Students Accuse Internet Addiction School of Abuse
Teenager whose mother tricked him into going says corporal punishment was common practice.
When Liu arrived last year at Yuzhang Academy, a Confucian reform school purportedly treating internet addiction in the eastern province of Jiangxi, he was thrown into a small, dark room, where he lost all sense of time.
"After three days, I totally gave up resisting," Liu, now 16, told Sixth Tone on Wednesday. "I even started to trick myself into thinking it was OK to stay in there."
Liu was released from the room after more than a week and ended up staying at the academy for three months. "All the old memories in that center are too bitter to recall — they will leave scars on my heart for the rest of my life," said Liu, who lost 20 kilograms during his time there. He agreed to speak to Sixth Tone under a pseudonym to protect his privacy.
Recently, dozens of teenagers who were previously enrolled at Yuzhang have written posts online accusing the academy of mistreatment, alleging that teachers there used corporal punishment, locked them up in solitary confinement, and forced them to do heavy labor.
On Monday, the local government of Qingshanhu District in Nanchang, where Yuzhang Academy is located, confirmed that physical punishment had indeed been used. "According to our investigation, some the problems mentioned in online posts did take place, such as punishing the students by having them stand in the corner, or beating them with rulers and bamboo sticks."
According to the Qingshanhu government, Yuzhang Academy is a private education institution established in 2013. The following year, it received approval from an unspecified government department to "reform badly behaved youth."
Yuzhang's website was no longer accessible on Tuesday. According to a cached version, Yuzhang advertises itself as a "professional school" for "eliminating children's bad problems," including internet addiction, puppy love, aversion to studying, and mental deficiency. The school can accommodate a maximum of 160 students. A teacher whose phone number appeared on the website could not be reached on Wednesday.
Another statement published Monday by the Qingshanhu education bureau said that it had issued a warning to the institution and ordered it to rectify its policies and practices within one month. "Meanwhile, we will investigate the responsible people," read the statement. "We will also strengthen our supervision of private education institutions."
But the authorities' perfunctory response has irritated net users, who argue that such rehab centers should be shut down immediately. In the summer of 2016, a similar clinic in eastern China's Shandong province made headlines, in part because the electroshock therapy it used to "cure" internet-addicted teens had been banned by the Ministry of Health since 2009.
In September 2016, Sixth Tone visited a rehab facility that purported to "treat" homosexuality, internet addiction, and other "challenges of growing up," after a former student murdered her mother.
Schools like Yuzhang promise parents that they can make "problematic" children obedient again. Liu, who is from Dalian in the northeastern province of Liaoning, traveled to Nanchang with his mother believing they were going on a vacation. They then got into a van that Liu thought would take them to their hotel. "As soon as I got out of the van," Liu said, "I was taken away by several strong men. I never saw my mother again."
Liu recalled that he was left in a tiny room for what may have been more than a week. "It was dark, and there was no way to know how much time had passed," he said. The room was dirty, he said, and contained only a chamber pot, a pillow, and a quilt. Every three days, academy staff would give Liu a pail of water. "Those eight or nine days felt like eight or nine years to me," he said.
After he was released from the room, Liu was ordered to dress in traditional Chinese garments, as all of the students were required to do. "There were at most 70 boys and 60 girls, there," Liu recalled. "Most of the students were under 15, and the youngest child could have been 9 years old."
Yuzhang Academy was strictly run, Liu said: Anyone who broke the rules was physically punished. On Mondays, Wednesdays, and Fridays, that punishment entailed being hit on the hand with bamboo. "Once I put a pencil case on my bed, and they said this violated the regulations," Liu said. "I didn't take it too seriously, assuming it would only be one or two whacks, but they beat me 15 times because they found 15 pencils in the case."
Liu said that most of the staff at Yuzhang were retired soldiers, and looked the part. The most dreaded punishment was a steel bar about as thick as a pinky finger. "If we disobeyed the teachers' words or talked to someone of the opposite sex," Liu said, "they would beat us in front of everyone."
Students were only allowed to leave Yuzhang Academy with their parents' permission. However, according to Liu, some of the children there were orphans who had been "adopted" by the school. "They could do whatever they wanted to those children," he said.
Online comments levying accusations similar to Liu's against the school were first posted on Zhihu, a question-and-answer platform similar to Quora, on Oct. 25 by Wei Jiafu, and were soon widely circulated. Wei told Sixth Tone that though he himself had not been enrolled at the academy, he had heard accounts similar to Liu's from former students. Wei said that after he published his article, Wu Junbao, the school's director, contacted him on WeChat and threatened that he could either join the faculty or wait to be sued for slander.
According to The Beijing News, Wu posted on his WeChat Moments, a Facebook-like timeline feature, on Monday saying that teachers would stop using rulers to discipline students. "The so-called steel bar has been torn apart by the principal and buried under the statue of Confucius," he wrote.
In 2014, around 300 reform schools were believed to operate in China. After widespread media attention, the schools were thrust into the public eye — and under the microscope of the government. In January, the State Council, China's cabinet, submitted for approval draft regulations for the protection of minors on the internet. One of their provisions was that no organizations or individuals can treat internet addiction using illegal methods that infringe on personal rights, including physical abuse.
Additional reporting: Qian Zhecheng; editor: Kevin Schoenmakers.
(Header image: A student looks out into a courtyard at Yuzhang Academy in Nanchang, Jiangxi province, Dec. 8, 2013. IC)