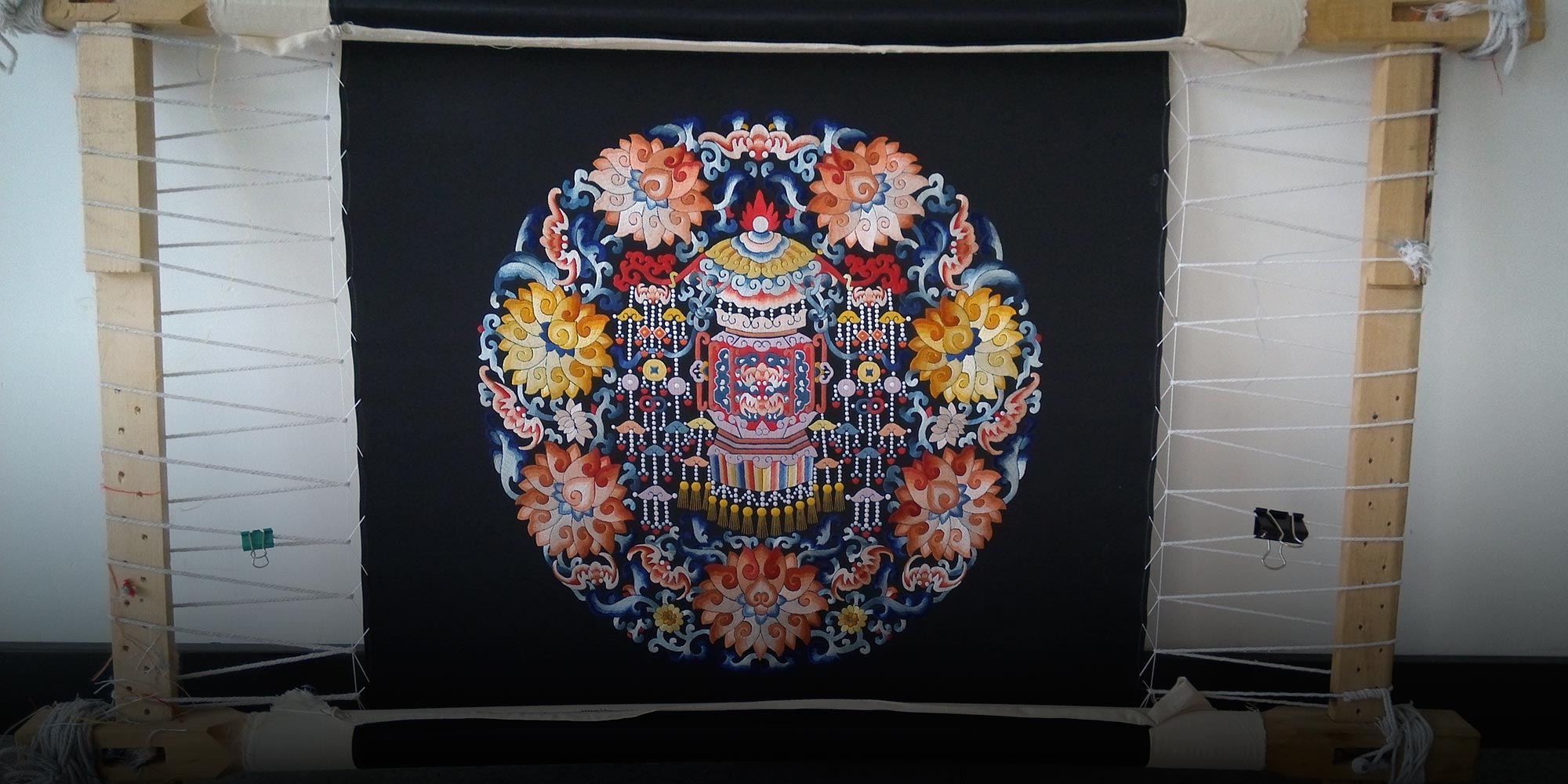 VOICES & OPINION
Why I Abandoned My Dream of Becoming a Master Craftsman
Being an embroiderer brought me great joy and satisfaction, but it wasn't enough to provide for my family.
For the last five years, I have worked as an embroiderer. Some people stereotype this as women's work, but I've been drawn to handicrafts from a young age and no longer pay attention to such narrow-minded opinions. I feel a great sense of pride in being able to create a beautiful image from needlework — but now I am about to give it all up, at least for the time being.
Until 2012, I studied at the Shanghai Art & Design Academy. I majored in exhibition design with a minor in traditional Chinese painting. That year, because China had begun pouring more resources into protecting traditional handicrafts and so-called intangible cultural heritage, our school launched a workshop taught by master craftspeople. The yearlong program invited artisans with national-level qualifications — the pinnacle of the trade in China — to mentor students in certain specialties, like lacquer art, jade sculpting, silverwork, and embroidery.
I was originally studying Chinese painting with a focus on the gongbi style, a traditional realist technique. Embroidery was very similar to this, except that it substituted needles for brushes and thread for paint.
Coincidentally, after my year in the workshop, the city government of Hangzhou, the capital of eastern China's Zhejiang province, announced a project dedicated to preserving the city's legacy of handicrafts. Five national-level craftspeople from Hangzhou took five apprentices each under their wing and mentored them for five years in the hope of protecting and further developing traditional artisanship.
I signed up for the project without a second thought. After several rounds of rigorous examinations and competitions, I managed to distinguish myself from a pool of more than 100 applicants and earn a spot in the program. From that point, I began my five-year study of Hangzhou embroidery.
Hangzhou is one of China's traditional embroidery strongholds, but nowadays the number of people who have mastered the skill are few and far between. The style of needlework native to the city privileges vibrantly colored thread worked into well-loved folk designs, such as dragons, phoenixes, bats, peacocks, peonies, or vistas of Hangzhou's scenic West Lake. This style is different from nearby cities such as Suzhou, where embroidered works are generally composed of more understated colors and themes.
Embroidery requires an immense amount of patience and effort. It takes time and practice to learn all sorts of complex needlework. A high-quality image usually requires several months or even a year to complete, with the artisan spending much of this time bent over a table. This work posture gives us backaches and sore necks, and we have to get up and move around every hour or so.
My teacher in Hangzhou, Chen Shuiqin, was over 70 years old but still embroidered every day. People from all over China came to visit her cramped but well-kept studio just outside the city center. I'd have to work well into middle age to be at Chen's level; with embroidery, slow work makes good work.
The handicraft legacy project was intended to help apprentices make progress toward our eventual goals of becoming master embroiderers. As a result, none of our pieces were produced for commercial purposes. We were embroidering what we wanted and exploring innovative needlework and ideas. We submitted our work to handicraft competitions, exhibitions, and domestic and international exchange programs.
But because this was wholly artistic work, we relied entirely on government subsidies for our income. The Hangzhou government gave us 2,500 yuan ($376) per month as part of the program, and also gave us needles, silk, and dormitory space. Of course, sometimes people or agencies came to buy our work. But we couldn't rely on this as a source of extra cash; apprentice embroiderers only get 20 to 30 percent of the selling price.
Still, even a couple thousand yuan here and there could never repay the effort that we poured into our work. Each piece of embroidery took the better half of a year to complete, and not every piece had an interested collector. Prior to making a name for themselves, embroiderers generally have very limited incomes.
Everything went smoothly for me until 2016, when my wife became pregnant. We were both working in embroidery, and our income came from government subsidies. We could just about get by when we were still childless, but adding another member to the family meant that we could not afford the high cost of living in Hangzhou.
Consequently, we decided to return to my ancestral home in Heze, a city in eastern China's Shandong province, about 750 kilometers north of Hangzhou. Although it was my dream to succeed in embroidery, we would not be able to raise a family if I continued in this line of work. I had no way of knowing when I would become a master craftsman, a level of expertise that would guarantee me higher state subsidies and a better price for my works.
I thought about setting up an embroidery studio after returning to Shandong, but I soon realized that there was no market for it. Most locals know little about embroidery and consider it a novelty not worth spending money on. I was forced to set aside my dreams and focus first on making a living, and so I took a job at a local curtain shop.
Recently, Chinese people have begun valuing their traditional handicrafts and other forms of intangible cultural heritage more and more. Many people have been eager as well to try their hand at making embroidery, sculpture, or porcelain, but the fact remains that traditional artisanship is simply not a stable source of income or a strong revenue model. Craftspeople are left largely reliant on financial aid from the government — a crucible that has forged many like me, who linger precariously between lofty dreams and stark financial realities.
Translator: Katherine Tse; editors: Lu Hua and Matthew Walsh.
(Header image: A view of You Zhichao's work 'A Bunch of Flowers' in Hangzhou, Zhejiang province, May 11, 2015. Courtesy of You Zhichao)