A master's student in eastern China has taken the mission to modernize traditional Chinese medicine to a whole new level by building a robot that can perform acupuncture.
Named "Acubots," the robot consists of a set of cameras and a mechanical arm into which specialized needles can be inserted. Xu Tiancheng, the graduate student at Nanjing University of Chinese Medicine who initiated the project, told Sixth Tone that he had so far received 100,000 yuan ($15,000) in government funding, adding that Acubots' main advantage is that it can insert needles into skin faster than human hands, which he said makes the process less painful.
Using a digitized map of acupuncture points — spots on the body believed to correspond with certain tissues and organs in traditional Chinese medicine — the robot can identify where to correctly place a needle after measuring the height and body shape of the patient.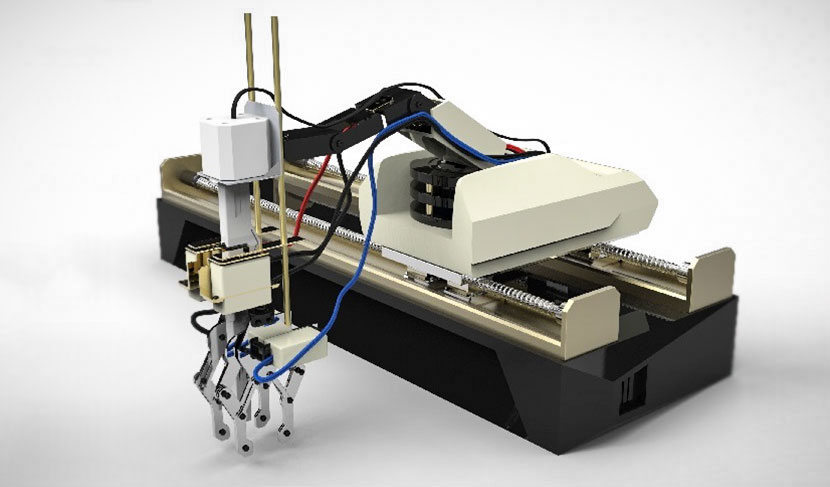 A digital illustration of the acupuncture robot developed by a team of Chinese students. Courtesy of Xu Tiancheng/Nanjing University of Chinese Medicine
About 60 students from Xu's university have volunteered to test the robot on their hands and arms, which Xu considers relatively safe body parts. "One of the volunteers hurt his wrist when he played badminton, but undergoing acupuncture with us relieved his pain," Xu said, adding that more tests were needed to determine Acubots' true accuracy.
A video online shows the students testing the mechanical arm's needle-setting aptitude on a lab rat.
So far, the machine has learned 300 of the human body's 362 acupuncture points. In the future, Xu believes that Acubots could be used to assist with medical diagnoses and treatment, especially for digestive troubles and sore muscles. However, he admitted that the robot won't be safe enough to be used on more sensitive parts of the body, such as the spine.
A total of 68 people are now working on the project, including students from Syracuse University in the U.S. and Loughborough College in the U.K.
"I have been interested in robots since my childhood," said Xu, whose father is an acupuncture professor. Around the time he had finished developing the digitized map fueling the robot's meridian system — the name given to "channels" in the body through which energy flows — Chinese audiences were flocking to see the Disney movie "Big Hero 6" and its star Baymax, an inflatable robot that functions as a health care giver and companion. "I was inspired, and wanted to develop a robot that could be used for acupuncture," Xu said.
"It is an experiment," Liu Baoyan, chief researcher at the China Academy of Chinese Medical Sciences and president of the China Association for Acupuncture and Moxibustion, told Sixth Tone. "I have not seen any other effort to combine acupuncture and robots," he added. "It's too early to tell whether it can actually succeed."
Editor: Denise Hruby.
(Header image: Viewstock/VCG)