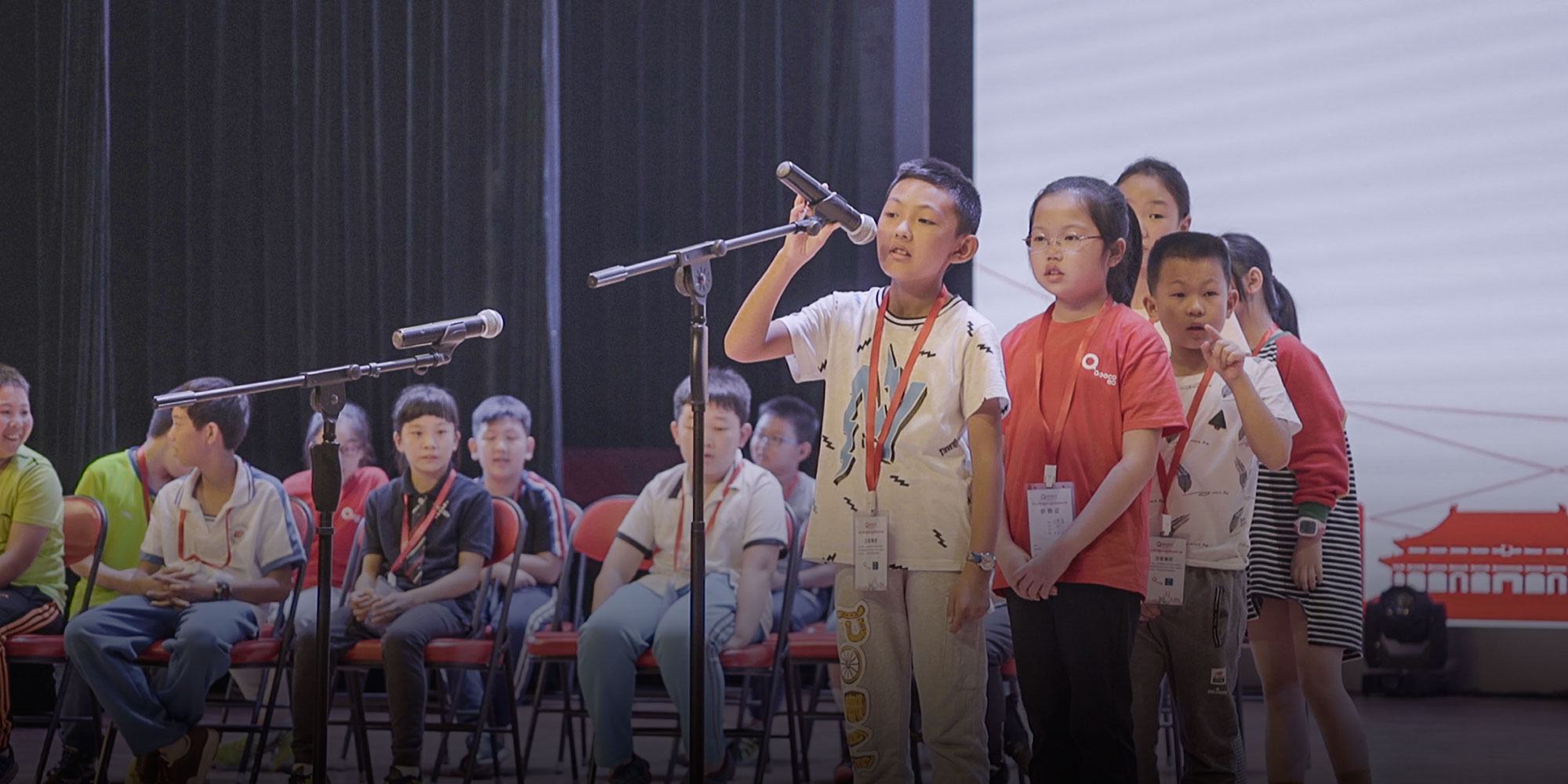 FEATURES
Chinese Kids Swarm to English Spelling Bees
Contests spell profit for education companies capitalizing on rising demand for English fluency.
BEIJING — Her face shining with confidence, Guan Zhinan began to spell the English word "occupation." Minutes earlier, her last competitor standing had made a mistake; if she could give the correct spelling, she would win. With neat bangs and buckteeth, 9-year-old Zhinan began to spell: "O-c-c-u-r-p-a-t-i-o-n."
"That is incorrect," one of the judges announced as a loud bell rang throughout the room. Guan Daoheng, Zhinan's father, sunk into his chair and sighed heavily.
Zhinan was silent for a moment, frowning and staring at the ground. "You added an extra 'r' just now," the judge explained. With a nod and a polite word of thanks, she stepped aside. But the error didn't shake her focus: After two more rounds of competition, she was named the winner.
The young spellers onstage that day were competing in the China Spelling Cup 2017, a contest organized by private English language learning company Qooco and modeled after the Scripps National Spelling Bee, which has been held in the U.S. since 1925. Out of more than 100,000 students who participated in the China Spelling Cup's online preliminary rounds, Zhinan was one of 90 contestants who made it to the national final. Only 18 will fly to Kuala Lumpur for the Asia Spelling Cup in November, where they will compete with finalists from Malaysia, Indonesia, and Thailand.
Zhinan, who hails from Dalian in northeastern China's Liaoning province, started competing in the annual spelling bee three years ago and has a clear goal in mind: "I want to be the champion of the Asia Spelling Cup," she said.
Like Zhinan, most of the other contestants speak English with American accents and have a vocabulary of several thousand words, well beyond the required number for Chinese primary and secondary schoolers. The secret to their success, it seems, is to start young.
In China's compulsory education system, English is taught from third grade onward, but today's spelling bee contestants generally started learning the language in kindergarten. Guan, a 55-year-old businessman who learned the importance of English on his frequent overseas business trips, said that he had hoped to give his daughter an advantage later in life when he enrolled Zhinan in a bilingual kindergarten at age 3 and a half. He also hired a native speaker to tutor her so she could practice her oral English and signed her up for extracurricular language courses. In class, Zhinan learned about the spelling bee organized by Qooco, the company that provided her course material.
Now, one of her favorite movies is "Akeelah and the Bee," an American film that follows 11-year-old Akeelah from her poor neighborhood in Los Angeles to the Scripps National Spelling Bee. Guan said that, like Akeelah, his daughter "has a strong character and is eager to excel."
English language learning rose in popularity in China during the 1990s, following an earlier policy change that allowed Chinese students to study at foreign universities. But Guan doesn't want to push his daughter in that direction just yet. "It is unwise to set up plans to study abroad at such an early age," he said, explaining that he wants Zhinan to also succeed in the domestic education system. "What I wish for her is to do as well as she can."
To Guan, spelling bees are a way to help develop his daughter's memory and logic skills, but Zhinan simply said she's interested in the language because it allows her "to be able to talk to foreigners."
Each year, the family spends about 10,000 yuan ($1,500) on Zhinan's English language education, which Guan sees as a reasonable and worthwhile amount. The results have been satisfying: Zhinan scores a perfect 100 percent on every English test. "The English classes at school are a piece of cake for her," Guan said.
With more than half of China's parents willing to invest 5,000 yuan or more per year in extracurricular English language learning for their children, companies like Qooco stand to gain massive profits. "China is now our biggest market in English learning for students," said Qooco CEO David Topolewski. The company's profits have grown steadily in recent years, reaching 13.62 million yuan in the first half of 2016 — almost equal to its total profit in 2015.
Organizing competitions in which students can test their skills is one of many strategies that such companies use to attract customers and keep them interested. Spelling bees have grown increasingly popular among primary and middle school students in China since the first national contest — a cooperation between a Shanghai organization and the Scripps National Spelling Bee — was held in 2009.
Now, hundreds of thousands of students compete in spelling bees annually. Most are free of charge and offer prizes worth thousands of dollars: The Spelling Bee of China (SPBCN), one of the most popular contests, lures contestants with a $10,000 top award. But to stand a chance of winning, students are expected to enroll in sponsor companies' online courses or use their apps.
The Qooco Asia Spelling Cup, for example, primarily selects candidates from the 500 private English language training centers it partners with across the nation. A year of extracurricular English lessons costs about 10,000 yuan: 7,000 yuan for the school and 3,000 to use the app and course material created by Qooco. New students are encouraged to enroll in study plans that span up to seven years.
The market value of online English language learning for children reached 1.97 billion yuan in 2016, an increase of 45.4 percent from 2015, according to a report by China-based online consultancy iResearch. The report predicts that the number of users of these services — around 3.2 million in 2016 — will continue to grow at a rate of 30 percent over the next few years.
Ninety-nine percent of Qooco's earnings come from its oral English learning app. Zhinan is just one of 300,000 students paying for the app, the company told Sixth Tone. Not all of them are interested in entering the spelling bee, but with the app's help, Zhinan qualified for the Asia Spelling Cup in Thailand last year.
Qooco paid for her flight and accommodation in Bangkok, but shortly before the competition began, she was dismissed because organizers had not put her name on the final list of contestants. Zhinan was disappointed but didn't give up; instead, she practiced even harder for this year's event, studying from 6 to 10 p.m. each night.
The father-daughter team are now looking forward to their trip to the Asia Spelling Cup in Kuala Lumpur next month. Zhinan is certain that her hard work will pay off. Her aim is to finish in the top three, she said with determination: "I have great confidence in that."
Editor: Denise Hruby.
(Header image: Contestants line up for rehearsal before the China Spelling Cup in Beijing, Sept. 24, 2017. Tang Xiaolan/Sixth Tone)